His community currently faces a range of pressing humanitarian needs.
Nevertheless, helping them understand the urgency of addressing environmental and ecosystem shifts is also important for their long-term security, said Salai, who studied climate change in 2011 in Germany.
Conflict-afflicted and poor countries will bear the brunt of the climate crisis, the United Nation's Intergovernmental Panel on Climate Change has warned.
Myanmar, where flooding and landslides are key threats, was ranked second most vulnerable to extreme weather events out of 183 countries analyzed in the latest Global Climate Risk Index.
The coup has undermined civic space for environmental movements, Salai noted. Nevertheless, it is critically important to provide local communities, including the internally displaced, with information to help them build climate resilience, he said.
A Difficult History
Growing up, poverty was universal in his mountainous town in Thantlang in the northwest of the country. As a seven-year-old, he earned money by selling discarded bottles. He once saw an elderly woman walking on the road with slumped shoulders, and spontaneously gave her the ten kyats he had in his pocket—enough to buy a cup of tea and piece of bread.
"She was very happy," he said. "From that time, I've always wanted to help others."
The Chin in Myanmar have faced a difficult history.
As a child, Salai saw his father and older sister forced into servitude, carrying weapons and provisions for the military.
In the dead of night, when ominous knocks sounded at their door, young Salai clung tightly to his two small brothers, shivering in fear as soldiers intruded to scrutinize the occupants of their home.
In 2002, he studied at the Myanmar Institute of Theology in Yangon, reading Animal Farm by George Orwell, and became increasingly aware of how his people had been suppressed.
But post-2010 was a period of optimism. Though the political situation remained fragile, Salai was able to work with others to put bottom-up development plans in place in Chin state as he continued to study.
Prioritizing Climate Despite the Coup
Salai began to see corruption taking a firmer grip of the country by 2018, but still was not prepared for the 2021 coup. It took a few days to fully grasp what had happened.
"And then we cried," he recalled. "We cried as people fled into the forests and to other countries. We cried when they shot our pastor, and three of our community leaders, and burned our houses intentionally."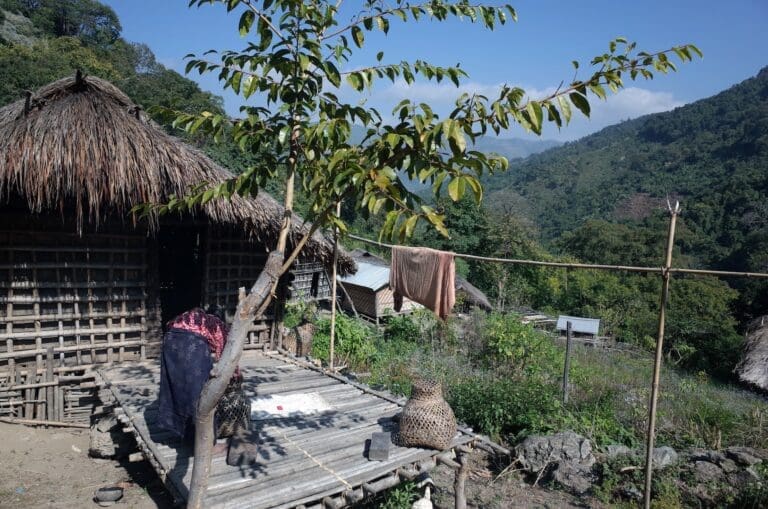 "For those of us who had remained, our dreams were almost gone."
His own childhood town no longer exists. Instead, it is a frontline in the battle between armed rebels and the military.
But he believes he will see it restored eventually. "I will, I will. I must. I must," he said. This is why climate action remains important to him even during this period, and why he plans to undertake a PhD in environmental studies.
"Before it was burned down, my town was very green, because my father and others worked to protect the trees and water supply for the sake of all the population," he said. "Even in a moment of pressing humanitarian needs, we need to identify climate problems and actions together as a community. That's the only way we will solve these issues."
More from this series
PART II
Bangladesh: The "Green Monk" Champions Recycling
The "Green Monk" Champions Recycling: "Buddha told us to live in harmony and balance with our environment."
READ MORE
PART IV
Thailand: A Farmer Confronts Human-Induced Challenges in the Mekong Basin
A Woman Farms Along the Mekong River: "We are a small village, but we have to share our experiences and keep learning."
READ MORE