That certainly was true for Yolanda Beasley (whom we wrote about in a recent blog post), a school food professional at Chicago Public Schools who struggled month-to-month to feed her family even as she worked full-time to feed other children their school meals. "I would instruct my kids, 'make sure you eat your breakfast, make sure you eat your lunch,'" she remembers. "'Because that's all we're going to have until the next day.'"
The same people and communities hardest hit by stagnating wages and unemployment are the same people and communities experiencing food insecurity at higher rates. The connections between inequity, economic opportunity and access to affordable and healthy food are plain for all to see.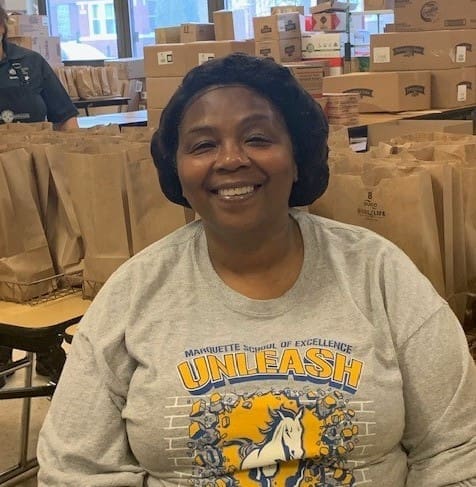 The same people and communities hardest hit by stagnating wages and unemployment are the same people and communities experiencing food insecurity at higher rates. The connections between inequity, economic opportunity and access to affordable and healthy food are plain for all to see.

Otis Rolley III

Senior Vice President, U.S. Equity and Economic Opportunity Initiative

I tear up every night at 7 p.m. as medical workers wave from the windows of the Brooklyn hospital across the street from my home while strangers like me applaud them. I found the recent story of a Kansas farmer sending one of his last N95 masks to New York deeply moving. (Knowing how hard farmers work for the rest of us, it's no surprise that a farmer would make this sacrifice.)

Noah Cohen-Cline

Lead Program Officer, Food Initiative
Recent data from the Urban Institute show that Black and Latino adults are more than twice as likely as White adults to have trouble putting food on the table right now, a reflection of similar racial disparities prior to Covid-19 according to USDA data. At the same time, neighborhoods with a higher proportion of people of color have fewer full-service supermarkets and healthy food options than neighborhoods that are predominantly White.
These same challenges exist for people who live in low-income neighborhoods, in rural communities, or live with a disability. Feeding America has found that 76% of the counties in the U.S. with the highest rates of food insecurity are rural and 89% are in southern states. And the USDA has reported that one in three U.S. households with an adult who was unable to work due to a disability was food insecure in 2009-10 (the most recent data available).
Access to affordable healthy food should be available to every child and family. Tragically, it is not, even here in one of the richest countries on earth.
This continuing disparity in opportunity reflects a reality about the choices we collectively make as a society in supporting and providing increased access to opportunity for some children and families at the expense of others.
Addressing that inequity is an increasing focus of attention across the philanthropic sector and has long been a priority for us at The Rockefeller Foundation. We've been working to expand opportunities for America's working families for more than 100 years.
Recently, we launched the Equity and Economic Opportunity (EEO) Initiative to widen the path to economic stability and mobility for millions of low-wage workers and their families. Our overarching EEO theory of change and approach remains unchanged during this pandemic—we believe in the power of policy and place to advance equity and opportunity in the United States.  We are partnering with groups like Niskanen Center, Economic Security Project, Center on Budget and Policy Priorities, and UnidosUS (formerly La Raza) to advance the expansion and modernization of the earned income tax credit (EITC). And we partner directly with cities and allies like Living Cities, Smart Growth America and LISC to improve access to capital for people and businesses of color and to prevent residential and commercial displacement.
We have also been working to advance food security for more than 100 years. Recently, our Food Initiative here in the United States has been working with our partners at Urban School Food Alliance (USFA), FoodCorps, and Center for Good Food Purchasing to strengthen school nutrition programs and ensure that healthy food is served to the millions of children who rely on school meals. Our nation's schools have long been leading champions of food security for underserved communities, and school food programs and their partners increasingly recognize that equity is central to their shared mission. In response to school closures during the Covid-19 pandemic, we awarded emergency grants to USFA, GENYOUth and World Central Kitchen to directly support schools in their efforts to feed children and families while also advocating for policies that will keep kids from going hungry through the summer and beyond. Our grants recognize the critical role being played by schools—especially now when they're closed—in providing access to healthy food for the families most impacted by structural inequities.
There is a tremendous amount that remains to be done. Inequities extend across the entire food system, from an estimated one million African American farmers who have been dispossessed of their land over the past century; to the workforce of our country's meat processing plants—largely immigrants, refugees, and other people of color—who were recently ordered back to work in spite of the dangers; to the widespread targeting of fast food and soda advertisements to youth of color. In the months ahead, The Rockefeller Foundation will be working to advance policies that make our food system and our economic system work both more effectively and more equitably for all people.
When a pipe is pressure tested, and fails, the pressure exposes the failure—it is not the cause of the failure. Covid-19 has exposed failures in our food and economic systems, and it is clear that they cannot—and should not—look the same in the years ahead as they did before Covid-19. We have the opportunity to rebuild them both to better serve all people.
We're all in this together.
Let's use this moment to prove it.