The Vision created by and for the tribal members of the Rosebud Indian Reservation outlines a drastic shift from the current state of food to one in which the community is empowered and autonomous.
The Rosebud Indian reservation in south central South Dakota is the home of the Sicangu Lakota Oyate tribe. The area, rich in culture and history, represents 15% of the Great Plains Region.
With only three grocery stores serving an area nearly the size of Brunei, Rosebud is a food desert. Most tribal members live in a state of food insecurity, without access to affordable and healthy food, and suffer from extremely high rates of diet-related diseases such as heart disease and diabetes. Despite this, more than half of farms on Rosebud receive subsidies to raise commodity crops, rather than incentives to grow nutritious foods to feed the local population.
Start-up costs for agricultural businesses are high and often prohibitive in areas like Rosebud, where access to capital is limited. This means that food and agriculture entrepreneurs are unable to test out new growing methods or localize food delivery and distribution.
Resources must be reallocated from conventional agricultural practices to a regenerative system that creates economic opportunities for tribal members. Replenishing the soils and other resources needed for future generations is imperative, as is training a new generation of farmers in these techniques.
The Vision for Rosebud Indian Reservation showcases how by the year 2050:
A 175-year strategic plan for seven future generations will be 30 years into implementation. The plan is guided by a focus on increasing economic development; building capacity for tribal entrepreneurship and homeownership; and strengthening community development for food, housing, health and education. The food system of 2050 serves the people of the current generation and prepares to meet the needs of future generations through to 2200.
Regenerative agriculture is practiced for all food production within Rosebud, and local foods are affordable and accessible.
All companies, organizations, and businesses in Rosebud utilize local and traditional ingredients​.
All communities have equitable access to nutritious foods.
Food is raised, harvested, and prepared in a respectful manner with good thoughts and energy channelled into it. Food is once again revered as medicine that heals the body, mind and spirit of the Oyate (the people).
The food system fosters and supports sustainable business ventures, making food production and entrepreneurship a viable pathway for job creation and income generation​.
Youth are empowered and encouraged to grow, harvest, and prepare foods of their choice​.
Tribal citizens are empowered through education about local foods and training in healthy eating and cooking and can make informed decisions about their diets.
The 7Gen Food System Vision aims to change the relationship that the Sicangu people have with food,  from one driven by limited access to nutritious diets and the convenience of highly processed foods, to one that facilitates ​Wicozani​, meaning good health – physically, mentally, emotionally and spiritually.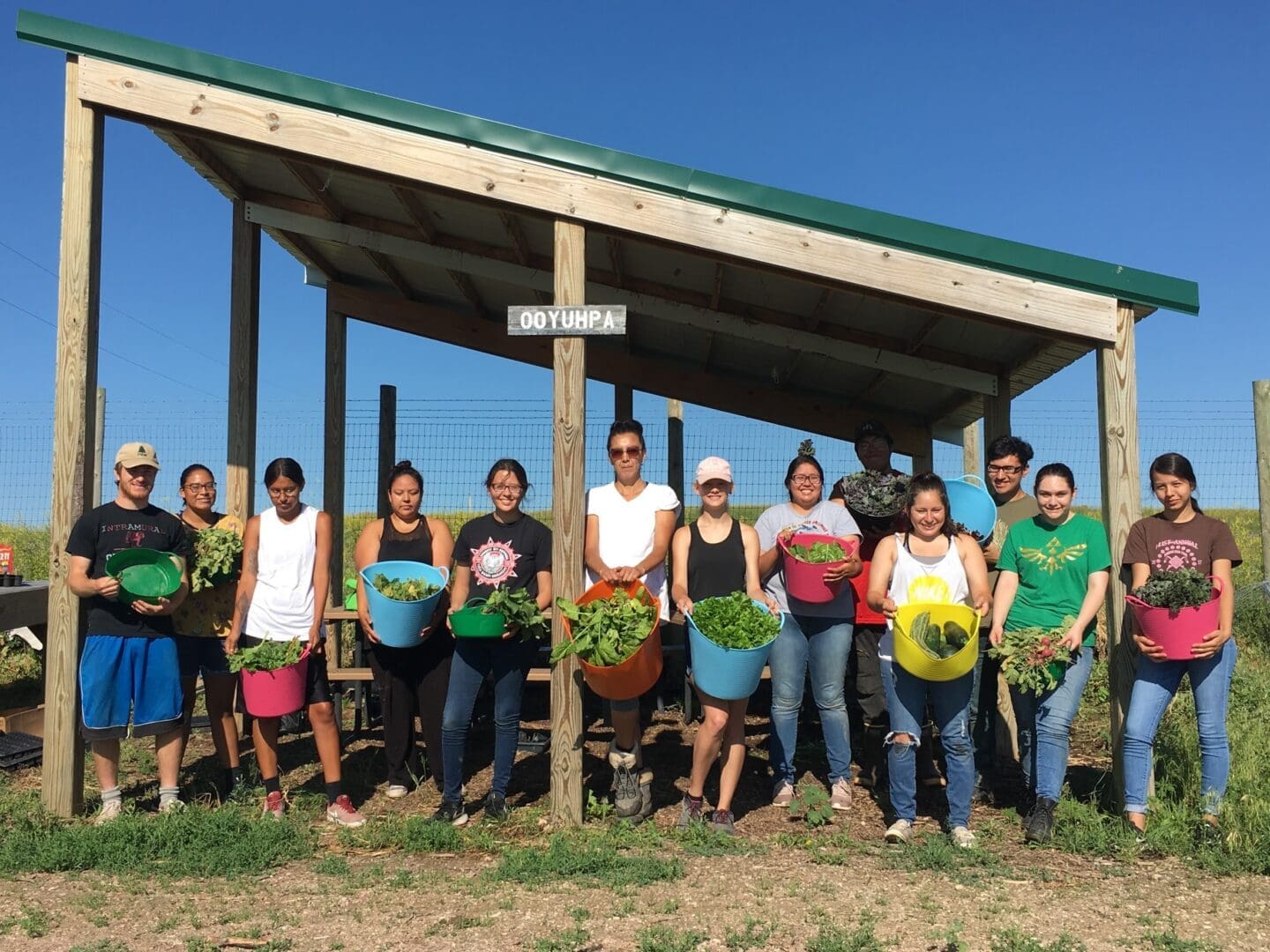 As tribal citizens themselves, the team at Sicangu CDC is intimately aware of the current challenges and the radical changes needed to build a more prosperous future.  In partnership with Rosebud Economic Development Corporation and Tatanka Funds, Sicangu CDC has created a seven-generation (175-year) strategic Vision with the goal to empower their people, strengthen their families, and rebuild their community.
Other partners include: Carmelita Sully (Sinte Gleska University Greenhouse); Robert Becker (Swift Bear Community President); Matthew West; and Dakota Rural Action.
Click here to explore the full Vision for Rosebud Indian Reservation in the year 2050.
Each person is responsible for the health and happiness of our people, and each person must find out how to contribute in their own unique and special way. Food is life and it must be nurtured and protected.
Explore More Visions From The Prize Finalists