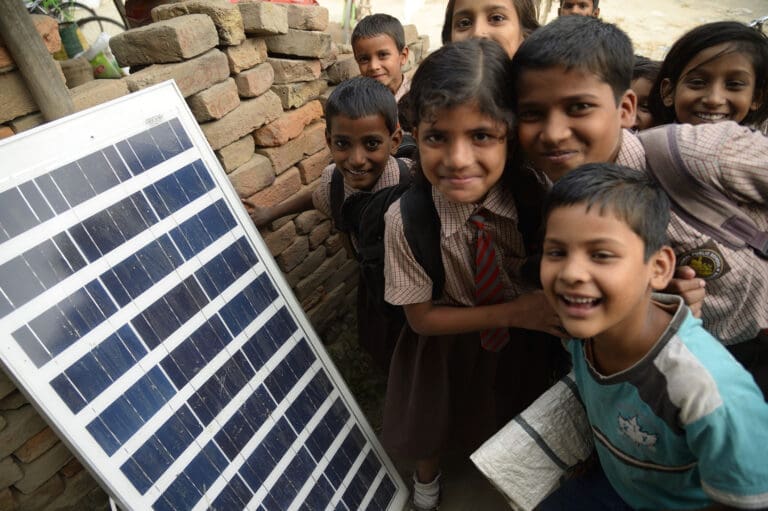 "A misfit, it's true," agreed Ashvin Dayal, Senior Vice President for Power and Climate who was leading the CEO search for The Rockefeller Foundation. "At the same time, he was perfect."
Mukherji brought nearly 30 years of experience in developing markets, both in the consumer goods and the social enterprise sector. At the time, he worked for d.light, a global social enterprise focused on bringing affordable solar lighting devices to vulnerable communities. In that role, he expanded d.light's operations across India and other Asia markets.
"Jaideep had built businesses from scratch in India. He understood the country's supply chains. And he also understood the rural customer," Dayal said. "Here we were trying to sell power to some of the poorest customers in the world, so we needed that knowledge and experience."
A Daughter's Voice
Mukherji felt equal measure intrigued and dubious as he considered the proposal.
Though he grew up in an electrified city, he had formative experiences in off-grid villages in 9th and 10th grades as part of a mandatory social services camp at St. Paul's School in Udaipur. He and fellow students were transformed as they spent a week helping dig wells, pave irrigation channels, and create rainwater collection ponds for off-grid villages.
At least as importantly, his oldest daughter, then 17 years old, grew excited when she learned of her father's job prospect. "Bringing energy to the villages—that is exactly what's needed," she told him. At that time, some 240 million people in India were living without electricity.
"We saw energy poverty as one of the areas that was holding back development all over the world," Dr. Judith Rodin, the Foundation's president from 2005 to 2017, recently recalled.
Energy poverty occurs when there is a lack of affordable, reliable, and environmentally sound energy sources to support development. Low access to energy contributes to malnourishment, unhealthy living conditions and limited access to education and employment.
After carefully considering barriers, obstacles and opportunities, this was a space where the team believed they could make a systemic and transformative change.
Mukherji felt drawn enough to the concept to agree to meet with Dr. Rodin, Dayal, and Zia Khan, currently The Rockefeller Foundation's Senior Vice President for Innovation.
After that meeting, Mukherji recalled, "I began to get excited myself. This was clearly a bold approach, and these people knew what they were doing."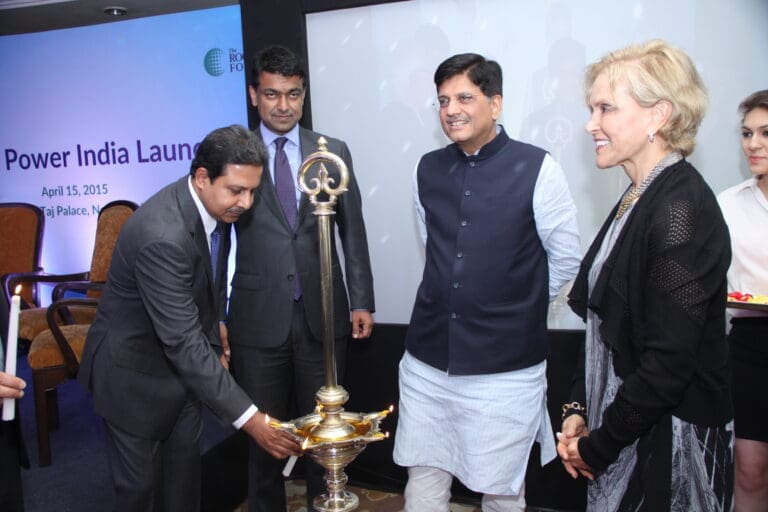 He said yes. And on April 15, 2015, Smart Power India (SPI) was officially born, with the 1,000 Village Plan aimed at bringing electricity to 1 million people in the Indian states of Bihar and Uttar Pradesh over the coming three years. SPI would target districts where less than 10 percent of the households were connected to the national grid.
A New Business Model of Broad Partnerships
SPI aimed to pilot a new business model: decentralized mini-grids would be constructed through unconventional partnerships with the private sector, energy service companies, impact investors, NGOs, and the Indian government.
While The Rockefeller Foundation provided initial support, ultimate sustainability depended on the mini-grids becoming profitable.
Since its founding, SPI has supported over 620 mini-grids, powering more than 26,000 shops, commercial users, and microbusinesses.
Overall, it has impacted half a million people and reduced carbon emissions by more than 21,000 tons annually. It also showed the government and other investors what was possible, which likely sped up electrification to India as a whole.
Much was learned from this work as well. It paved the way for successful commercial mini-grid operators that complement the grid. Companies such as Husk Power, OMC, Tata Power and Hamara Grid, have raised over $150 million of private capital, operating over 1000 mini-grids that serve homes and entrepreneurs in rural India with reliable, productive-use, clean energy.
Built from a belief that ending energy poverty is vital for economic development, SPI also supported the green energy movement, In 2021, the Global Energy Alliance for People and Planet was born, initially spearheaded by The Rockefeller Foundation, IKEA Foundation, and Bezos Earth Fund.
To appreciate the origins of SPI, and later of GEAPP, we need to rewind a few years, to 2009.
NEXT: A Margaret Mead quote serves as a beacon, and a team wades through the Ganges in the dark.
More from this series
Full Series
A Bold Bet To Bring Renewable Power to the Last Mile
Smart Power India emerged from an effort begun 14 years ago, and helped bring light to rural villages in India.
Read More
PART II
Ideas Developed, Discarded, Embraced, Enacted
Turn back the calendar pages to 2009, well before Smart Power India was even a glimmer in the eyes of its creators.
Read More