The launch of the Food System Vision Prize in October 2019 was a call for visionaries to imagine "regenerative and nourishing" food systems. The Prize subsequently spurred the creation of more than 1300 community-led visions that seek to equitably and resiliently address many historic and current challenges—including the Covid-19 pandemic and the most recent reckoning with racial injustices in the United States.
Indeed, some Semi-Finalists for the Prize have highlighted a deeper need for healing of the racial and economic injustices linked to food systems across the U.S. Many of the visions describe food system revolutions that rely on commitments to restorative justice. It has been said that a movement for food justice must explicitly recognize the current food system as "a racial project [that] problematizes the influence of race and class on the production, distribution and consumption of food."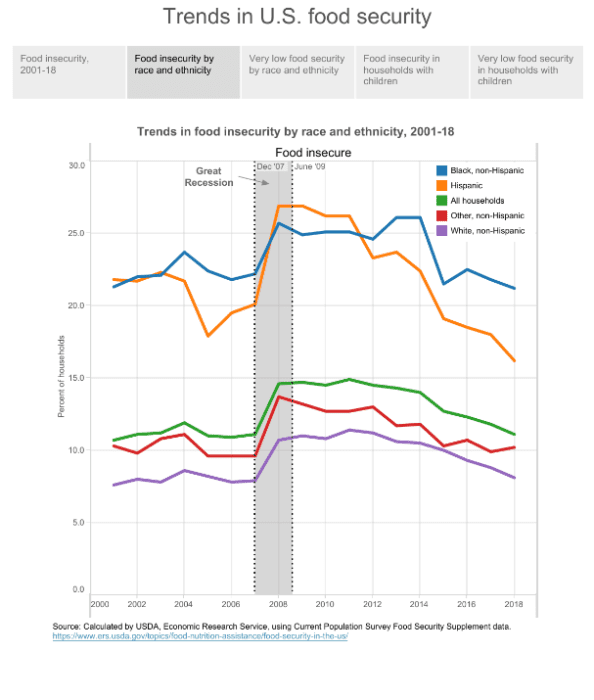 Several visions emphasize how building diverse, interconnected communities is critical to revolutionizing food systems at all levels, and that food justice is a fundamental platform for supporting sustainable, nourishing, equitable, and resilient food systems. Many proposals go further to describe how racial and class inequities influence the ways communities consume, produce, and distribute food. For example, while Covid-19 has strained supply chains around the world, the effects have been felt particularly hard by the most marginalized. Even before the pandemic there were enormous racial disparities present in American food systems, with Black and Hispanic families significantly more likely to experience food insecurity. i.
The Semi-Finalists for the Food System Vision Prize highlighted below are working every day toward food justice in the U.S. Each of the visions focuses on advancing equity, whether by working to right historical injustice; taking back the means of food production; creating food systems to benefit local health and economies; aiming to make small-scale farming more profitable and accessible; or developing new food distribution models that increase demand while also cutting waste.
Members of North American Traditional Indigenous Food Systems seek to right historical food injustices and build food security by "revitalizing sustainable, traditional indigenous food knowledge to improve health and increase wealth in Native communities." They aim to do this through the urban Indigenous Food Lab, a restaurant and training center focusing on research and development; identification, gathering, cultivation, and preparation of indigenous foods; and other components of starting and running a successful culinary business based around Native traditions and indigenous foods for the people of Pine Ridge Indian Reservation and beyond.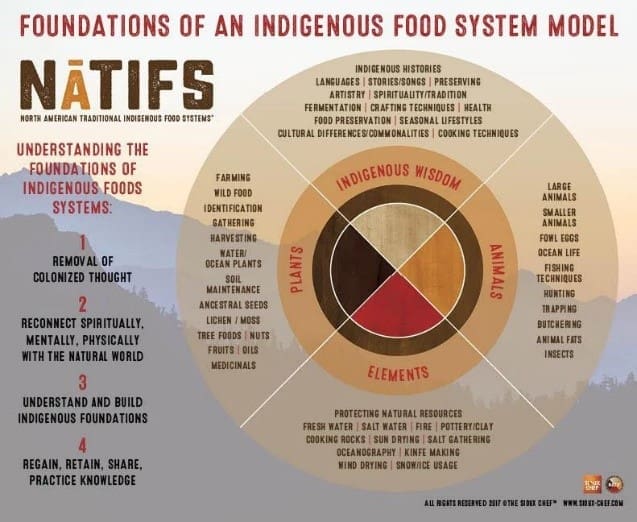 Mississippi Delta: "Climate Change and the next California in the U.S. Food System"
The central focus of this vision is on racial inequities in a region where segregation is still rampant and racial violence is prevalent. As the submitted vision notes, "The massive farms in the Delta region do well when prices are high, but few people own those, and smaller farms in the Arkansas River Valley barely support the growers who own them." By moving toward a more just mode of agricultural production and away from the mechanized farming of commodity crops, this vision aims to improve local economic opportunity, food security, and diet quality.
West Virginia:  "A Vision for the Right to Food in a Food Sovereign West Virginia"
This diverse group in West Virginia (composed of two previously distinct Food System Vision Prize teams who united to collaborate on this vision) advocates for food justice through policy change related to equitable wealth redistribution from fossil fuels and the local extractive industry  The vision imagines a cooperative model of resource sharing, including using cooperative purchasing power to increase community ownership for smaller farmers, for a more just and sustainable future.
Mid-Atlantic:  "Scaling the Good Food Supply Chain via a Mid-Atlantic Food Port"
This vision focuses on creating a "responsive and resilient regional food system that serves both urban and rural communities and shifts billions of food dollars from the opaque and industrial food supply chain to producers of Good Food." By catalyzing equitable social and political change, this vision aims to remove barriers for small and mid-scale farmers and expand access to fresh, nutritious food to all residents of the Mid-Atlantic region.
New England  "A Powerful Food Movement Democratically Transforms New England's Food System to Sustainability and Resilience"
This vision aims to expand the existing local food systems in New England by increasing equitable land access and promoting participation across the food system. Their plans include the establishment of a Land Access Reparations Fund, which would provide historically disenfranchised people access to farmland.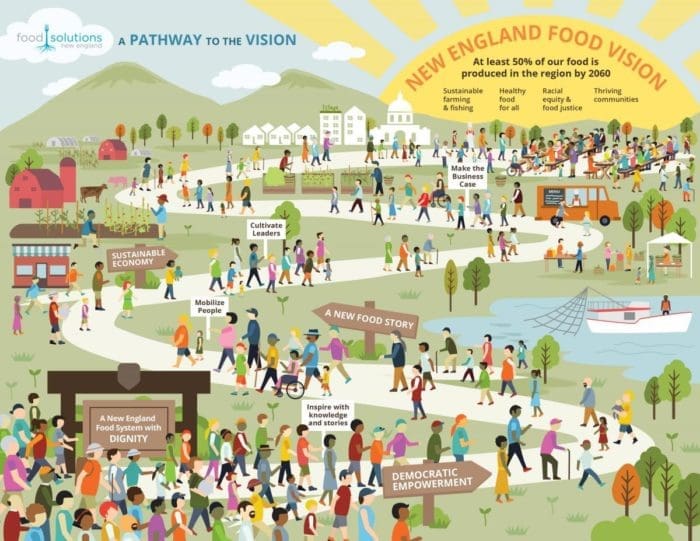 This tribal-led vision emphasizes food sovereignty in the Rosebud Indian Reservation in south central South Dakota, home of the Sicangu Lakota Oyate. Their ultimate aim is to eradicate malnutrition and diet-related illness on the reservation, providing "equitable access to nutritional foods for all communities."
Oregon: "Bridging Divides: A collaborative regional vision of a more equitable food system for producers and improved community access to local foods"
Through strengthening local supply chains, this vision looks to provide their region with increased economic stability, resilience, and environmental sustainability. This group aims to preserve and build on their regional identity while resolving local issues of poverty and food insecurity.
Colorado:  "How the West was One"
Working to address the disconnect between urban and rural Colorado, this group envisions a future for their state based in "shared prosperity, equity, and community."  A key aspect of this vision is drawing skilled workers from urban centers to rural areas, bringing varied expertise to agricultural projects across the state.
Iowa: "Net-zero Soil Erosion is Iowa's Common Ground for Building More Resilient and Sustainable Food Systems"
Iowa is one of the most agriculturally productive states in the country, but "Iowa imports what it eats, and exports what it grows."  This collection of young visionaries is working to build a coalition around the common goal of stopping soil erosion in their home state.  By doing so, they aim to "build more resilient and sustainable food systems in Iowa that better serve farmers, consumers, rural communities, and cities".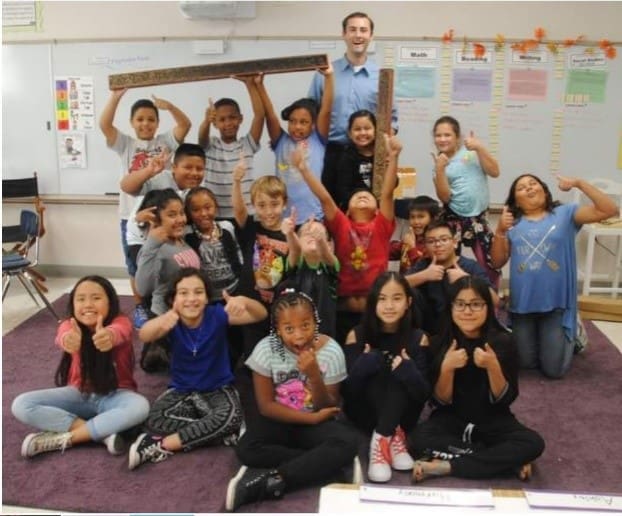 These bold visions aim to not only transform food systems, but to address racial and class disparities, provide fair compensation throughout the value chain, and put control back in the hands of communities. Learn more about these US-based visions and explore the rest of the 70+ Semi-Finalists visions.
---
The 10 Finalists of the Food System Vision Prize will be announced in early August 2020. Look for news on The Rockefeller Foundation's website and follow #FoodVision2050 for updates.
Feature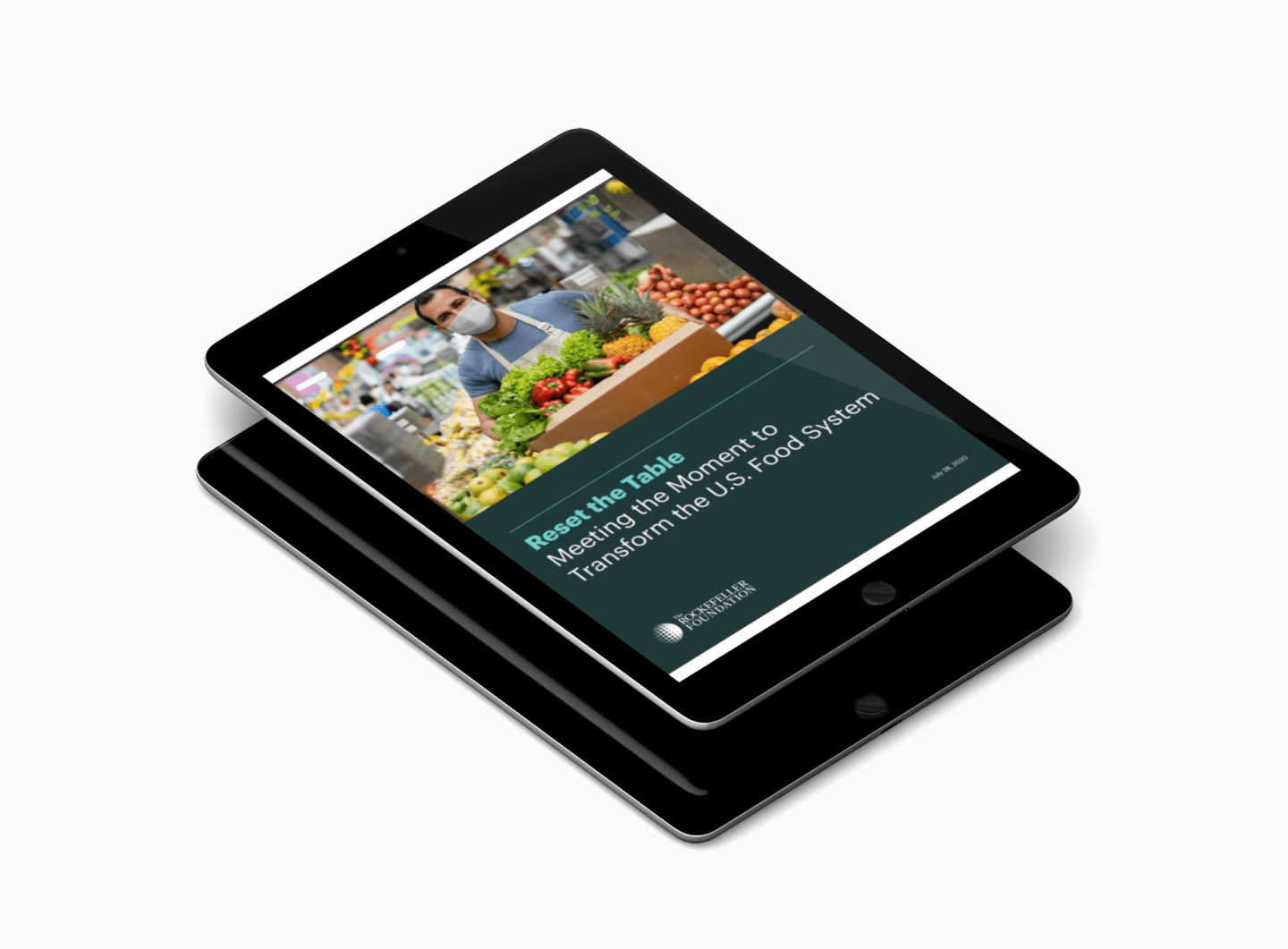 Reset the Table: Meeting the Moment to Transform the U.S. Food System
While Covid-19 and the resulting economic downturn made the negative consequences of the food system worse and more obvious, the pandemic did not create them and its end will not solve them. Covid-19 has, however, increased both the imperative and the opportunity to address these flaws and limitations once and for all. Now is the moment to transform the U.S. food system.
More