We live at a watershed moment for women. Seldom has the world so urgently needed gender equality. It is up to us to demand it.

Hillary Rodham Clinton

Former United States Secretary of State
In 1995, tens of thousands of women from 189 countries converged in Beijing for the United Nations Fourth World Conference on Women to insist that "women's rights are human rights." The resulting Beijing Declaration and Platform for Action, the most comprehensive blueprint for women's equality in history, paved the way for advances in education, health care, political representation, and legal reform. Twenty-five years later, alongside the United Nations Sustainable Development Goals (SDGs), the Beijing Platform remains a powerful inspiration for advancing women's rights.
While important gains have been made for women and girls, major gaps persist on multiple fronts. 
Today, the Covid-19 pandemic has exacted an especially cruel toll on women, surfacing persistent gender inequalities and risks rolling back women's modest gains. As the pandemic reconfigures how we approach every aspect of social and economic life, it also offers an unprecedented opportunity: to rethink, reset, and build back better, particularly for women and girls.
The Georgetown Institute for Women, Peace and Security and The Rockefeller Foundation offer a roadmap for the future with the Beijing Declaration and Platform for Action at the center. Relying on the wisdom and experience of distinguished women from every sector, and the fresh insights and aspirations of young women leaders, Beijing+25: Accelerating Progress for Women and Girls offers a comprehensive framework for advancing women's rights in a post-pandemic world. Here we highlight the closing chapter, "The Way Forward", comprising seven key pillars for building back better and addressing the persistent obstacles laid out in the full report.
Seven pillars to accelerate progress for women and girls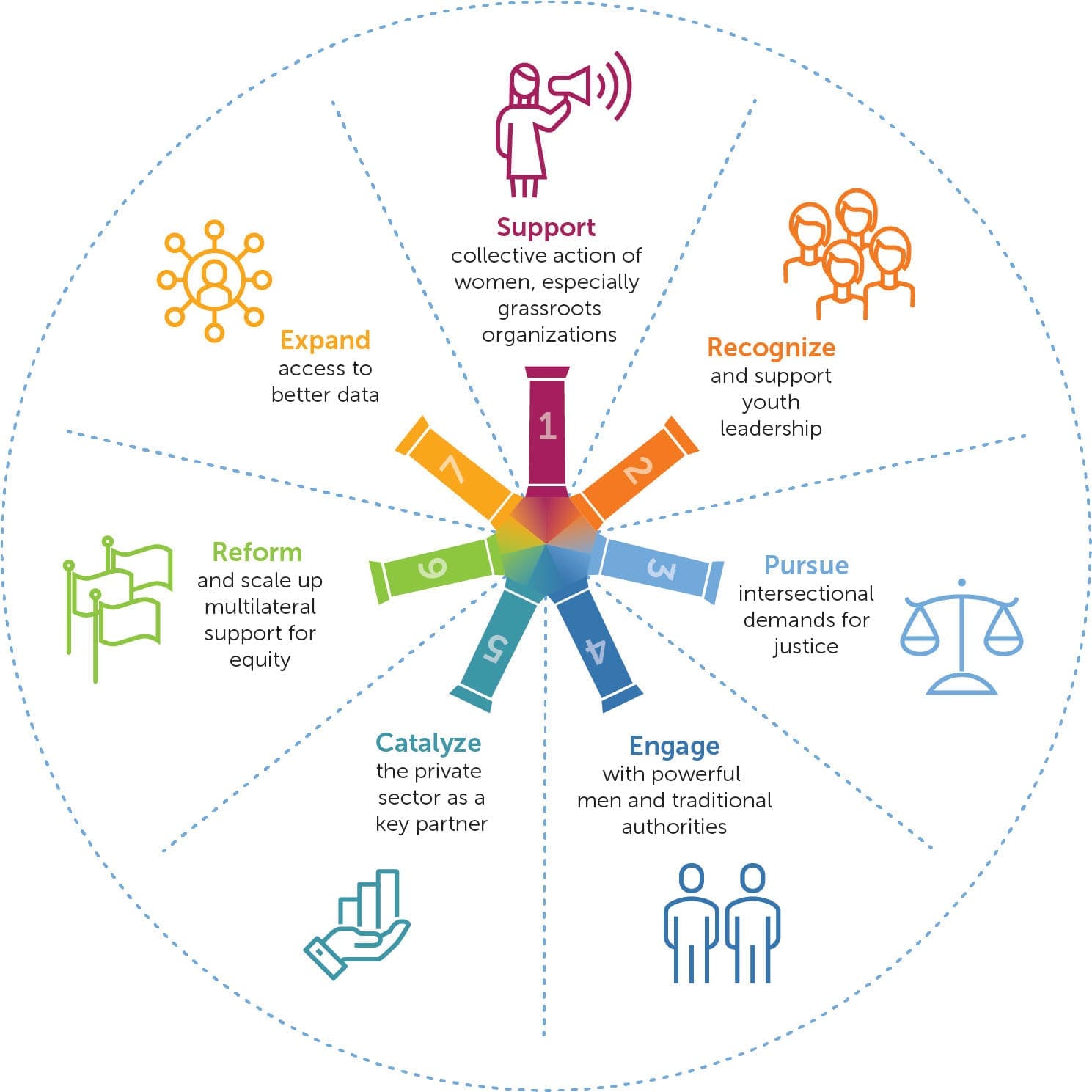 1. Support collective action of women, especially grassroots organizations
Many grassroots organizations have a unique understanding of their communities' needs and priorities, yet lack the ability to engage as decision-makers at the highest levels. Creating a culture of ongoing conversation and feedback between local voices and high-level leadership will be key to ensuring inclusive progress.
From the Liberian women's sex strike for peace, to the global impact of the #MeToo movement, to Greta Thunberg's youth-led FridaysForFuture climate strike, women's collective action has paved the way for large-scale societal change.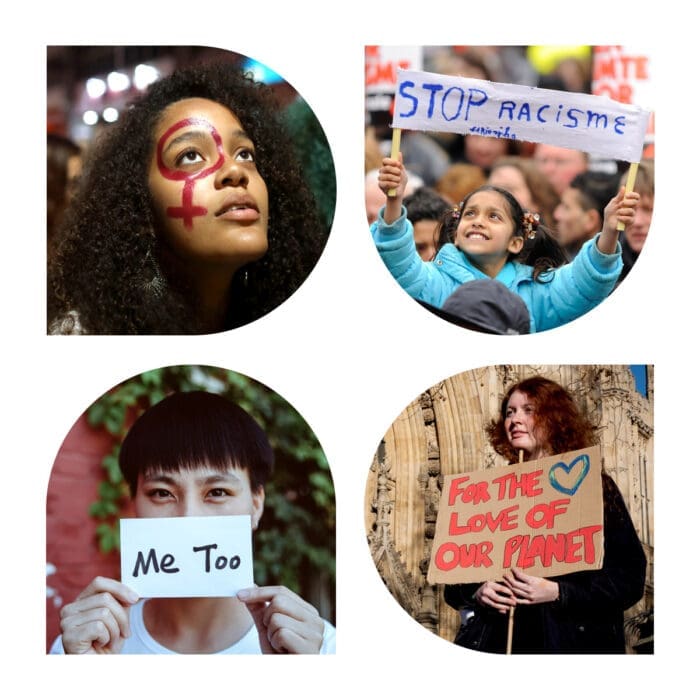 It's critical to have people who work on the ground with the most vulnerable and marginalised communities at the policy decision tables, because they will tell you who has access to the laws of the land. We must always ask ourselves what will be the impact of this conversation outside of these sanitized walls?

Trisha Shetty

Founder and CEO of SheSays, India

2. Recognize and support youth leadership
Bridging generational divides and engaging youth as active partners are essential for creating a broad base for advancing the gender equality agenda. While today's youth have unprecedented technological capacities, participation needs to be extended to rural and underserved areas in order to democratize digital access and enable widespread participation.
What is important is to hear their voice and to support them and to make them feel that they have ownership of their own activities and their own challenges and demands.

Leila Alikarami

Lawyer and Human Rights Advocate, Iran
3. Pursue intersectional demands for justice
Prioritizing an intersectional approach to gender equality that recognizes the diverse identities and challenges defining women's experiences—from race and ethnicity to sexual orientation, poverty status, and rural and urban livelihoods—will drive progress across the global agenda. Building multi level partnerships across diverse constituencies will be crucial for sustaining and accelerating progress toward gender equality.

4. Engage with powerful men and traditional authorities
Women will not win the fight for gender equality alone. Enlisting support from powerful men—from the highest levels to the local and household levels—will accelerate the movement toward equality by helping to overcome resistance and promoting norms of power sharing between men and women. It is also critical to engage religious leaders who shape community values and can change attitudes around harmful norms.
In our call for action, as we work on transferring laws to practice, a greater awareness towards local realities and local leadership could benefit the cause of women's rights everywhere.

Shaharzad Akbar

Chairperson, The Afghanistan Independent Human Rights Commission, Afghanistan

5. Catalyze the private sector as a key partner
The private sector is powerfully positioned to accelerate women's progress in the workplace, in the media, and in entrepreneurship. Greater cooperation is needed between the private sector, governments, and international institutions.
In the Congo, the media really played a big role in fighting against rape and sexual violence. In our local language, we didn't have a local word to talk about rape. We had to borrow a word from Swahili from Tanzania. And the media started to sensitize people about that new word.

Chouchou Namegabe

Founder and CEO, ANZAFRIKA

6. Reform and scale up multilateral support for equity
There is often a tremendous gulf between the values supporting gender equality and policies adopted by multilateral institutions and their implementation. The Security Council, for example, adopted UNSCR 1325, linking women's agency to peace and security, 20 years ago and yet women still represent a tiny fraction of peace negotiators, peace envoys, mediators and peacekeepers.
The compounding effects of Covid-19 on the barriers to equality demand strong multilateral action and reaffirm the importance of building resilient institutions that can develop and fully implement policies and frameworks. Ensuring that the rhetoric of global institutions is translated into reality must be a top priority.
We can only solve global problems with global agreements.

Dalia Grybauskaitė

Former President of Lithuania

7. Expand access to better data
Accurately tracking progress against the Beijing Platform and SDG commitments requires sex-disaggregated data. The Covid-19 crisis has exposed both the gaps and the importance of sex-disaggregated data—from the health impacts to domestic violence, job losses, and social protection coverage. Even upper-middle and high-income countries, such as Brazil and the United States, have struggled to report Covid-19 infection rates by sex. Global Health 50/50 has revealed that 23 of 106 countries surveyed do not have sex-disaggregated data on the impacts of the virus.
On women: "It is necessary to provide them with better institutional, financial and legal support, as well as access to resources and technology. Women must be the center of the new economy post-COVID. The time has come."
– Marta Lucía Ramírez, Vice President of Colombia
If women have access to data, they would start using that data for their future planning and implementation.

Reema Nanavaty

Head of Self-Employed Women's Association of India
CLOSING
These seven pillars outline a strategy for realizing the current opportunities to build back better for women and girls and address the ongoing obstacles to progress laid out in the full report.
Across every sphere, the Covid-19 pandemic is exposing the disparities and inequalities that persist for women and girls, along with massive racial and economic injustice.
Women are leading local and global efforts to build a more inclusive and sustainable society for all. We stand today amid unprecedented global shifts that could redefine the ways that we live and work together. Business as usual will not bring progress. This moment demands transformation, innovation, and bold steps to galvanize cross-cutting partnerships to accelerate change.
Finishing the unfinished business of the Beijing platform is an urgent strategic imperative that all world leaders, men and women alike, must embrace. Not with tired ideas and incremental steps, but with the boldness, passion, and resources needed to capitalize on the extraordinary events of this hour in ways that will transform our world for the better. Our time is now. We must meet this moment.

Hillary Rodham Clinton

Former United States Secretary of State
Global Women Leaders 
Michelle Bachelet, UN High Commissioner for Human Rights and former President of Chile 
Hillary Rodham Clinton, Former United States Secretary of State
Patricia Espinosa, Executive Secretary of the United Nations Framework Convention on Climate Change
Drew Faust, Former President of Harvard University
Julia Gillard, Former Prime Minister of Australia
Dalia Grybauskaitė, Former President of Lithuania
Natalia Kanem, Executive Director of the United Nations Population Fund
Susana Malcorra, Former Foreign Minister of Argentina
Phumzile Mlambo-Ngcuka, Executive Director of UN Women
Reema Nanavaty, Head of Self-Employed Women's Association of India
Marta Lucía Ramírez, Vice President of Colombia
Mary Robinson, Former President of Ireland
Judith Rodin, Former President of The Rockefeller Foundation
Ellen Johnson Sirleaf, Former President of Liberia
Carolyn Tastad, Group President for North America at Procter & Gamble
Margot Wallström, Former Minister of Foreign Affairs, Sweden
Generation Equality Leaders 
Shaharzad Akbar, Chairperson for The Afghanistan Independent Human Rights Commission
Leila Alikarami, Lawyer and Human Rights Advocate, Iran
Laura Alonso, Former Head of the Argentina Anti-Corruption Office
Ikram Ben-Said, Founder of Aswat Nissa, Tunisia
Chouchou Namegabe, Founder and CEO, ANZAFRIKA, The Democratic Republic of Congo
May Sabe Phyu, Kachin Women's Rights Activist, Myanmar
Trisha Shetty, Founder and CEO of SheSays, India
Virginia Tan, Co-Founder and President of Lean In China
---
This report was written by a team at the Georgetown Institute for Women, Peace and Security (GIWPS)—led by Jeni Klugman and including Elena Ortiz, Agathe Christien, Kate Fin, Evelyn Garrity, Emma Jouenne, Jessica Keller, Julia Maenza, Turkan Mukhtarova, Robert Nagel, Sarah Rutherford, Reid Schnider, Jessica Smith, Allie Smith, Liping Wang, and Haiwen "Bryan" Zou. This report included extensive individual interviews with participants conducted by Ambassador Melanne Verveer of GIWPS and Sundaa Bridgett-Jones of The Rockefeller Foundation during the summer of 2020. We are grateful for additional support from Marina Pravdic of The Rockefeller Foundation and Alexia Cara, Erin Lacey, Heather Mason, and Laura Moore of The Caspian Agency.
Report

Beijing+25: Accelerating Progress for Women and Girls

A collaboration of The Rockefeller Foundation and The Georgetown Institute for Women, Peace and Security

Download PDF