BELLAGIO, ITALY | June 28, 2022 – The Georgetown Institute for Women, Peace and Security (GIWPS) and The Rockefeller Foundation co-convened global women leaders on June 20-23, 2022 at the Foundation's Bellagio Center in Bellagio, Italy for the Global Women Leaders Summit to address the urgent need for action to advance gender equity.
The rights of women and girls around the world are at risk of being rolled back by widespread democratic recession and rising autocracy, the existential threat of climate change, and failing international frameworks. At the same time, the world needs gender equity more than ever to achieve peace and prosperity. This is a watershed moment.
Secretary Hillary Rodham Clinton, who chaired the event, noted, "At this unprecedented moment, women leaders are critical to delivering a better future for all. I was proud to be a part of this important convening."
Women leaders in attendance called for the following to achieve gender equity:
Advancing Democracy: The increasingly hostile environment for women political leaders and human rights defenders, as well as targeted unchecked abuse on social media undermines democracy and deters future political participation. Women leaders urgently need to be equipped with training and support networks to navigate and thrive amid ongoing backlash. It is equally important to transform the social media space by nurturing greater accountability for a safe online environment. As part of the way forward, the group is leading a social media campaign to advocate for the advancement of women's rights, using hashtag #Overdue4Equity.
Climate Action: The climate crisis disproportionately harms women, and there is enormous opportunity to center women in climate action. It is critical that new capital investments that can accelerate a just climate transition are unlocked. This includes investing in women-led businesses and programs around the world that promote the use of renewable energy, green technologies, and regenerative agriculture.
Gender Funding and Frameworks: Frameworks for gender equity must be implemented. Those who attended the convening pointed to the gains made on the Women, Peace and Security agenda, ongoing efforts to counter gender-based violence, and the potential of the United Nations Generation Equality funds and programs. Attendees on the frontlines in Ukraine, Afghanistan, Myanmar, and South Sudan reinforced the need for these frameworks. The wisdom and experience of women peacebuilders must be meaningfully included at all
levels of conflict resolution.
Full recommendations from the Summit will be released shortly.
"The outcomes of this convening will be concrete, timely, and at scale. The women leaders are deeply committed to addressing critical needs, particularly as the pushback against women's equality grows and global crises exacerbate," said Melanne Verveer, the first U.S. Ambassador for Global Women's Issues (2009-2013) and current Executive Director of GIWPS.
"Many of today's compounding crises are affecting women and girls first and worst. To make opportunity universal and sustainable, we need to reimagine our approach to gender equity, including by supporting the concrete, meaningful actions generated by the Global Women Leaders Summit," said Dr. Rajiv J. Shah, President of The Rockefeller Foundation.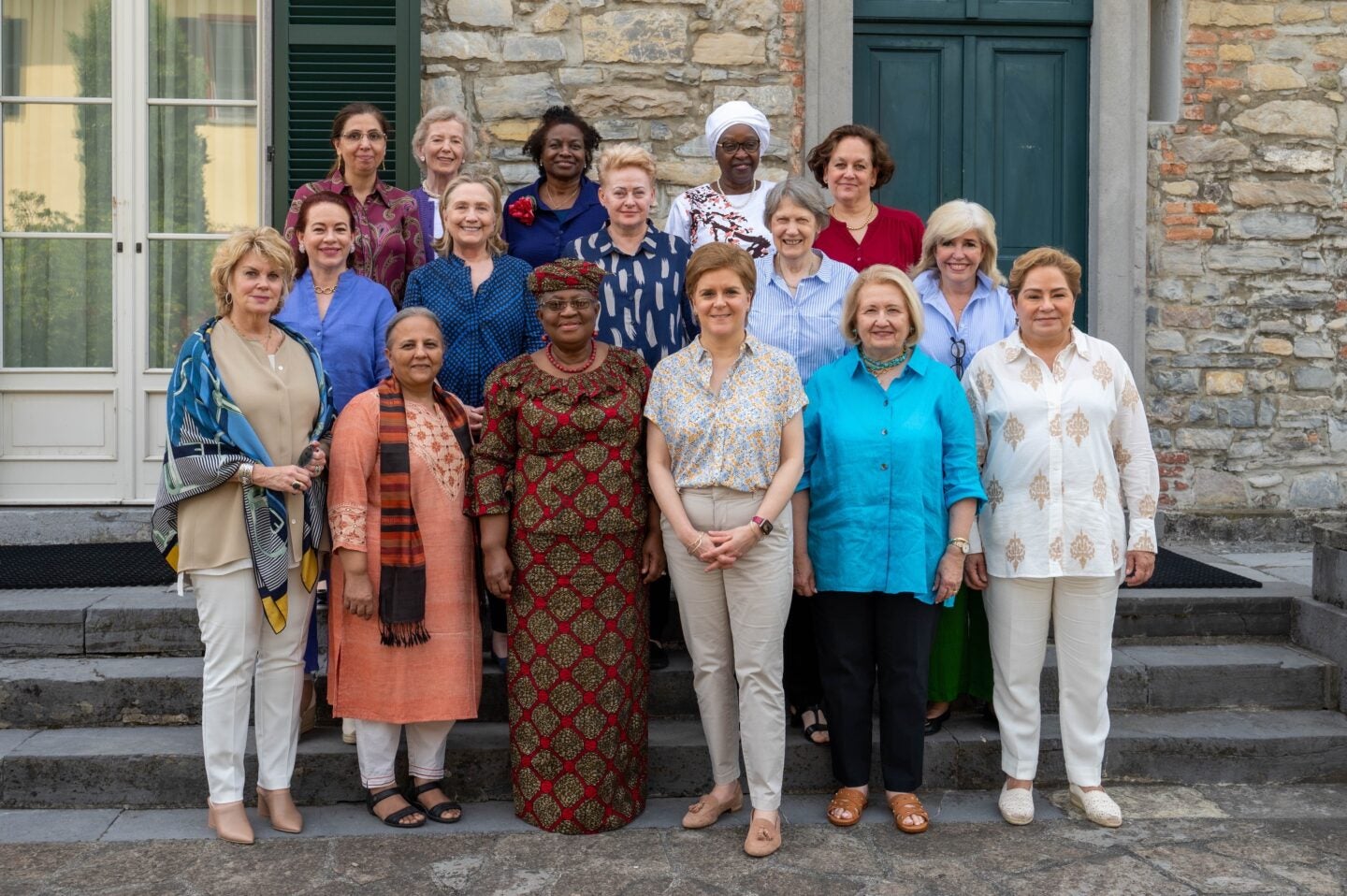 List of participants:
H.E. Helen Clark, Former Prime Minister, New Zealand; Former UNDP Administrator
Dr. Rola Dashti, Executive Secretary of the Economic and Social Commission for Western Asia
Mme. Bineta Diop, Special Envoy of the Chairperson of the African Union Commission on WPS
H.E. Patricia Espinosa, Executive Secretary of the United Nations Framework Convention on Climate Change; Former Secretary of Foreign Affairs of Mexico
H.E. Maria Fernanda Espinosa, Former President of the UN General Assembly
Ms. Anne Finucane, Vice Chair, Bank of America
H.E. Dalia Grybauskaité, Former President of Lithuania
Dr. Natalia Kanem, Executive Director, UNFPA
Ms. Reema Nanavaty, Head of Self-Employed Women's Association of India
Dr. Ngozi Okonjo-Iweala, Director-General of the World Trade Organization
H.E. Mary Robinson, Former President of Ireland; Chair, The Elders; Former UN High Commissioner for Human Rights
The Right Honorable Nicola Sturgeon, First Minister of Scotland
Also pictured:
Ms. Eileen O'Connor, Senior Vice President of Strategic Communications and Policy, The Rockefeller Foundation
Ms. Carla Koppell, Distinguished Fellow, Georgetown Institute for Women, Peace and Security
---
About The Rockefeller Foundation
The Rockefeller Foundation is a pioneering philanthropy built on collaborative partnerships at the frontiers of science, technology, and innovation working to enable individuals, families, and communities to flourish. We work to promote the well-being of humanity and make opportunity universal. Our focus is on scaling renewable energy for all, stimulating economic mobility, and ensuring equitable access to healthy and nutritious food. For more information, sign up for our newsletter at rockefellerfoundation.org and follow us on Twitter @RockefellerFdn.
About Georgetown Institute for Women, Peace, and Security (GIWPS)
Georgetown University's Institute for Women, Peace & Security seeks to promote a more stable, peaceful, and just world by focusing on the important role women play in preventing conflict and building peace, growing economies, and addressing global threats like climate change and violent extremism. We engage in rigorous research, host global convenings, advance strategic partnerships, and nurture the next generation of leaders. Housed within the Walsh School of Foreign Service at Georgetown, the Institute is headed by the former U.S. Ambassador for Global Women's Issues, Melanne Verveer. For more information, sign up for our newsletter at giwps.georgetown.edu and follow us on Twitter and Facebook @giwps and Instagram @georgetown_wps.
Media Contact
The Rockefeller Foundation
press@rockfound.org
+1 (212) 852 0000
Georgetown Institute for Women, Peace and Security
Sarah Rutherford
+1 (412) 965 9275
sarah.rutherford@georgetown.edu