NEW YORK | March 8, 2021 – The Rockefeller Foundation is pleased to announce that Dr. Rick Bright is joining as Senior Vice President of Pandemic Prevention and Response. In his new capacity, Dr. Bright will lead the Foundation's work to collaborate with leading global public health emergency organizations and entities to develop a pandemic prevention institute that aims to avert future pandemics by identifying and responding to the earliest alerts of a disease outbreak and stopping it in the first 100 days.
Dr. Bright brings extensive experience in global public health, working with the U.S. Department of Health and Human Services (HHS), U.S. Center for Disease Control and Prevention (CDC), the World Health Organization (WHO), PATH, and the private sector, making key advancements in vaccine and therapeutic developments for influenza viruses with pandemic potential and new vaccine, treatment, and testing technologies.
"We are thrilled to have someone of Rick's caliber join The Rockefeller Foundation," said Dr. Rajiv J. Shah, President of The Rockefeller Foundation. "His breadth and depth of experience makes him the perfect person to lead our work to incubate a global precision pandemic prevention system and institute to reinvigorate public health for the 21st Century so the world can better sequence viruses, develop recommendations, and share best practices around the world."
For several decades Dr. Bright has been instrumental on the frontlines of work developing international response plans and innovation to address emerging infectious diseases. He has served as a key advisor in a number of roles, including in the development of the Coalition for Epidemic Preparedness Innovations (CEPI), the WHO Research and Development Blueprint for Action to Prevent Epidemics, the WHO Global Action Plan for Influenza vaccines, and the National Academies of Sciences, Engineering & Medicine Forum on Microbial Threats. He also led and coordinated the U.S. and global medical countermeasure development for the 2014 MERS outbreak (another coronavirus) and served as Incident Commander for medical countermeasure response against the Zika virus in 2016.
"If there is something we have learned throughout the COVID-19 pandemic and other high impact epidemics, it is that pandemic preparedness and response cannot be advanced with a siloed approach," said Dr. Mike Ryan, Executive Director of the WHO's Health Emergencies Programme. "Few people bring the full package to the table: profound scientific and public health expertise, years of outbreak response experience, a private and public sector background and a collaborative, innovative, and out-of-the-box mindset. Rick Bright combines all these qualities. His leadership will be an enormous asset to The Rockefeller Foundation and to the global health community."
Most recently, Dr. Bright served as HHS Deputy Assistant Secretary for Preparedness and Response and Director of the esteemed Biomedical Advanced Research and Development Authority (BARDA).  Dr. Bright resigned from government service in protest over the Trump administration's approach to handling the Covid-19 pandemic, specifically over the level of political interference in science and the spread of inaccurate information that he said was 'dangerous, reckless and causing lives to be lost.'
"I'm delighted that Dr. Rick Bright has been appointed as Senior Vice President of Pandemic Prevention and Response at The Rockefeller Foundation," said Dr. Jeremy Farrar, Director of Wellcome. "The Covid-19 pandemic has highlighted the human and economic costs of epidemics and the fact that we need to be better prepared to identify and respond to emerging infections. Dr. Bright is a leading figure in global health with a wealth of experience, and we look forward to working with him over the coming years."
Dr. Bright was extensively engaged in developing Accelerating National Genomic Surveillance, an action plan outlining a way to accelerate the use of genomic surveillance in tracking SARS-CoV-2 in the United States, and a companion document, "Implementation Framework: Toward a National Genomic Surveillance Network," which identifies key barriers to realizing a robust national genomic surveillance system and outlines practical opportunities to reduce these barriers. Both were released today.
---
About The Rockefeller Foundation
The Rockefeller Foundation advances new frontiers of science, data, and innovation to solve global challenges related to health, food, power, and economic mobility.  As a science-driven philanthropy focused on building collaborative relationships with partners and grantees, The Rockefeller Foundation seeks to inspire and foster large-scale human impact that promotes the well-being of humanity throughout the world by identifying and accelerating breakthrough solutions, ideas, and conversations.  For more information, sign up for our newsletter at rockefellerfoundation.org and follow us on Twitter @RockefellerFdn.
Media Contact
Ashley Chang
The Rockefeller Foundation
+1 (917) 373-9530
achang@rockfound.org
Feature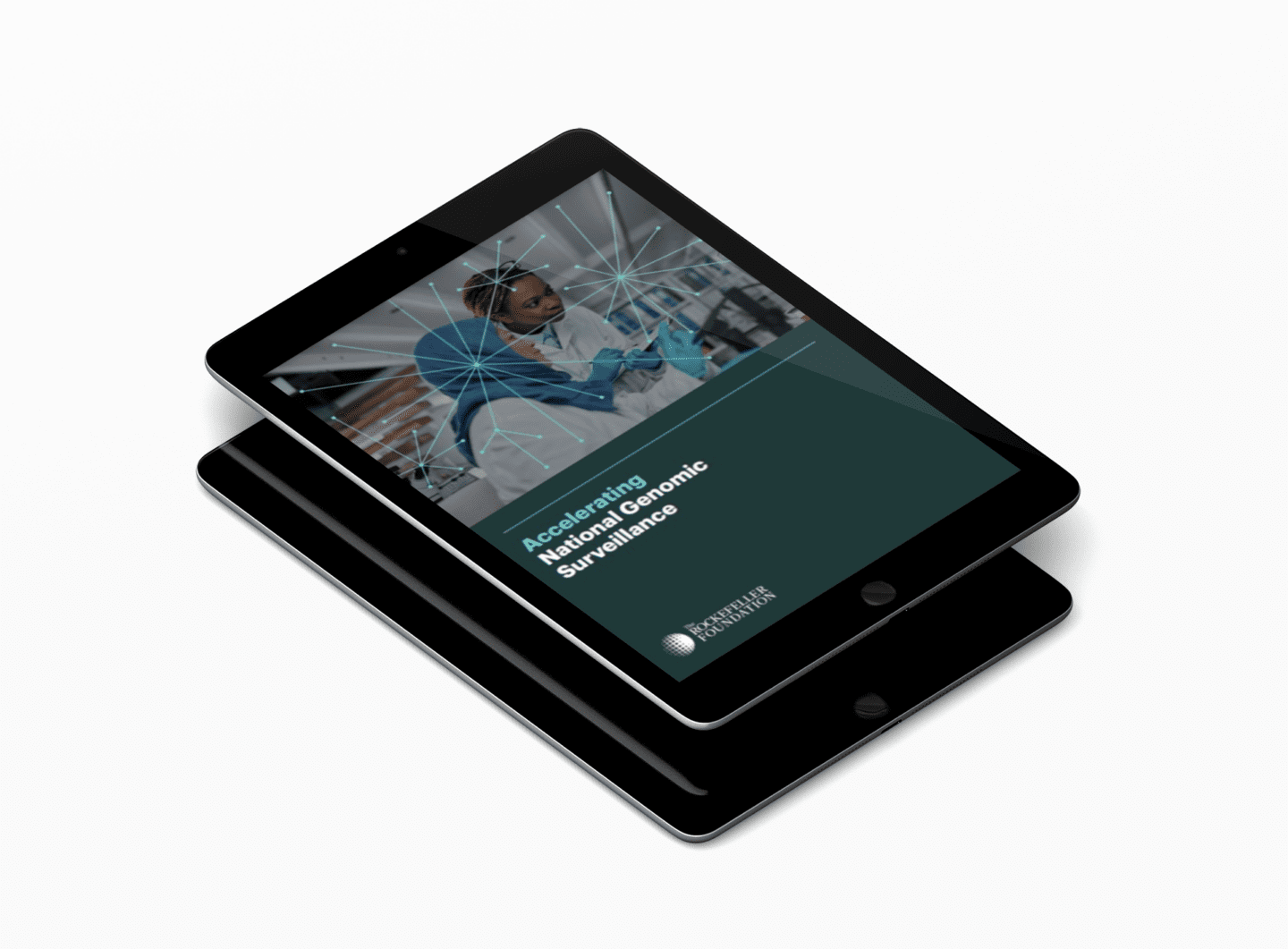 Getting Ahead of the Pandemic: Accelerating National Genomic Surveillance
Our report lays out a new plan for the urgent amplification of national genomic surveillance efforts and outlines a six-part strategy to enable rapid detection and control of emerging SARS-CoV-2 variants. The threat of new and existing dangerous variants requires urgent action. Together, our report and accompanying implementation framework provide a blueprint for mobilizing an […]
More