NEW YORK | March 8, 2021 – The United States is currently conducting sequence-based surveillance for fewer than one percent of coronavirus cases, a rate that is lagging far behind many nations. This limited surveillance inhibits the country's ability to rapidly detect new virus variants before they have spread widely.  Today, The Rockefeller Foundation released "Accelerating National Genomic Surveillance," an action plan for creating a national genomic surveillance system in the United States based on a February 2021 convening of several dozen scientists, lab administrators, public health officials, representatives from the private sector, and entrepreneurs. In addition, the Foundation released a companion document, "Implementation Framework: Toward a National Genomic Surveillance Network," which identifies key barriers to realizing a robust national genomic surveillance system and outlines practical opportunities to reduce these barriers. Both documents were developed with extensive involvement from Dr. Rick Bright, who was also announced today as The Rockefeller Foundation's new Senior Vice President for Pandemic Prevention and Response. In this role he will lead the Foundation's work to incubate a global data-driven, pandemic prevention institute.
"This blueprint for dramatically expanding genomic surveillance of SARS-CoV-2 and other pathogens in the United States comes at a critical time in our country's battle against this pandemic and lays the groundwork for a system to help identify, track, and prevent the next outbreak from such widespread devastation," says Dr. Rajiv J. Shah, President of The Rockefeller Foundation. "By amplifying warning signals and sharing information and best practices, the system presented could save countless lives and billions of dollars by helping to forestall new variant-driven surges."
Accelerating Genomic Surveillance in the U.S.
As the SARS-CoV-2 virus spreads from person to person, the virus evolves, producing variants that may evade treatments and vaccines, and possibly re-infect people who have natural immune responses from prior infection. Identifying and understanding these genetic variants rapidly, along with sharing the information globally as quickly as possible, is vital to ending the Covid-19 pandemic. Most existing global genomic surveillance efforts are ad hoc, siloed, and inadequate to meet the demands of a rapidly changing virus. While gaps exist globally in tracking and alerting on SARS-CoV-2 variants and their impact on the pandemic, there are clear challenges to the way this is done in the United States.
"Throughout this pandemic, the United States has been flying blind without adequate testing and genomic surveillance," said Dr. Rick Bright, The Rockefeller Foundation's new Senior Vice President of Pandemic Prevention and Response. "To end the pandemic and avoid further economic and societal devastation, it is essential that we accelerate and coordinate our efforts to rapidly identify, track, and halt this virus before more damage is done."
With the challenges of genomic surveillance in U.S., comes an opportunity to move the country forward. As identified in a six-part action plan, this includes:
Building a viral defense system – Sentinel sites around the country must be established to detect and track a new virus or variant as soon as it appears.
Broadening diversity – In order to inform a more effective and equitable public health response, robust, diverse genomic surveillance must be undertaken through analyzing samples representative of all communities across age, race, ethnicity, gender, geography, risk level, and exposure level.
Connecting national public health systems – A national standard for the collection, aggregation, and sharing of risk-related medical information must be created that safeguards privacy and adheres to the law while linking disparate data.
Securing additional resources – The Biden administration's $200 million down payment is a good start, but significantly more support is needed to establish, expand, and sustain a system that will stay in front of a rapidly mutating and spreading virus.
Creating new analytic tools – New software tools for analyzing genomic data that are easy-to-use and scalable are urgently needed to understand, explain, and ultimately, implement a more effective response to viral spread and threats.
Rapidly assessing threats posed by new virus variants – When significant mutations occur, there is a need to understand their biology at the molecular level and determine how these changes in the virus impact its transmissibility, its virulence, or the effectiveness of vaccines and therapeutics against it.
Implementation Framework: Toward a National Genomic Surveillance Network
In coordination with a diverse coalition of stakeholders actively engaged in genomic surveillance, Foundation also developed an "Implementation Framework: Toward a National Genomic Surveillance Network." In addition to identifying the barriers to realizing a robust national genomic surveillance system, the framework coalesces around six essential areas of opportunity: improving linkage to metadata, increasing sequencing volume and representation, bolstering information sharing and integration, advancing genomic analysis, accelerating phenotypic analysis, and enhancing communication and data visualization. Taken together, it will facilitate the quick and effective development of a streamlined U.S. genomic surveillance system that will empower national and global actors to not only control this pandemic, but quell future pandemics.
"These projects normally take years, but this one is needed within weeks," said Dr. Eric Topol, Founder and Director of the Scripps Research Translational Institute, who also participated in the advisory committee that developed the report. "The urgency of the situation requires us to mobilize existing capacities to scale up a program rapidly."
Looking Ahead
"The best-known SARS-CoV-2 variants, identified in South Africa (B.1.351) and the U.K. (B.1.1.7), were both first acknowledged in countries doing large amounts of surveillance and genomic mapping of the pandemic virus," said Dr. Jonathan "Jono" D. Quick, Managing Director for Response, Preparedness, and Prevention at The Rockefeller Foundation. "The United States, where we have the world's largest outbreak, and many low- and middle- income countries are doing far too little genomic surveillance. In places without this tool, dangerous new variants are much more likely to emerge and spread undetected."
Together, Accelerating Genomic Surveillance in the U.S. and Implementation Framework: Toward a National Genomic Surveillance Network represent the first step to working with a broad range of partners to improve America's genomic surveillance capacity and expand lessons learned to all countries. Once the technology and analytic capabilities are widespread, the data from many locations can feed into a pandemic prevention institute that The Rockefeller Foundation is developing. That entity is part of a $1 billion commitment made recently by The Rockefeller Foundation to incubate a global, data-driven, pandemic prevention system. The aim is that when the data received is analyzed, the information will be shared broadly so everyone can take the actions needed to stay ahead of the Covid-19 pandemic and eventually shut it down, while detecting and preventing future outbreaks from becoming global pandemics.
---
About The Rockefeller Foundation
The Rockefeller Foundation advances new frontiers of science, data, and innovation to solve global challenges related to health, food, power, and economic mobility.  As a science-driven philanthropy focused on building collaborative relationships with partners and grantees, The Rockefeller Foundation seeks to inspire and foster large-scale human impact that promotes the well-being of humanity throughout the world by identifying and accelerating breakthrough solutions, ideas, and conversations.  For more information, sign up for our newsletter at rockefellerfoundation.org and follow us on Twitter @RockefellerFdn.
Media Contact Ashley Chang
The Rockefeller Foundation
+1 (917) 373-9530
achang@rockfound.org
Stay Updated
Get quick updates in our e‑newsletter.
Feature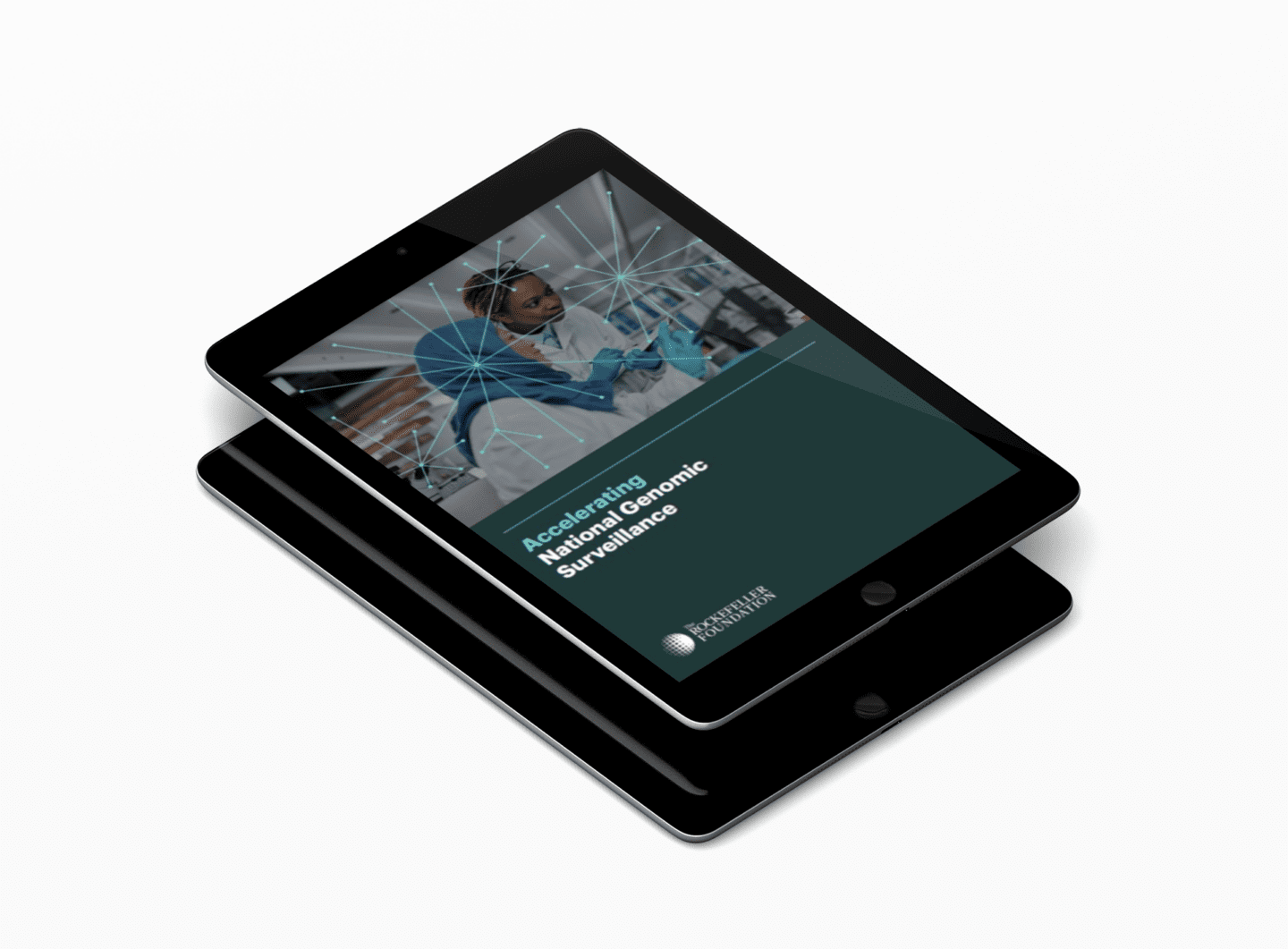 Getting Ahead of the Pandemic: Accelerating National Genomic Surveillance
Our report lays out a new plan for the urgent amplification of national genomic surveillance efforts and outlines a six-part strategy to enable rapid detection and control of emerging SARS-CoV-2 variants. The threat of new and existing dangerous variants requires urgent action. Together, our report and accompanying implementation framework provide a blueprint for mobilizing an […]
More