Overview
Connecting Communities with Capital Providers
The Rockefeller Foundation knows that place matters and our philosophy is that those who are closest to the problem are best positioned to solve it. No city or town in the U.S. has a monopoly on talent or effort, but opportunity is not equally distributed, especially when it comes to communities of color. According to a 2019 Federal Reserve System survey, the racial wealth gap is wider for Black and Latinx families compared to White families than for any other racial identifications. But we know that business ownership and access to capital are among key ways to build generational wealth.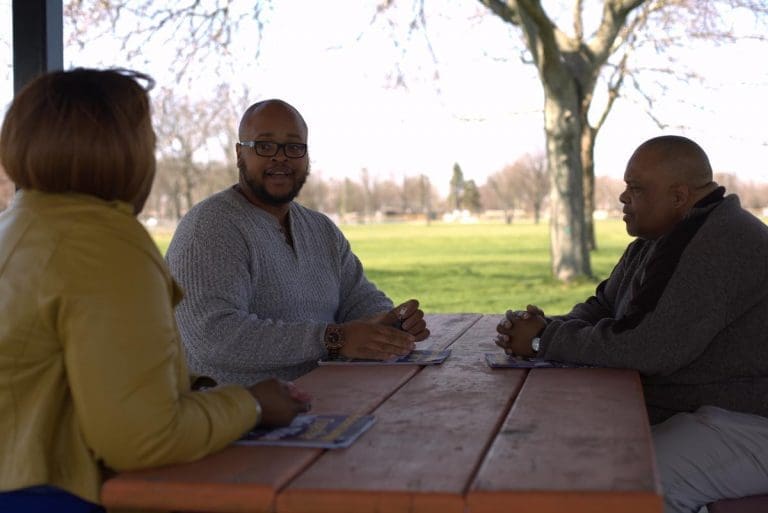 is the median net worth for Black households, compared with $36,000 for Latinx and $189,000 for white

of U.S. businesses are Black-owned & 12.2 percent are Latinx-owned

more jobs could be created if those businesses existed, with the potential to boost our national income by $300 billion
Focusing on People and Places
Place shapes outcomes for people. Research shows how ZIP codes can define a person's future. Women, people of color, and immigrants are disproportionately harmed by these systemic challenges, widening existing fissures in society.
LEARN MORE
The Foundation is now working in twelve places to shrink the racial wealth gap while demonstrating successful models of stabilizing and growing Black and Latinx small businesses through The Rockefeller Foundation Opportunity Collective (ROC). ROC invests $15M in partners, projects, and programs across 12 U.S. places with the core goal of reducing barriers to access capital and credit among low-wage workers and small businesses operated by women, Black and Latinx owners.
Efforts are underway in: Atlanta, Ga., Baltimore, Md., Boston, Ma., Chicago, Il., El Paso, Texas, Houston, Texas, Jackson, Ms., Louisville, Ky., Miami-Dade County, Fla., Newark, N.J., Norfolk, Va., and, Oakland, Calif.
Learn More About Our Grantee Partners
Our Approach
At The Rockefeller Foundation, we believe that communities experiencing the problem directly are best suited to find solutions, so we invest in partners, projects, and policies within our 12 places that break down barriers to capital and credit access to Black and Latinx small businesses.
Our Pillars of Work
We will focus on identifying and supporting opportunities that align within or along three pillars of work.
LEADERSHIP DEVELOPMENT
We will support local efforts to engage and build local Black and Latinx small business leadership networks to evaluate current gaps, identify solutions, and drive the narrative to support implementation.
CONTEXTUAL TECHNICAL ASSISTANCE
We will support local and national efforts to provide culturally competent and localized technical assistance to Black and Latinx small businesses through accelerators, incubators, collectives, and business service organizations.
CAPITAL PROVIDERS
Building on the first two pillars and leveraging the Foundation's connections, we will invest grant and program related investment (PRI) dollars to seed and accelerate non-dilutive private capital institutions that have equity at their core and will help stabilize and grow Black and Latinx small businesses.
Opportunity Zones
The 2017 Tax Cuts and Jobs Act included a new federal tax incentive that permits investors with recognized capital gains to deploy capital into projects and businesses located in designated "Opportunity Zones" in exchange for federal tax advantages. By spring of 2020, investors, many looking to tap into the tax break, had committed at least $10 billion in Opportunity Zones nationwide.
LEARN MORE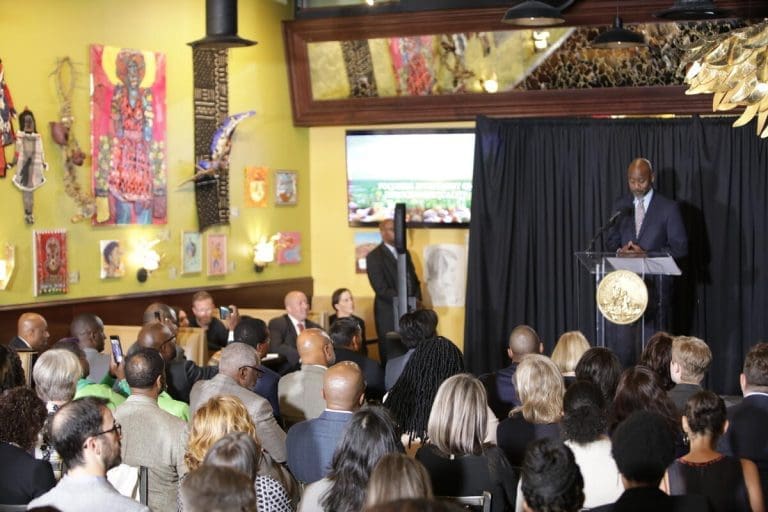 Against this backdrop, The Rockefeller Foundation sought to influence stakeholders and maximize the ability of communities to engage and to benefit from the Opportunity Zone designation. From 2019 to 2020, we invested in efforts that mobilized a pipeline of more than $4.5 billion including 6 projects with high-value for local communities in three places that received predevelopment funding to advance. And filled a federal vacuum in the absence of regulatory oversight or reporting requirements for Opportunity Zones through the broad adoption of the U.S. Impact Investment Framework.
Small businesses help define Oakland's character, and through the generous support of the Rockefeller Foundation Opportunity Collective, we will further advance our goal of inclusive equitable economic development to ensure all Oaklanders benefit from growth as we recover from the COVID-19 pandemic.

Mayor Libby Schaaf

Oakland, California

The visionary ROC program will not only provide critical support to our neighborhoods devastated by the Covid-19 crisis, it will also help address the deeper, generational fissures of inequality across our cities.

Mayor Lori Lightfoot

Chicago, IL

Minority residents and businesses in too many American cities have been deliberately left behind and ravaged by years of persistent and systemic racism. It is time to do better and step up to invest. We all need to do more – as government, as business, as individuals, and through philanthropy.

Mayor Greg Fischer

Louisville, KY
Meet our Partners & Grantees
So whether you're trying to solve for public health, solve for climate change, or solve for equity, we recognize the value of a place and its supporting infrastructure, is paramount to ensure that we create an equitable, just community.

Christopher Coes

Vice President, Smart Growth America

We believe that by holding a racial equity lens in all of our work we will actually help to change the American system so that truly is an equitable place for all American citizens.

Demetric Duckett

Associate Director of Capital Innovation, Living Cities

Through public policies like Opportunity Zones, Community Reinvestment Act and New Markets Tax Credits—government incentives that mobilize private capital for public good—we seek to bring new investment, innovative solutions and economic opportunity to low- to moderate-income communities.

Fran Seegul

Executive Director, U.S. Impact Investing Alliance

These solutions bring about positive change, because we're targeting specific populations. The Opportunity Zones are historically under-invested, distressed communities. The fact that we're paying direct attention to attract, and not just investment but social impact investment to these communities, I think is a true testament to our goal of promoting long-lasting and systemic change.

Ed Smith

Invest Atlanta
Feature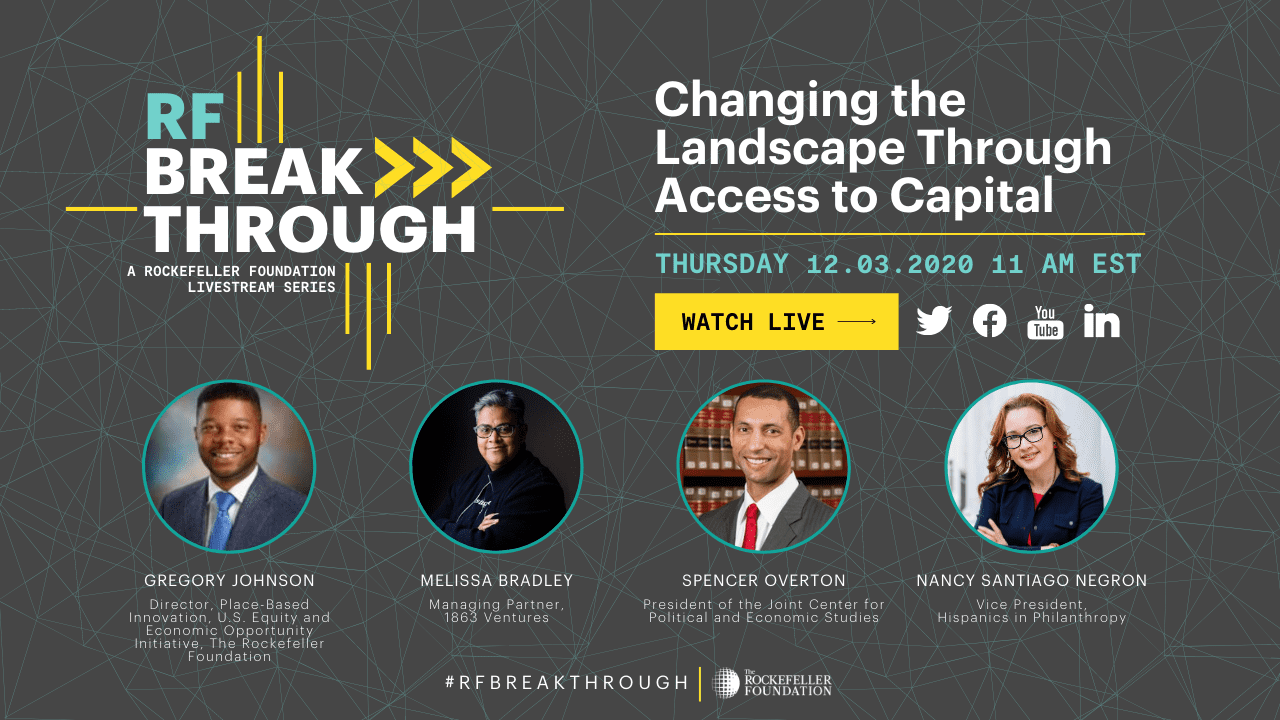 Changing the Landscape Through Access to Capital
Small businesses are struggling to recover from Covid-19, and Black-owned businesses are among the hardest hit. Further complicating the recovery for these businesses is the fact that they typically have the hardest time gaining access to capital. Literally, landscapes will be changed, and communities left struggling unless avenues and methods for increasing access to capital […]
More