Overview
People of color in the U.S. have been disproportionately impacted by the Covid-19 pandemic—yet still face many barriers to receive Covid-19 vaccines.
By working with the people who know their communities best, we can remove barriers and increase access to Covid-19 vaccinations in communities of color—and ensure that at least 70 million people of color are vaccinated by July 2021.
Americans have been fully vaccinated as of April 12, 2021

have gone to people of color—even though they are twice as likely to die from Covid-19 than white Americans

people of color need to be vaccinated by the end of July 2021 to achieve vaccine equity in the U.S.
Currently, too many people of color that want to get a vaccine don't know how they'll access it. An initial poll issued by HIT Strategies, with support from The Rockefeller Foundation, found that while the majority of people of color in five major U.S. cities (Baltimore, MD; Chicago, IL; Houston, TX; Newark, NJ; and Oakland, CA) want to get vaccinated when eligible, nearly two-thirds do not know how they'll get the vaccine.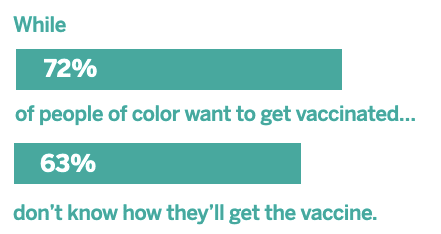 OUR APPROACH
By adopting an equity-first approach and working with the people who know their communities best, we can increase vaccine access and confidence for millions of people of color.
Adopting Equity-First Models
The Rockefeller Foundation is launching the $20 million Equity-First Vaccination Initiative (EVI) to demonstrate-and-scale hyper-local, community-led programs to improve vaccine access and accurate information across five cities.
The Foundation will invest in community-based organizations through anchor organizations in five U.S. cities: Baltimore, MD; Chicago, IL; Houston, TX; Newark, NJ; and Oakland, CA and national organizations to adopt and scale learnings across the country.
Working with Communities
The anchor organizations in 5 cities will provide resources and support to over 100 community-based organizations who will lead hyper-local community mobilization efforts to increase vaccine access and rollout additional community vaccination sites.
Our investment will also connect these organizations with experts who will provide accurate, evidence-based information to improve their ability each to address questions and concerns about the Covid-19 vaccines.
The best practices from these equity-first models will be synthesized and shared nationally through cross-sector networks, advocacy efforts, convenings, and publications to ensure that the most effective solutions are actively adopted to effectively remove racial vaccination disparities:
Knowledge generation: The Foundation will surface barriers and promising solutions observed both nationwide and in our demonstration pilots.
Networks: The Foundation will regularly share data and learning with national networks, including the Pandemic Solutions Group (PSG) and the State and Territory Alliance on Testing, to crowd in support from other public, private, and civil society partners to scale models that work.
Advocacy: The Foundation will work alongside federal, state, and local governments to further expand awareness about the Initiative's initial findings and impact as well as advocate for critical policies, targeted resources, and the use of new strategies and tools in order to reach 70 million people of color by July 2021.
A vaccination strategy that does not seek to directly combat inequities stands to further entrench them.

Otis Rolley

Senior Vice President for the U.S. Equity and Economic Opportunity Initiative at Rockefeller Foundation
Meet our Anchor Organizations
Our Equitable Vaccination Initiative will ensure that communities have equitable access to vaccines.

Danielle Torain

Director of Open Society Institute-Baltimore

An all-hands-on-deck approach will ensure vaccines reach as many Chicagoans as possible.

Dr. Helene D. Gayle

President and CEO of The Chicago Community Trust

Vaccines should be easy to reach & convenient- that's the work our members & partners have underway.

Frances Valdez

Executive Director of Houston in Action

We will work with the community to help make decisions about vaccines and access it when eligible.

Catherine Wilson

President & CEO of United Way of Greater Newark

We're providing vaccine education, advocating for accessibility, and empowering community members.

Dr. Noha Aboelata

CEO and Founder of Roots Community Health Center