GAME Helps Home-Grown Businesses Meet Payroll
Though still unable to fully reopen, Champaca survives, helped in no small measure by the Global Alliance for Mass Entrepreneurship (GAME), a coalition seeded in part with $500,000 in funding from The Rockefeller Foundation and committed to creating for an additional 10 million entrepreneurs, half of them women, and 50 million new jobs by 2030.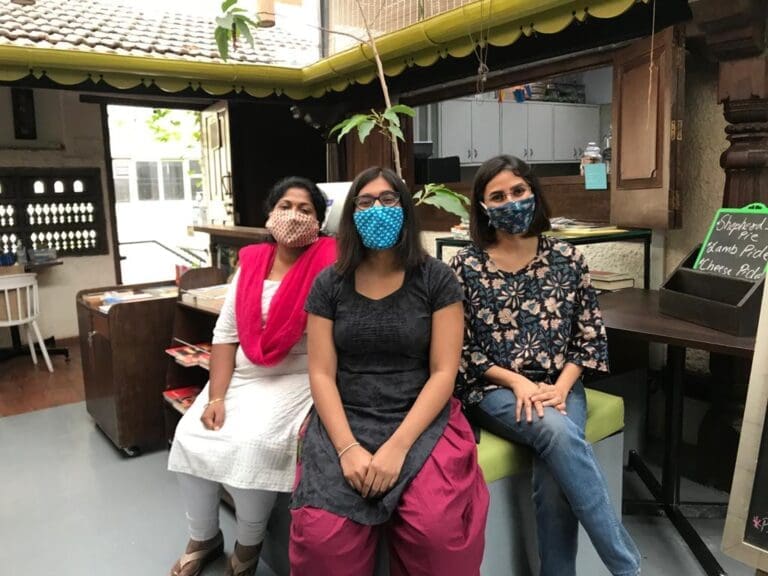 Timbadia won first place in GAME's Futurepreneur Grand Challenge, created to catalyze women entrepreneurs in Bangalore, a city of about 11.8 million and capital of Karnataka state that is sometimes called India's Silicon Valley. Some 252 million women around the world are entrepreneurs, according to a report by Babson and Smith Colleges released last year. In India, women make up about 14 percent of the total entrepreneur base, or 8.05 million out of 58.5 million entrepreneurs, according to a 2019 study.
In April, just as her finances were looking grim, Timbadia received 100,000 Indian rupees, equaling about $1,335 USD, allowing her to pay rent and salaries. And as she scrambled for ways to survive, GAME offered her a network, mentors, and encouragement. She expanded her online sales, and in June she began a subscription service across India, offering monthly parcels of curated titles. She has more than 100 subscribers so far.
I had planned to build a local community, but I had to reconsider what community meant. This is a passion-oriented business but you also need to look at the numbers. And GAME has provided a lot of support at a time when things are quite hard.

Radhika Timbadia

Founder, Champaca
Crisis Brings Opportunity
Globally, entrepreneurs are feeling the squeeze from the Covid-19 crisis. More than 70 percent have been forced to lay off employees, and even more worrying, more than 40 percent say they have three months or less of cash reserve left, according to a survey released in June by Startup Genome. GAME, which is collaboratively surveying entrepreneurs in India on an ongoing basis, found that only 10 percent felt they had enough cash on hand to last three months or more.
On top of that, women entrepreneurs have been disproportionately impacted by the Covid-19 crisis, according to a report released in July by Facebook, the Organization for Economic Co-operation and Development, and the World Bank.
There is a flip side, though: as traditional jobs disappear, more people are considering creating or diversifying their own businesses in pursuit of both an income and their passions. And GAME, founded in August 2018, is meeting the moment by accelerating its efforts to build a self-sustaining mass entrepreneurship ecosystem, noting that entrepreneurships employing 5-20 people have often driven job growth in dynamic economies.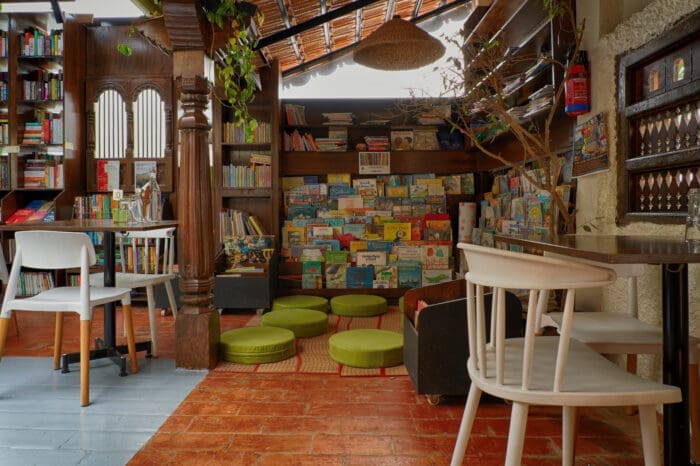 "Every crisis brings opportunity," says GAME's CEO Srinivas Rao Mahankali, who describes himself as a serial entrepreneur. "The dire situation that small businesses are facing cannot be overstated. The situation calls for a multi-pronged approach. While government measures, stimulus packages and supportive business reforms are welcome steps, other players like entrepreneur development organizations, industry bodies, corporations and civil society must connect the dots and ensure every last small business owner benefits from the support framework created."
"Entrepreneurs, big or small, are the essential cogs that keep our economic machinery in motion," says Deepali Khanna, Managing Director of The Rockefeller Foundation's Asia Regional Office. "It is essential for us to ensure that the community of entrepreneurs we support through GAME do not lose their enterprises, investments, and most important, their passion for what they do, due to the Covid-19 setback."
Mahankali called on the entrepreneurs themselves to consider new ways to reach customers. "Peer-to-peer mentoring, focus on keeping morale high, reinventing businesses to seize demand-led opportunities arising from the crisis and of course constantly managing cash flow are some ways entrepreneurs can stay afloat during these trying times."
As one of its projects in response to Covid-19-linked challenges, GAME created the #60Days60Voices project to speak to a thought leader each day for 60 days about how small businesses can survive Covid-19, and made the video conversations widely available through social media.
Anshu Archit Jhunjhunwala, another winner of the Futurepreneur Grand Challenge, says GAME is providing critical support for entrepreneurs during the Covid-19 crisis.
Keep Reinventing Yourself
Anshu Jhunjhunwala, 44, started working when she was only 16 years old, and ran a fashion design business for 20 years before deciding she needed a change. She started preparing global cuisine—dishes from Burma, Lebanon, or Mexico—and turned it into a catering business she ran from home. "I started it as a hobby," she says, "and it grew slowly, organically. Then three years ago, I graduated from being a home chef to owning a company."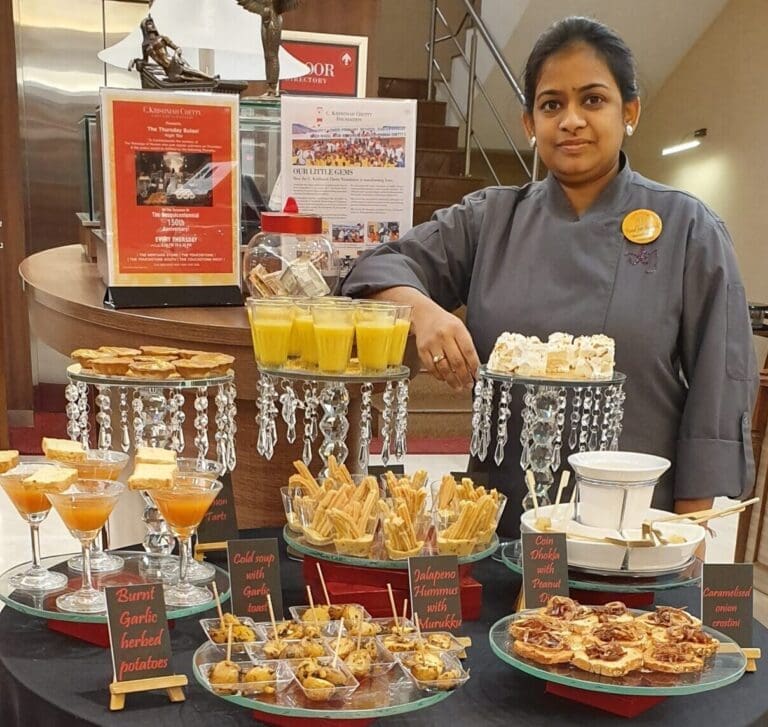 Food for Thought became a top-choice caterer for parties and events in Bangalore. But with the arrival of Covid-19, gatherings were canceled. So Anshu Jhunjhunwala, whose 21-year-old son has joined her in business, pivoted to Pockets and Bowls, offering individual dishes that can be eaten from bowls or pocket bread.
She's also pondering other new paths to follow. "I decided to create a platform to mentor women home chefs and GAME jumped in and helped me immediately," she says. And now she's considering ways to offer an at-home experience to those who love to travel but can't due to Covid-19. "What if we send you Turkish food, for example, and you see a Turkish movie and then you create a little travel experience at home?" she muses aloud.
"If you don't keep reinventing yourself, you die."
Three Pieces of Advice for Entrepreneurs
It took a heavy dose of courage for Sandhya Sureshkumar, a 30-year-old MBA graduate, to leave her steady, well-paid human resources job and start a business founded on a passion for pastries. But entrepreneurship is in her blood—both her father and her grandfather founded their own businesses.
"I used to bake at home when I was younger, and sell my food at carnivals and flea markets," she says. "My baking then was okay, not great, but still I used to sell out completely. So I felt confident I could make this business work."
First she worked in two cafes to observe up-close how they ran their businesses. Then she pooled all her personal savings to begin Dessert Rose last year, only months before Covid-19 began its relentless voyage around the world.
She hired a staff of four and took in enough orders to feel she was on her way, supplying a number of restaurants as well as corporate events, making cakes, tarts, macaroons, and brownies that she says have already become locally famous.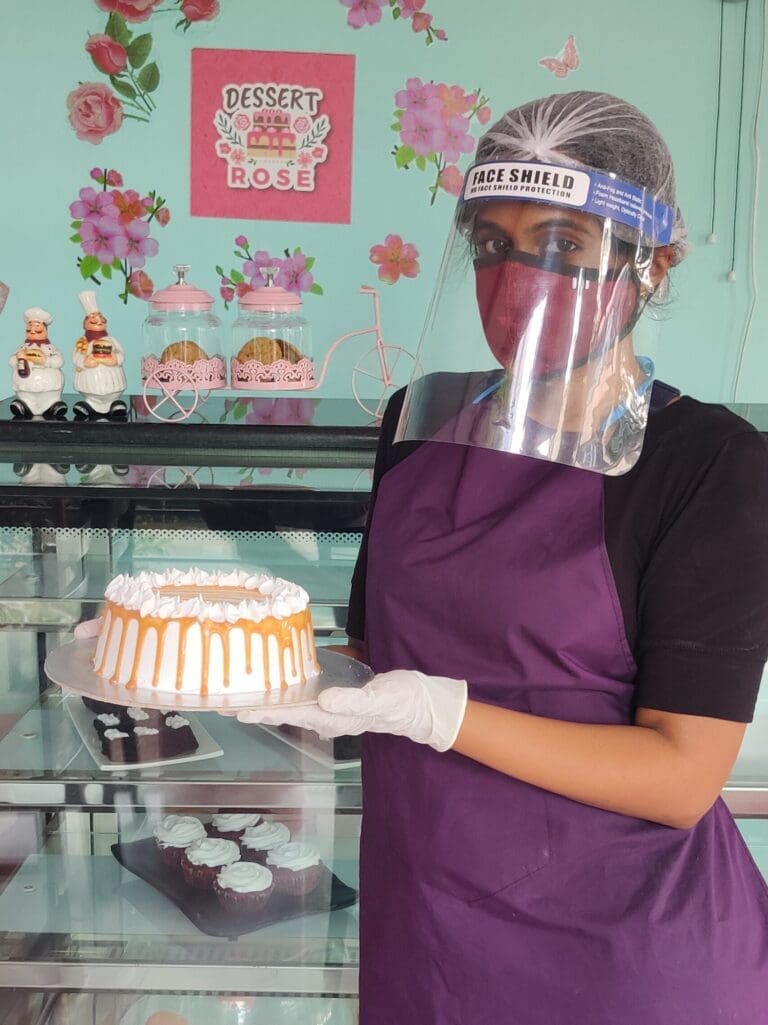 Covid-19 gutted her business. But becoming a finalist in the GAME challenge meant she, like  Jhunjhunwala, received 50,000 Indian rupees, or about $668 USD, in April at a critical moment. By June, she had managed to secure enough business to stabilize. She's suffered a 20 percent decline in earnings from her best months, but is bringing in enough, she believes, to outlast the pandemic.
To create a fledgling business, she offers three pieces of advice:
Know the ins and outs, from the ground up, of whatever business you are founding.
Know what you are selling: clearly identify what problem your product or service solves, or what gap it bridges.
Make sure customer experience is consistent, so they get the same product or service every time.
"Even when I'm interacting with my family, I'm thinking about my business. When I'm having lunch, my mind is on my business," Sureshkumar says. "But I don't regret this. I worked in a corporate company with a good salary and a 9-to-5 job. Now, even though I work for ten hours, I feel satisfaction. This is my baby. One day it will pay me back; I know this for sure."