The Covid-19 pandemic, coupled with calls for greater workplace equity, has resulted in a moment of reckoning for the American labor market. While overall unemployment rates hover around 10%, just below the peak unemployment rate for the Great Recession, workers of color continue to face increased challenges. Black workers face unemployment rates almost 5 percentage points higher than the national rate, while Latinx workers face rates almost 3 percentage points greater than the overall average.
These numbers do not even begin to capture the challenges for "opportunity youth," a population of 10.3 million young people ranging from 16 to 24 years of age, who are neither enrolled in school nor working. Black and Latinx youth are disproportionately likely to be disconnected from school and work. While 12% of Americans ages 16 to 24 were disconnected from work and school before the pandemic, as of June 2020, that number had more than doubled to 28%.
The labor market finds itself in a crucial moment. Employers can either improve their practices to address this crisis or continue with business as usual. In response, some of Corporate America's most powerful actors have committed to creating more equitable workplaces that promise to construct a better economy through more inclusive hiring practices and equity initiatives. At The Rockefeller Foundation and Generation USA, we applaud these efforts and are eager to offer a tested solution to these labor market ills: impact hiring.
Impact hiring is the process of hiring, retaining, and promoting talent from marginalized groups. In 2017, Generation and TRF hypothesized that impact hiring could serve as a competitive edge for companies and as a strategy to foster upward mobility for more Americans, increasing economic security and workplace equity. Together, we set out to test, promote, and learn from impact hiring initiatives to build the case for their adoption.
Generation collaborated with industry leaders to pilot these practices in companies around the country. Focused on transforming employee experiences while promoting diversity, equity, and inclusion, projects ranged from solving transportation challenges for entry-level workers to tackling gender bias in promotion for senior management roles. The team set out to learn not only how to best motivate employers to hire opportunity youth and other vulnerable workers, but also how to enable these employees to thrive on the job.
The Rockefeller Foundation and Generation have learned firsthand that moving from talk to action when it comes to fostering workplace equity is difficult. We have compiled a list of lessons learned so that companies interested in cultivating a more equitable workplace can do so before this window of opportunity closes.
Lesson 1:
Start with pilots.
Change can be difficult. We found that some leaders believed the status quo was inevitable – that grocery store managers would always work the same hours as emergency room doctors or that turnover for restaurant workers would inevitably be high. Others thought that improving their employees' experiences at work was simply not a business priority. To overcome this resistance, we introduced impact hiring practices through pilot efforts. We found that buy-in was easier to obtain when we framed the work as exploration.
Lesson 2:
Engage early with leaders across the organization.
Impact hiring efforts cannot be siloed within HR or social responsibility teams. For maximum impact, it is important to engage with leaders from any functions that may be relevant, including operations, marketing, or front-line management.
Lesson 3:
Have a wide lens.
A good first step is to develop some hypotheses about a company's pain points. Do entry-level employees often quit after a few months? Do some employees struggle with childcare or work-life balance? Does your leadership team look the same as it did in decades past? Once you have several possible priorities, you can conduct more research to refine pilot efforts.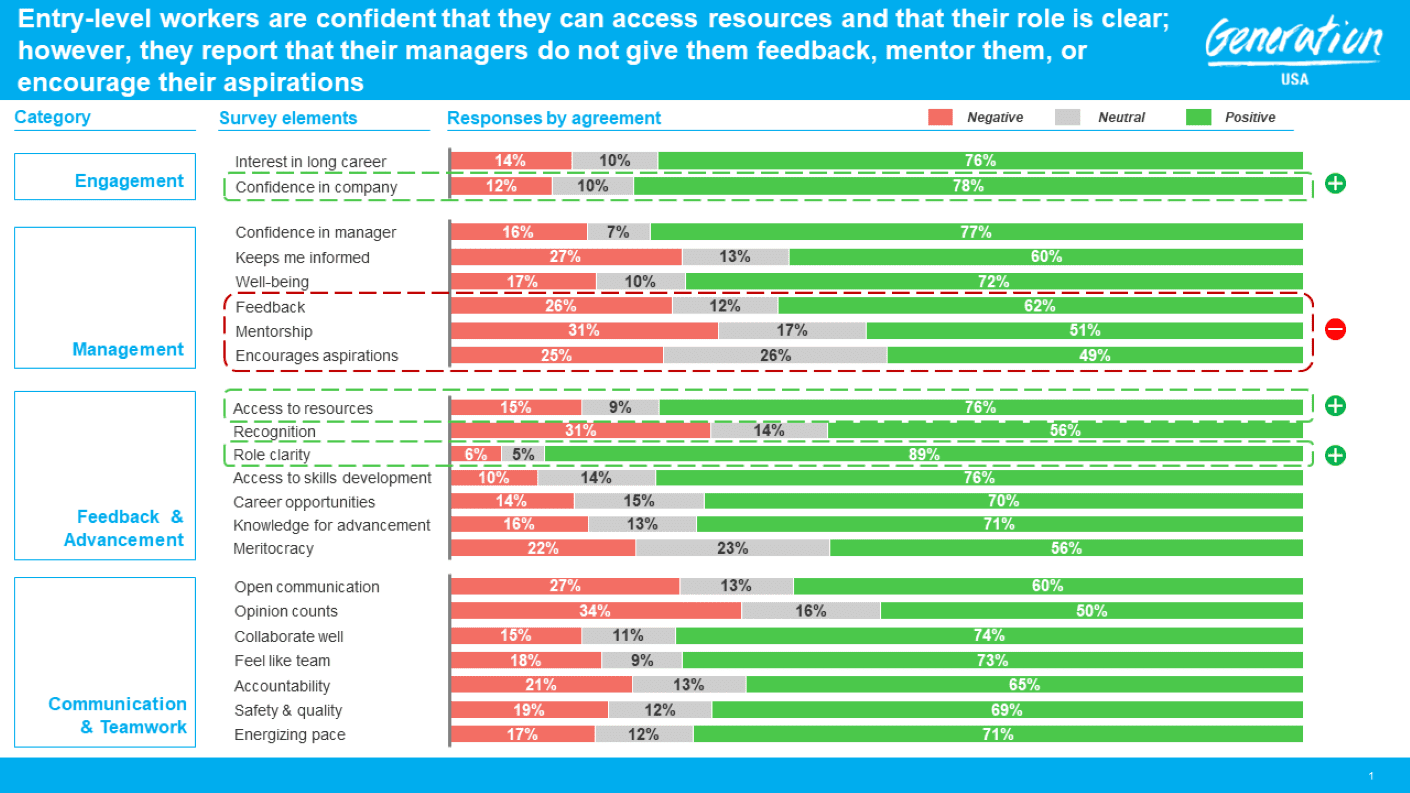 Lesson 4:
Appeal to the "business case" and social responsibility.
A good initial step is to calculate the cost of an employee vacancy, including lost productivity, recruiting, and the learning curve for new employees. You can use Generation's Cost-per-Hire Calculator to understand the full cost of hiring. Once you understand the scope of the problem, you can mobilize support throughout the organization. While a grasp of the data is important, appealing to a sense of empathy is also essential. For example, our team often highlighted that removing bias from hiring is not just a smart business decision, it is an opportunity to help someone advance in their career and change their life.
Lesson 5:
Focus on the employee.
Our team used a design thinking approach to focus on the employees whose experiences at work would be transformed. We held interviews and focus groups to get to know employees on factory floors, in grocery stores, and in boardrooms. By creating personas and articulating their journeys at work, we developed an understanding of the people impacted.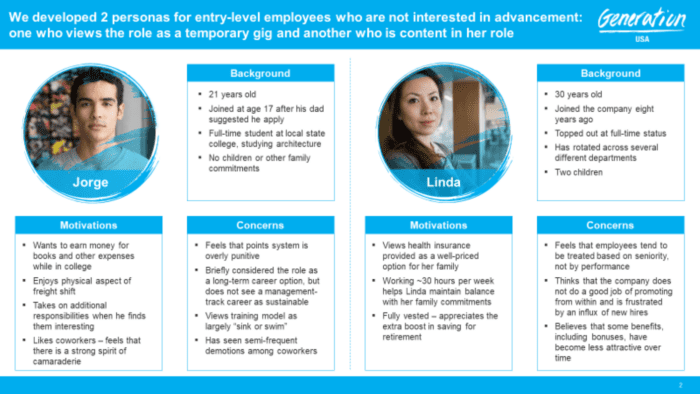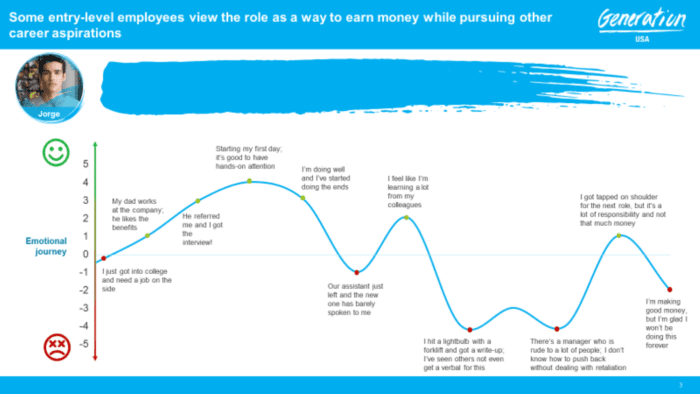 Lesson 6
Look for quick wins, celebrate successes, and empower champions.
We found that sharing examples of success generated enthusiasm for the work. Finding ways for our partners to share their stories at conferences or with colleagues allowed them to serve as champions for change. And, when challenges inevitably arose, it was crucial to celebrate any successes and look for quick wins after setbacks. While a pilot is useful for fostering early enthusiasm, developing a set of internal champions lays the foundation for a long-term commitment to diversity, equity, and inclusion.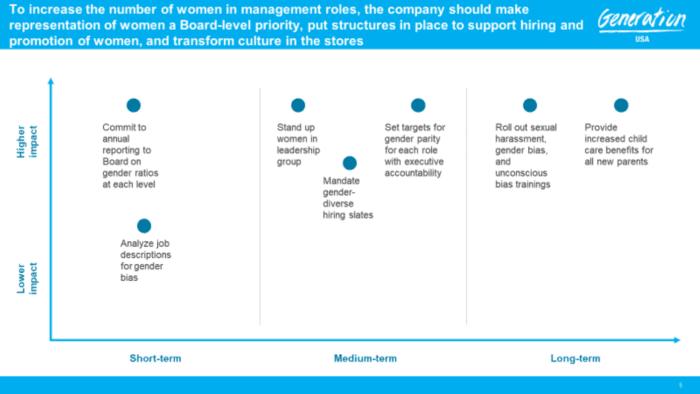 While there is no one-size-fits-all approach to impact hiring, implementing best practices increases the chances of success. Our team found that taking an evidence-based approach, focusing on employees, and harnessing the power of champions resulted in the most significant impact. The results of this work make us optimistic that change is possible when we put workers at the center and listen to the data. We hope that business leaders who have pledged to foster a more inclusive economy use these lessons to implement impact hiring and contribute to a more equitable future.
---
Check out work by Generation's CEO, Sean Segal or explore tools like FSG and Talent ReWire's Opportunity Navigator to understand the array of potential changes a firm can make to increase equity in hiring and attract the best employees.