This year is likely to go down as one of the most significant years of the 21st century in terms of how rapidly society has transformed. The Rockefeller Foundation is prioritizing accelerating an equitable recovery, focusing on near-term responses to the crisis while recognizing that we also have an opportunity to lay the foundations for structural change that can transcend our current generation. This is a challenge far bigger than what any one institution can do alone, which is why we also prioritize building and maintaining a global network of experts to work with us to build a better post-Covid world.
The Rockefeller Foundation has a history of fostering bold new ideas that catalyze action and collaboration across sectors. Part of that commitment means providing a platform for the most promising thinkers and practitioners to harness their expertise to ensure we're equipped to face the challenges of tomorrow. Over the past 61 years, our Bellagio Center in Italy has been a hub for translating ideas into action. The Bellagio Center offers those who pass through its gates an opportunity to maximize the impact of their work. We facilitate this experience through two mechanisms.
Convening
Gatherings of people, either in-person or virtual, with three distinct characteristics:
Composed of diverse stakeholders, often from different organizations, bringing a range of perspectives
Designed to accomplish a clear purpose and concrete outcomes
Optimized to generate insights and catalyze action beyond what any single actor could achieve on their own
In 1984 we convened the world's leading experts on protecting the health and welfare of children, which ultimately led to the creation of the Children's Vaccine Initiative. Building upon the success of that effort, in 1999 a World Bank Summit organized at The Bellagio Center established the earliest framework for what would eventually evolve into the Global Vaccine Alliance, or GAVI. Today GAVI is a critical actor bridging the public and private sectors together with civil society to ensure that once a Covid-19 vaccine is developed, it gets distributed to all corners of the world.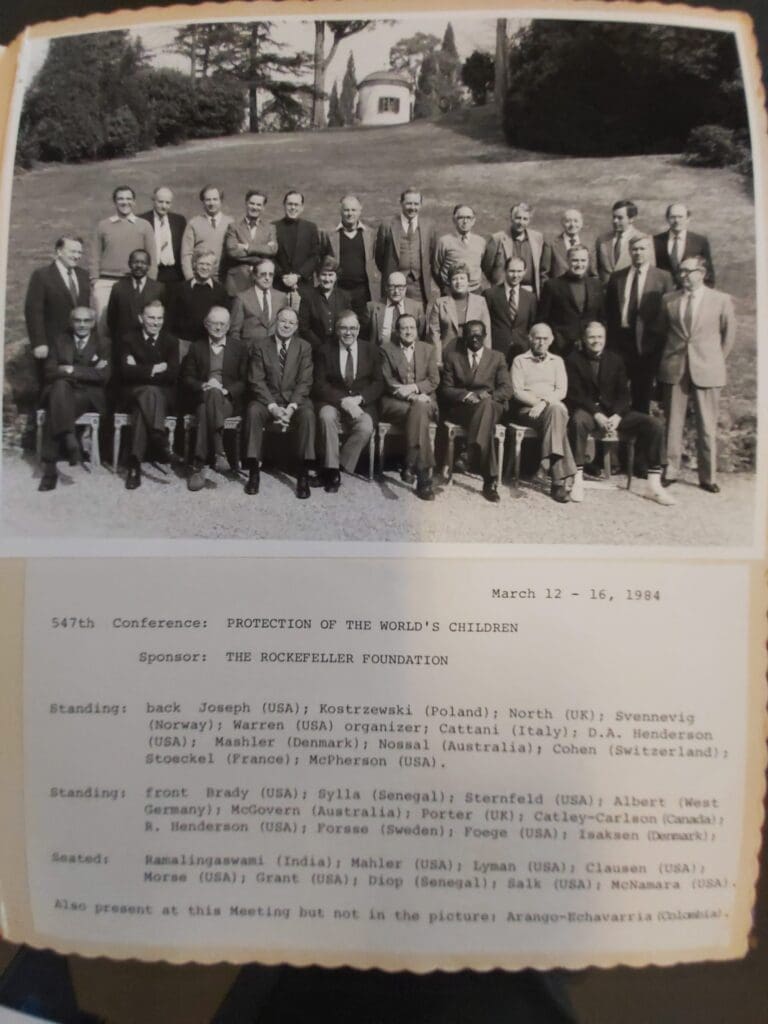 Residencies
Support and amplify breakthrough ideas of exceptional individuals through a month-long residency that fosters deep thinking, reflection, collaboration and nurtures engagement with others.
Every year The Rockefeller Foundation hosts up to 100 best-in-class practitioners, scholars, writers, policy makers, and artists from around the world for a month-long residency at The Bellagio Center to advance their work and engage with a globally diverse cohort of fellow residents. This often serves as a critical moment in careers – where contemplation, reflection, and stepping away from the hustle of daily life inspires a reframing of their work in order to formulate a bold new vision.  Former residents include Nobel Laureates such as Joseph Stiglitz and Mohamed Yunus, renowned authors Maya Angelou and Michael Ondaatji, and leading scholars such as Atul Gawande and Ruth Bader Ginsberg.
When Italy became Europe's Covid-19 epicenter earlier this year, we, unfortunately, had to shut down The Bellagio Center for the remainder of 2020. While there was sadness knowing that we would not be able to host residents this year, we were inspired by how concerned the former residents were for the Center and its staff and how they continued to stay in touch with one another. The warmth and camaraderie of The Bellagio Center network made us realize the magic of the connections formed during the residency. We wanted to harness that alchemy by reconnecting with resident alumni to better understand how they were coping with the pandemic and how they are envisioning a societal pathway forward.
What emerged was a wide-ranging series of conversations. Former residents shared insights from their field, from their personal circumstances, and from their memories of how their time at The Bellagio Center prepared them for this moment. What follows is a collection of musings and insights from a handful of former Bellagio Center residents, which we are launching today as Bellagio Dialogues. This series is meant to showcase the wisdom of those who have spent years in their respective fields. Their insight, ingenuity, and creativity can inspire collective action to address some of this year's most daunting challenges. We believe that by providing a platform to showcase their ideas we can do what we have consistently done for over 100 years – promote the well-being of humanity throughout the world – in partnership with others.
Bellagio Dialogues:
Harnessing the Power of our Network to Reimagine a Better Post-Covid World