In view of India's current crisis, our strategic testing and tracing report "The Road Ahead for Smart COVID-19 Testing and Tracing in India" can serve as a catalytic tool to support policymakers in their efforts to strengthen the country's pandemic response. The report's recommendations are comprehensive and context-specific, laying out a blueprint for an equitable, cost-effective, and scalable Covid-19 response amidst a staggering surge of cases, formidable vaccination rollout, and the threat of emerging variants.
About the Report 
Over one year since the pandemic began, we all have learned to think on our feet as the situations around us have dynamically evolved. We have understood a great deal about the virus: who is most vulnerable, when to test, and how to inoculate against it. We've also learned what we can do when we act together.
DOWNLOAD PDF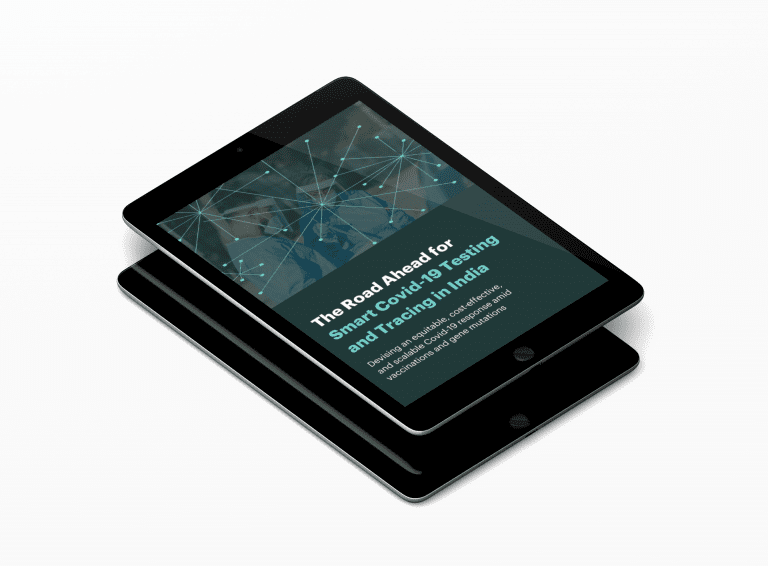 As Covid-19 continues to overwhelm India in the second wave, India and its health system are now at a critical moment. With a staggering wave of infections, new Covid-19 variants, and a deadly cyclone, the current crisis is far from over, and the weeks ahead will be some of the most challenging India has seen throughout this pandemic. Until vaccinations are administered widely, testing and tracing are essential tools to aid in the effective management and adaptation of public health response.   
As we have learned throughout this pandemic, none of us can fight this virus alone. From October 2020 to April 2021, The Rockefeller Foundation convened and worked closely with an expert advisory group to create a strategic roadmap for testing and tracing. "The Road Ahead for Smart COVID-19 Testing and Tracing in India" aims to share comprehensive recommendations to fight the current wave as well as future waves with equitable, cost-effective, and scalable tactics.
RECOMMENDATIONS OF THE REPORT:
The report offers actionable recommendations to catalyze the role of testing and tracing within India's pandemic response system.
Strengthen Covid-19 testing in the light of emerging variants and staggered vaccination rollout


• Intensify testing for all populations, including the vaccinated


• Adopt cafeteria approach to testing

[*

creating a choice of tests and specifying their mode of delivery to cater to distinct needs of the population

]


• Encourage testing innovation
• Standardize seroprevalence survey design


• Expand genome sequencing

Enhance affordability and accessibility of testing


• Aggregate procurement of kit consumables




• Homogenize test prices across states

 


• Optimize inter-state lab network capacity


• Incentivize domestic testing capability

Demand forecasting for tests to prepare for recurring waves


• Make periodic testing demand projections




• Prevent inactivity among domestic kit makers

Comprehensive contact tracing




• Integrate digital tools with manual contact tracing




• Augment retrospective contact tracing capacity for cluster-busting




• Involve community members

Data sharing and transparent communication to accelerate quality research and data reliance


• Institute t

ransparent data collection and sharing policy




• Engage with s

takeholder

s

 on technological deployment strategies




• Initiate c

ampaign

s

 to 

allay

fears and misinformation
WAY FORWARD:
This strategic roadmap is also a reminder of the need to keep learning and evolving response measures. Covid-19 has challenged every nation in some manner — the key to success will be taking what's learned and applying it to improve public health. Purpose-driven partnerships and innovations have been critical in leveraging inherent strengths over the course of the ongoing crisis and will enable resilience against future pandemics. As it has over the last year and century, The Rockefeller Foundation will continue learning and acting alongside India and other countries until the pandemic is over for everyone.
For more information, click here to view the drivers of improving cost-efficiency of Covid-19 testing in India.
Report

The Road Ahead for Smart Covid-19 Testing and Tracing in India

In view of India's current crisis, our strategic testing and tracing report lays out a blueprint for an equitable, cost-effective, and scalable Covid-19 response amidst a staggering surge of cases, formidable vaccination rollout, and threat of emerging variants.

Download PDF