The Rockefeller Foundation and the Center for Good Food Purchasing released an analysis of school meal programs in the U.S., finding that the programs provide $40 billion in health and economic benefits to over 30 million students daily.
NEW YORK | November 15, 2021 – A new report from The Rockefeller Foundation and the Center for Good Food Purchasing finds that U.S. school meal programs generate over $40 billion in benefits to society through improvements in health outcomes and poverty reduction. That is more than double the $19 billion spent on direct food costs. The True Cost of Food: Schools Meals Case Study demonstrates how the True Cost Accounting methodology, which considers multiple dimensions of a food product, program, or system, can help elucidate the impacts of different food system solutions and policies on intersecting issues and systems.
"The application of True Cost Accounting to school meals enhances our understanding of the impact that programs such as school lunch and breakfast have on students, families, and communities," said Roy Steiner, Senior Vice President of the Food Initiative at The Rockefeller Foundation. "It is time we use True Cost Accounting to make decisions about the way we produce, provide, and eat food. This approach can help us maximize value to society by creating a food system that is more nourishing, regenerative, and equitable."
Today, 30 million children in the United States rely on daily school meals. The case study revealed that these meals generate more than two times their value to society, proving their critical role in shaping the future of our children and our communities. In addition, the report covers research showing that:
84% of low-income, food-insecure households with school-age children access free or reduced-price lunches through school meals programs, removing the costs of breakfasts and lunches for their families.
School meals are healthier than the average American diet for most school-age children, scoring better than average on the Healthy Eating Index.
The nutritional benefits from the school meal programs lead to general improvements in health outcomes and diet-related health conditions in participants.
School food workers are overwhelmingly female (92%), with 90-93% of cafeteria workers being women.
The study also found that enhancements to school meal programs can further increase their net value to society and to the environment. For example, taken together, investments to maximize student participation in school meals, improve dietary composition, and optimize food purchasing policies would produce an additional $10 billion worth of net-positive health, equity, environmental, and economic impacts.
"Greater knowledge of the various impacts and influences of school meal programs can help individuals, communities, the private sector, and policymakers understand the current benefits and future potential of these programs," said Paula Daniels, Co-Founder and Chair of the Center for Good Food Purchasing. "This report also makes the case for investing in the purchase and preparation of healthier, more environmentally sound, and more equitably sourced food."
The School Meals Case Study builds on True Cost of Food: Measuring What Matters to Transform the U.S. Food System, which was released July 2021. It outlines additional areas of impact that must be considered when analyzing the food system. These reports represent the continued commitment of the Foundation and its partners to driving food system transformation in the U.S. and globally through investments that measure the true value of food systems.
---
About the Center for Good Food Purchasing
The Center for Good Food Purchasing uses the power of procurement to create a transparent and equitable food system that prioritizes the health and well-being of people and planet. We do this through the adoption and implementation of our trademark Good Food Purchasing Program by large food service institutions, which is now in place in dozens of institutions across multiple US regions. The Program combines public accountability, transparency in data collection and assessment, goal setting and measurement, technical assistance and capacity-building, guided by five core values: local economies, environmental sustainability, valued workforce, animal welfare and nutrition.
About The Rockefeller Foundation
The Rockefeller Foundation is a pioneering philanthropy built on collaborative partnerships at the frontiers of science, technology, and innovation to enable individuals, families, and communities to flourish. We work to promote the well-being of humanity and make opportunity universal. Our focus is on scaling renewable energy for all, stimulating economic mobility, and ensuring equitable access to healthy and nutritious food. For more information, sign up for our newsletter at rockefellerfoundation.org and follow us on Twitter @RockefellerFdn.

Media Contact
The Rockefeller Foundation
Wyatt Goodwin
+1 212 852 0000
wgoodwin@rockfound.org
Center for Good Food Purchasing
Sue Woodard
swoodard@goodfoodpurchasing.org
Feature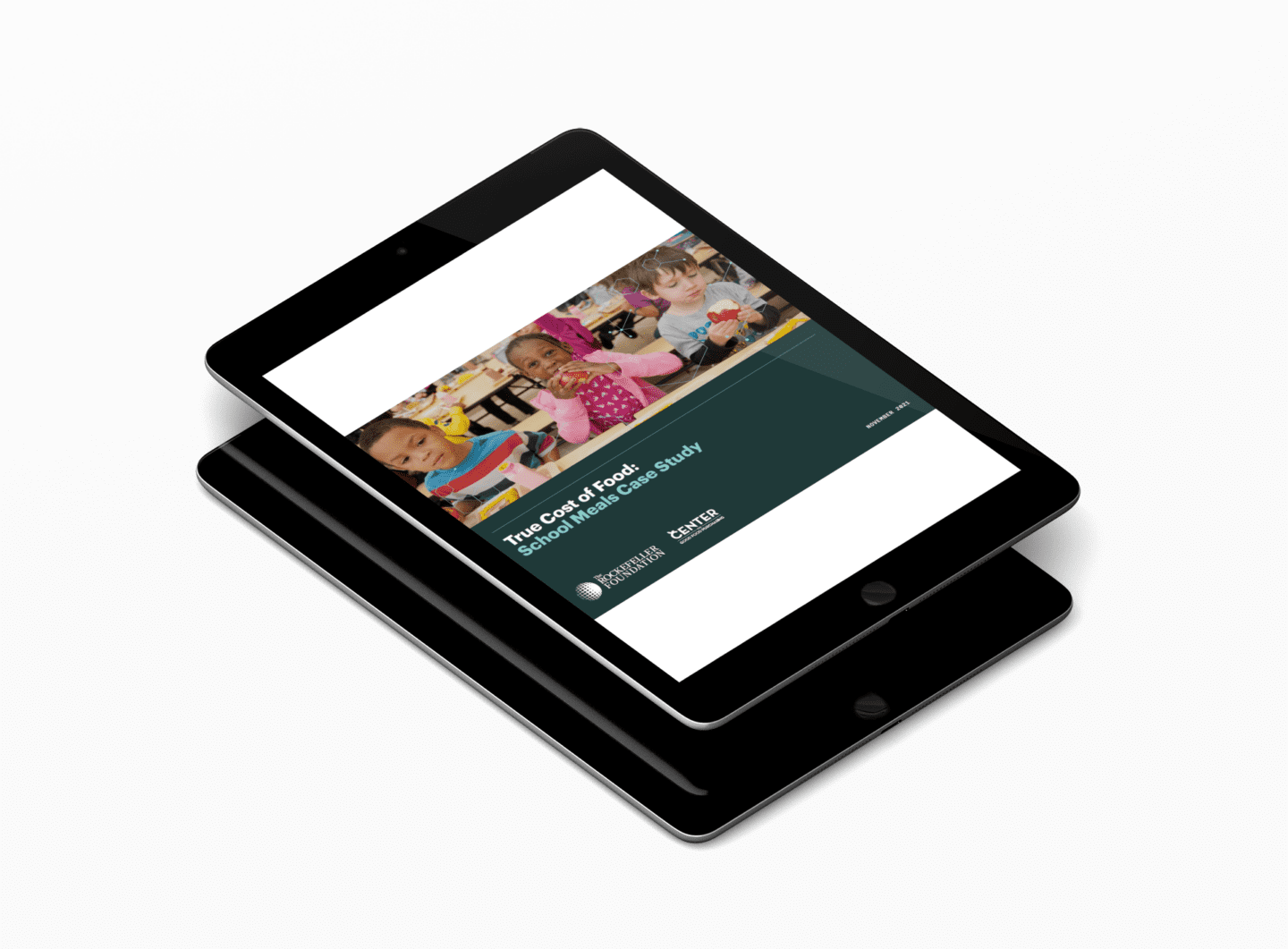 True Cost of Food: School Meals Case Study
School meals provide critical nutrition for 30 million children and their families across America. When children have their basic needs met, they are healthier and they learn better. For them, school meals often provide the healthiest food they have access to each day and a foundation for their wellbeing and long-term success. In this report, […]
More