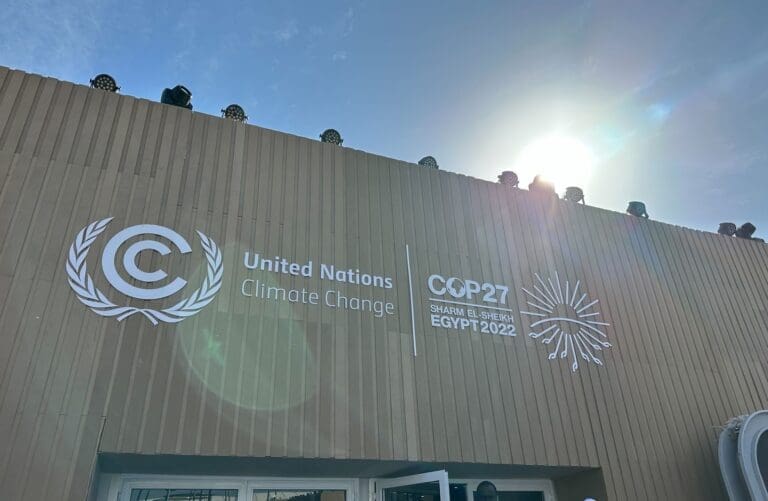 EDITOR'S NOTE
As we depart from Egypt with a sense of cautious optimism, we are reminded that our work addressing the climate emergency is not done. It's time now to prove we are committed every day of the year to slowing global warming, protecting our planet, and making opportunity universal and sustainable for its people.
Only through collaboration will we be able to meet our goals of achieving more resilient, sustainable food systems, averting greenhouse gas emissions, bringing the right financing to climate action, scaling solar technology, ending energy poverty, and creating jobs for people around the planet.
READ OUR REFLECTIONS
Sharm el-Sheikh, Egypt plays host to the 27th UN Climate Change Conference of the Parties (COP27) from Sunday, 6 November 2022 – Friday, 18 November 2022. As the world comes together at COP27, it is clear that 20th-century solutions are simply too insufficient in scope and ambition for 21st-century challenges, including the existential threat of climate change. The world needs a green revolution with transformative initiatives, institutions, and funding to rival and repair the impact of the Industrial Revolution. The Rockefeller Foundation is doing what it always does: making big bets to scale these solutions for humanity.
We invite you to explore below how we, together with our grantees and partners, are making progress toward advancing climate goals every day of the year as part of our shared work on #MakingOpportuntyUniversal and sustainable.
The Global Energy Alliance for People and Planet is turning 1 at COP27 and launching their Powering People & Planet Report, showcasing their impact in the last 12 months—and their vision for the next decade. Join their event at the SDG7 Pavilion on November 8.

Under the first-ever food & agriculture pavilion at the UN Conference of Parties, CGIAR, the Food and Agriculture Organization of the United Nations, and The Rockefeller Foundation are collaborating to show how agrifood systems are part of the solution to the climate crisis. Catch their livestreamed sessions.

For an upcoming release, Food2050 points the camera at 10 of the world's most innovative, optimistic, and audacious visionaries, seeking to heal the planet and our bodies through food and repair what has been broken over the decades through our industrialized food systems. Watch the trailer and learn more about our food system visionaries at Food2050series.com.