The Rockefeller Foundation is collaborating on a new mobile health pilot program to reach underserved populations.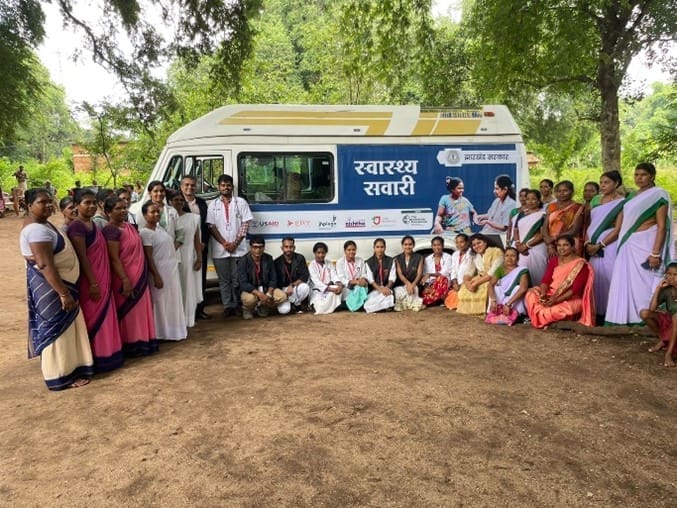 Gumla, India | October 1, 2022 ― In order to expand the reach and impact of the Government of India's Ayushman Bharat Health and Wellness Centres program, Gumla District along with the Jharkhand Government, announced the launch of Mobile Health and Wellness Centres. Also known as "Swasthya Sawari," this specialized mobile van-based model, which was designed in coordination with the government, the U.S. Agency for International Development (USAID), Jivika Healthcare, and Boston Consulting Group (BCG), aims to reach more than 50,000 people in Gumla as part of its pilot phase.
With financial support from The Rockefeller Foundation and Give (formerly Give India), Jivika Healthcare, a private doctor-based mobile health service provider, will provide end-to-end operationalization support. Jhpiego, a global health non-profit and Johns Hopkins University affiliate as part of NISHTHA project, will provide on-ground support in collaboration with Ayushman Bharat Health and Wellness Centers.
On the launch, Shri. Sushant Gaurav IAS, District Collector, Gumla, tweeted, "We are happy to announce the launch of Swasthya Sawari (Mobile Medical Unit) by Jivika Healthcare in Basia division of Gumla district. This program will provide healthcare services across 20+ conditions in the hard-to-reach underserved villages of Kamdara & Palkot blocks. @prdjharkhand @HemantSorenJMM"
In 2018, India embarked on an ambitious journey to provide equitable, efficient, and effective healthcare to its citizens with the launch of the Ayushman Bharat Health and Wellness Centres program. With an aim to bring quality healthcare closer to communities and truly realize the vision of the Ayushman Bharat program, Swasthya Sawari was designed to reach the last mile, especially the communities in hard-to-reach areas. This specialized mobile van-based model will bring qualified medical staff, equipment, and medicines closer to the doorstep of the underserved population in the Gumla District thereby advancing the key objectives of the program, i.e., providing universal access to free primary health care, strengthening accountability at the last mile, and shifting the health ecosystem focus from curative to preventive healthcare for all.
The Swasthya Sawari program will focus on providing quality primary healthcare services including screening, diagnosis, counseling, consultations, treatment, and referrals. The mobile vans will transport doctors, nurses, medical equipment, and medicine in order to conduct day-long camps across clusters of remote, hard-to-reach villages with low population density. This means that more communities will gain access to cancer, dental, and ENT screenings, comprehensive ante-natal care for pregnant women, family planning, prevention and treatment for diseases such as dengue, malaria, tuberculosis, and more.
To optimize resources and maximize impact, the program will be enabled by data-driven planning, extensive community mobilization, and Ayushman Bharat Digital Mission compliant digital systems to track patient health to ensure continuity of care and integration with government systems. As the program evolves, the units will function as an interface between the primary health facilities and citizens in remote locations with patient reporting and follow-ups being handled by the mapped facilities.
Deepali Khanna, Vice President, Asia, The Rockefeller Foundation, said, "We believe that these mobile units are a great way to reach the last-mile communities in remote geographies. This program will help improve access and encourage health-seeking behavior at the last mile. Complications in pregnancies, during cancer treatment, and other health challenges are often detected at a later stage when the treatment is either too expensive or not available. It is important to ensure that progress made by such programs doesn't get lost and is integrated within the government health systems to ensure continuity of care for patients."
Sangita Patel, USAID/India's Health Office Director, said, "USAID believes that achieving health goals and improving health systems performance begins by investing in primary health care. The mobile vans, launched today, will bring essential primary care services closer to those that need them. By collaborating with the private sector, this initiative will bring to bear innovative and sustainable solutions that can be scaled for broader benefit."
Dr. Raju Kachhyap, Civil Surgeon, Gumla, said, "The private sector can play a valuable role in augmenting the government's efforts in ensuring that health services reach the last mile. We thank Jivika Healthcare for coming up with this innovative offering. Especially, in aspirational districts like Gumla, where hesitancies towards health services exist amongst the tribal, and other minority population segments, the private sector's role in bringing in qualified and trained staff to fill the dearth of skilled personnel at the grassroots can be a game-changer."
---
About The Rockefeller Foundation
The Rockefeller Foundation is a pioneering philanthropy built on collaborative partnerships at the frontiers of science, technology, and innovation that enable individuals, families, and communities to flourish.  We work to promote the well-being of humanity and make opportunity universal and sustainable. Our focus is on scaling renewable energy for all, stimulating economic mobility, and ensuring equitable access to health care and nutritious food. For more information, sign up for our newsletter at rockefellerfoundation.org and follow us on Twitter @RockefellerFdn.
About the U.S. Agency for International Development (USAID)
USAID is the U.S. Government's premier international development agency and a catalytic actor driving development results. USAID works to help lift lives, build communities, and advance democracy. USAID's work advances U.S. national security and economic prosperity; demonstrates American generosity; and helps countries progress along their development journey. In India, USAID is collaborating with the country's growing human and financial resources through partnerships that catalyze innovation and entrepreneurship to solve critical local and global development challenges. To learn more, visit www.usaid.gov/india.
About Give
Give exists to alleviate poverty by enabling the world to give. Established in 2000, Give and its partners comprise the largest and most trusted giving platform in India. Give enables individuals and organizations to raise and donate funds conveniently to any cause they care about, with offerings including crowdfunding, corporate giving, cause marketing, and philanthropy consulting. Give's community of 2.6M+ donors supports 2,800+ verified nonprofits, and has served 15M+ people across the country.
About NISHTHA
The USAID funded NISHTHA project, implemented by Jhpiego, aims to transform, redesign and re-engineer primary healthcare in India for the provision of equitable, comprehensive, and client-centered primary healthcare that contributes to improved health outcomes for India's marginalized and vulnerable populations, including women and girls. NISHTHA's goal is to will create a strong, responsive, accessible, sustainable, and affordable primary healthcare system that ensures effective delivery of reproductive, maternal, newborn, child, and adolescent health services and integrating the provision of quality services for control of tuberculosis. For more information, follow us on Twitter @USAID_NISHTHA.
About Jivika Healthcare
Jivika Healthcare is one of India's foremost mobile medical services aimed at taking healthcare from hospitals to homes and communities. Operational since 2019, the organization has been pioneering affordable healthcare at the grassroots level through its operating company VaccineOnWheels. Over the last 3-years the OpCo, VaccineOnWheels has served more than 2.5 million hard-to-reach populations within 40+ Districts of 6 States. Jivika Healthcare's expressed vision is to build an affordable, equitable and quality mobile healthcare ecosystem for the underserved in urban and rural India. For more information, follow us on LinkedIn at Jivika Healthcare.
About Boston Consulting Group
Boston Consulting Group partners with leaders in business and society to tackle their most important challenges and capture their greatest opportunities. BCG was the pioneer in business strategy when it was founded in 1963. Today, we work closely with clients to embrace a transformational approach aimed at benefiting all stakeholders—empowering organizations to grow, build sustainable competitive advantage, and drive positive societal impact.
Our diverse, global teams bring deep industry and functional expertise and a range of perspectives that question the status quo and spark change. BCG delivers solutions through leading-edge management consulting, technology and design, and corporate and digital ventures. We work in a uniquely collaborative model across the firm and throughout all levels of the client organization, fueled by the goal of helping our clients thrive and enabling them to make the world a better place.
Media Contacts:
Shubhi Vijay
The Rockefeller Foundation
c-svijay@rockfound.org
+919953222744
Jasmin Pithawala
Boston Consulting Group
+91 9821238212
Karan Cariappa
Give
karancariappa@giveindia.org