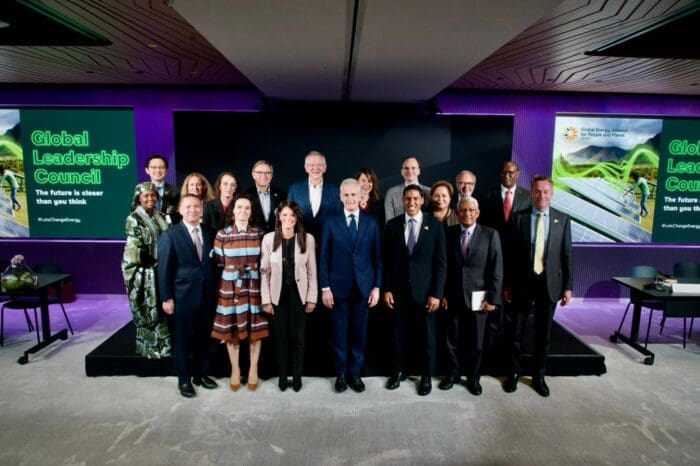 At second Annual Meeting, over 30 institutions, from development finance, private sector, government, and philanthropy, reaffirmed their commitment to drive down the cost of renewable energy.
Battery Energy Storage Systems (BESS) Consortium on track to mobilize 5 gigawatts (GW) of storage in up to 30 countries.
Strong progress against commitments to significantly scale the Distributed Renewable Energy (DRE) sector to power the lives and livelihoods of 500 million people.
NEW YORK | September 21, 2023 ― Today, the Global Leadership Council (GLC) of the Global Energy Alliance for People and Planet (GEAPP) convened on the sidelines of UNGA 78 to review progress against its two signature initiatives: first, to mobilize 5 GW of accelerated commitments to Battery Energy Storage Systems (BESS); and second, to enable large-scale aggregation in the distributed renewable energy (DRE) sector, with the near-term target of securing a $500 million pooled procurement order by end 2024.
These are crucial steps to unlock an estimated 90 GW market for BESS in Africa, Asia, Latin America, and the Caribbean and lowering the average price of DRE power from more than $0.5/kWh in most contexts today, to below $.25/kWh within five years. Together, these initiatives have the potential to transform the pace at which energy poverty can be alleviated. Currently, global power systems are not serving the people who most desperately need energy; 3.6 billion people still live in energy poverty today, and of those, 760 million have no electricity and 2.8 billion have costly, unreliable access.
"The GLC is working together to tackle the barriers to renewable energy adoption in low-and-middle-income countries, said GLC Co-Chair, Jonas Gahr Støre, Prime Minister of the Kingdom of Norway. "We need a more ambitious and inclusive renewable energy agenda globally, and to deliver this it is critical to find partners, secure funding from new sources and encourage creativity."
The Battery Energy Storage Systems (BESS) Consortium is a multi-stakeholder partnership set up to galvanize a transformation of energy systems in Africa, Asia, Latin America, and the Caribbean via expanded deployment of battery energy storage. The objectives of the Consortium are to:
Secure 5 GW of BESS commitments by the end of 2024
Mobilize more than $4 billion in grant, concessional, and commercial finance to accelerate project deployment
Unlock the 90 GW deployment needed by the end of this decade to enable 400 GW of renewable energy that avoids a gigaton of carbon dioxide emissions
The Distributed Renewable Energy (DRE) Scale-Up Initiative focuses on enabling collective action to unleash the market potential in developing countries, bringing affordable and reliable power to nearly half a billion people who remain unserved by traditional electricity grids. The objectives of the initiative are to:
Develop a 500 MW pipeline of procurement in three to four key markets by Q4 2024
Enable order volumes for DRE technologies totaling $500 million by Q4 2024
"As GEAPP approaches its second birthday, the GLC provides a critical role in delivering scale, urgency, and connectivity to our initiatives," said Simon Harford, CEO of GEAPP. "Whether that's GEAPP facilitating the first wave of BESS in India, or our investment in the private sector development of solar metro grids in eastern DRC, the GLC champions our efforts and amplifies our reach as the climate emergency continues to take hold."
"Renewable energy is out of reach for too many people. Extending access to affordable and stable clean energy is a crucial component of our climate solution," said Ajay Banga, President of the World Bank. "The World Bank supports the efforts of GEAPP's Global Leadership Council to address these challenges, and we must continue to move with even more urgency and scale."
"Tackling the existential threat of climate change requires urgent and bold leadership. That is why I am energized by the GLC's mission and ability to connect leaders across the globe," said Dr. Ngozi Okonjo-Iweala, Director General of the World Trade Organization. "This work is helping to facilitate the just energy transition that the world needs, I encourage the GLC to continue on their path forward with even more urgency, scale, and action.''
"Five months ago, the GLC made one of the world's largest collective commitments to significantly reduce the cost of renewable energy technologies. We will mobilize 100 GWh of accelerated BESS by 2030, and today we are many steps closer to identifying the 'first-mover' countries who will spearhead this work. This is the kind of collaboration we must see more of," said GLC Co-Chair, Dr. Rajiv J. Shah, President of The Rockefeller Foundation.
"600 million Africans have no access to electricity. To close this gap, we need bolder approaches that work at scale and can reach hundreds of millions of people such as the Desert to Power Initiative", said Dr. Akinwumi A. Adesina, President of the African Development Bank Group. "In Africa, the cost of capital for utility-scale clean energy projects is at least two to three times higher than in advanced economies. Today, we discussed how the GLC can help overcome the political, technical, and financial barriers that lead to these asymmetries, and accelerate universal energy access.''
---
About GEAPP
The Global Energy Alliance for People and Planet (GEAPP) is an alliance of philanthropy, governments, technology, policy, and financing partners. Our common mission is to enable emerging and developed economies to shift to a clean energy, pro-growth model that accelerates universal energy access and inclusive economic growth while supporting the global community to meet critical climate goals during the next decade. As an Alliance, we aim to reduce 4 gigatons of future carbon emissions, expand clean energy access to one billion people, and enable 150 million new jobs. With philanthropic partners the IKEA Foundation, The Rockefeller Foundation and Bezos Earth Fund, GEAPP works to build the enabling environment, capacity, and market conditions for private sector solutions, catalyze new business models through innovation and entrepreneurship, and deploy high-risk capital to encourage private sector solutions and assist just transition solutions. For more information, please visit www.energyalliance.org and follow us on Twitter at @EnergyAlliance.
About the GLC
The GLC is a high-level coalition of global leaders brought together by GEAPP and co-chaired by Jonas Gahr Støre, Prime Minister of the Kingdom of Norway, and Dr. Rajiv J. Shah, President of The Rockefeller Foundation. It includes leaders of multilateral development banks, development finance institutions, international agencies, NGOs, corporate executives, and government representatives. The Global Leadership Council was established in 2022 to effect collective action on a more ambitious and inclusive global renewable energy agenda and to ensure the philanthropic capital and aligned co-investments of the Global Energy Alliance for People and Planet (GEAPP) are deployed as fast as possible with optimal impact. For further information on the GLC and its members please see here.
About The Rockefeller Foundation
The Rockefeller Foundation is a pioneering philanthropy built on collaborative partnerships at the frontiers of science, technology, and innovation that enable individuals, families, and communities to flourish. We make big bets to promote the well-being of humanity. Today, we are focused on advancing human opportunity and reversing the climate crisis by transforming systems in food, health, energy, and finance. For more information, sign up for our newsletter at rockefellerfoundation.org and follow us on X @RockefellerFdn.
Media Contact
Ashley Chang
The Rockefeller Foundation
media@rockfound.org
Eric Gay
Global Energy Alliance for People and Planet (GEAPP)
eric.gay@energyalliance.org