Dr. Shah becomes fourth sitting President of The Rockefeller Foundation to be inducted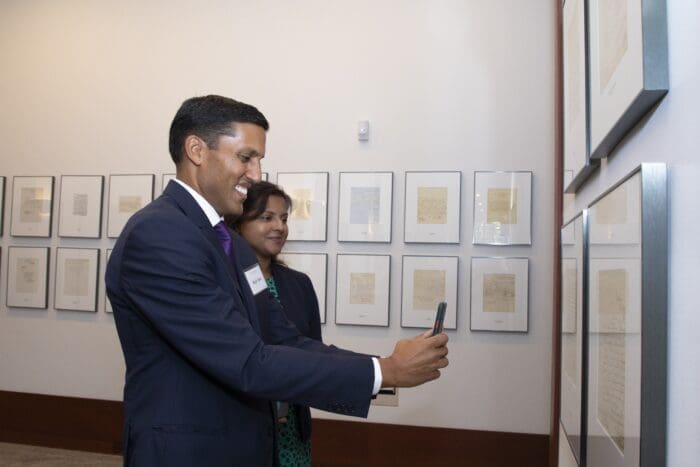 NEW YORK | September 9, 2022 — Today, Dr. Rajiv J. Shah, President of The Rockefeller Foundation, was inducted into the American Academy of Arts and Sciences in in the area of Leadership, Policy, and Communications for his dedication to Public Policy and Public Affairs.
"I am deeply honored to join the Academy, and to belong to a tradition that champions the power of ideas," said Dr. Rajiv J. Shah, President of The Rockefeller Foundation. "When crises upend our way of life, when obstacles seem too large to surmount, the Academy upholds the principle that ideas can change the world and come from people from all walks of life and all places ordinary and extraordinary."
Established in 1780 by John Adams, John Hancock, and others committed to "advancing the public good," the Academy's latest members represent a diverse group of people working to solve the world's most urgent challenges and contributing to "the common good" from every field, discipline, and profession.
Dr. Shah joins Mr. Raymond Fosdick (1944), Mr. Peter Goldmark (1993), and Sir Gordon Conway (2000) to become the fourth sitting President of The Rockefeller Foundation to be inducted, with an additional four others inducted into the Academy who would later go on to serve as its president: Mr. Chester Barnard (1939) – before he was the RF President, Dr. J. George Harrar (1952), Dr. John H. Knowles (1965), Dr. Sterling Wortman (1976), and Dr. Judith Rodin (1990).
Under Dr. Shah's leadership, the Foundation has pledged to make the fight against climate change central to all of its work, including its operations and investments, on top of committing more than $1 billion to catalyzing a more inclusive, global green recovery from the Covid-19 pandemic. This marked the single largest commitment in the Foundation's 109-year history, which has distributed more than $22 billion since its inception.
This new chapter is in line with a long history of taking decisive and timely actions that have altered the course of events. During its first 40 years, The Foundation started the modern field of public health, played a key role in fighting the 1918 influenza pandemic and hookworm in the United States, and seeded the development of the Yellow Fever vaccine. During the next chapter, it launched the Green Revolution that transformed farming and kept hundreds of millions from starvation. All of this was done while also investing in innovations that built telescopes and cyclotrons and convening the very best in their fields to solve the world's most pressing problems, along with changing the course of philanthropy with "impact investing" in 2007.
In addition to his work at the Foundation, Dr. Shah has a long record of committed public service. Earlier in his career, Dr. Shah worked at the Bill & Melinda Gates Foundation, where he created the International Financing Facility for Immunization which helped reshape the global vaccine industry and save millions of lives. From 2010-2015, Dr. Shah served as USAID Administrator, shaping the $20 billion agency's operations in more than 70 countries, securing bipartisan support for the Global Food Security Act and the Electrify Africa Act. He also led the U.S. response to the Haiti earthquake and the Ebola pandemic, served as a member of the National Security Council, and elevated the role of development as part of our nation's foreign policy.
This year's ceremony, held in Cambridge, Mass., recognized the accomplishments of the members elected in 2020 and 2021, alongside 2022, which were delayed due to the pandemic. One of 252 new members in the 2021 election, 55% of whom are women, Dr. Shah's joins leaders such as:
Paleontologist Zeresenay Alemeseged, University of Chicago
Economist Dirk Bergemann, Yale University
Cognitive anthropologist Pascal Boyer, Washington University in St. Louis
Biotechnology leader Tony Coles, Cerevel Therapeutics
Civil rights lawyer and scholar Kimberlé Crenshaw, Columbia Law School; UCLA School of Law
Neurosurgeon and medical correspondent Sanjay Gupta, CNN; Emory University
Chief Justice Nathan Hecht, Supreme Court of Texas
Labor leader Mary Kay Henry, SEIU
Journalist Maria Hinojosa, Futuro Media Group and NPR
Cinematographer and video artist Arthur Jafa
Computer scientist Fei-Fei Li, Stanford University
Civil rights activist and math literacy pioneer Robert Moses, The Algebra Project
Playwright, screenwriter, and actor Suzan-Lori Parks, NYU Tisch School of the Arts
Probability theorist Kavita Ramanan, Brown University
Composer, songwriter, and performer Robbie Robertson
Journalist Kara Swisher, VOX Media Inc.; The New York Times
Atmospheric scientist Anne Thompson, NASA / Goddard Space Flight Center
Media entrepreneur and philanthropist Oprah Winfrey, Harpo, Inc.; Oprah Winfrey Network
The list of all Academy members can be found here: https://www.amacad.org/directory.
---
About The Rockefeller Foundation
The Rockefeller Foundation is a pioneering philanthropy built on collaborative partnerships at the frontiers of science, technology, and innovation that enable individuals, families, and communities to flourish. We work to promote the well-being of humanity and make opportunity universal and sustainable. Our focus is on scaling renewable energy for all, stimulating economic mobility, and ensuring equitable access to health care and nutritious food. For more information, sign up for our newsletter at rockefellerfoundation.org and follow us on Twitter @RockefellerFdn.
Media Contact
Ashley Chang
+1 212 852 0000
achang@rockfound.org