This month's annual U.N. Climate Change Conference, or COP26, was held in Glasgow, Scotland at a fraught moment for humanity.
For the 26th time, the world came together to respond to the existential threat of climate change. But we also came together two years into a pandemic that has exacerbated deep inequities between those with means and those without.
As the ink dries on the COP26 accord, the question now is whether humanity will do everything we can to ensure the renewable energy transition that's so desperately needed for our planet will also better the lives of everyone, everywhere.
The Rockefeller Foundation made our answer clear. Together with IKEA Foundation, the Bezos Earth Fund, the government of Italy, and dozens of nations, multilateral institutions, and international organizations, we launched the ambitious Global Energy Alliance for People and Planet.
From Industrial Advances to a Wide Divergence
More than 200 years ago, the Industrial Revolution began in Glasgow and other parts of the United Kingdom. It marked the start of decades of progress, with labor-saving tools, better wages, and the rapid evolution of medicine. But scientists make clear it also, over time, changed the climate. And it led to wide disparities, with richer countries able to move ahead and lower-income countries facing increased suffering.
Today, some 1.3 billion people living in the Organization for Economic Cooperation and Development (OECD) member countries consume, on average, eight thousand kilowatt hours of electricity each year. At the same time, 3.6 billion people in 81 energy-poor countries use less—often far less—than one thousand kilowatt hours per year. And 760 million of those people, so many of them women and girls, still live completely in the dark.
For decades, the world struggled to address that inequity without triggering a climate crisis: humanity could reduce carbon emissions, create jobs, and improve access to electricity—but could not accomplish all three at the same time.
But today, new breakthroughs in renewable energy technology, battery storage, and artificial intelligence have made green energy cheaper and more reliable than new fossil-fuel power plants. The challenge is ensuring those breakthroughs can be deployed and scaled in the developing countries where they are needed most.
Our Goals, In Human Terms
Our Alliance is built to meet this moment. We will stand with every energy-poor nation seeking to accelerate their energy transition in a way that also offers hope and opportunity for all their people. Our work will be led by these countries themselves as they transition from coal and other fossil fuels, create jobs, and expand energy access to those without.
Together, we can cut billions of tons of CO2, avoiding a future where today's energy-poor countries contribute 75 percent of global emissions. Our initial target for averted greenhouse gas emissions is 4 billion metric tons.
Together, we can also collaborate with industry and entrepreneurs to support tens of millions of green jobs in nations with rapidly growing and very young populations. Our initial target is to create, enable, or improve 150 million green jobs.
And together, we can finally light up the homes and businesses of those trapped in poverty because they lack access to reliable electricity. Our initial target is to reach 1 billion people.
In fact, together, we can do what was once unimaginable: ensuring the fight for our planet also lifts of all our people.
Feature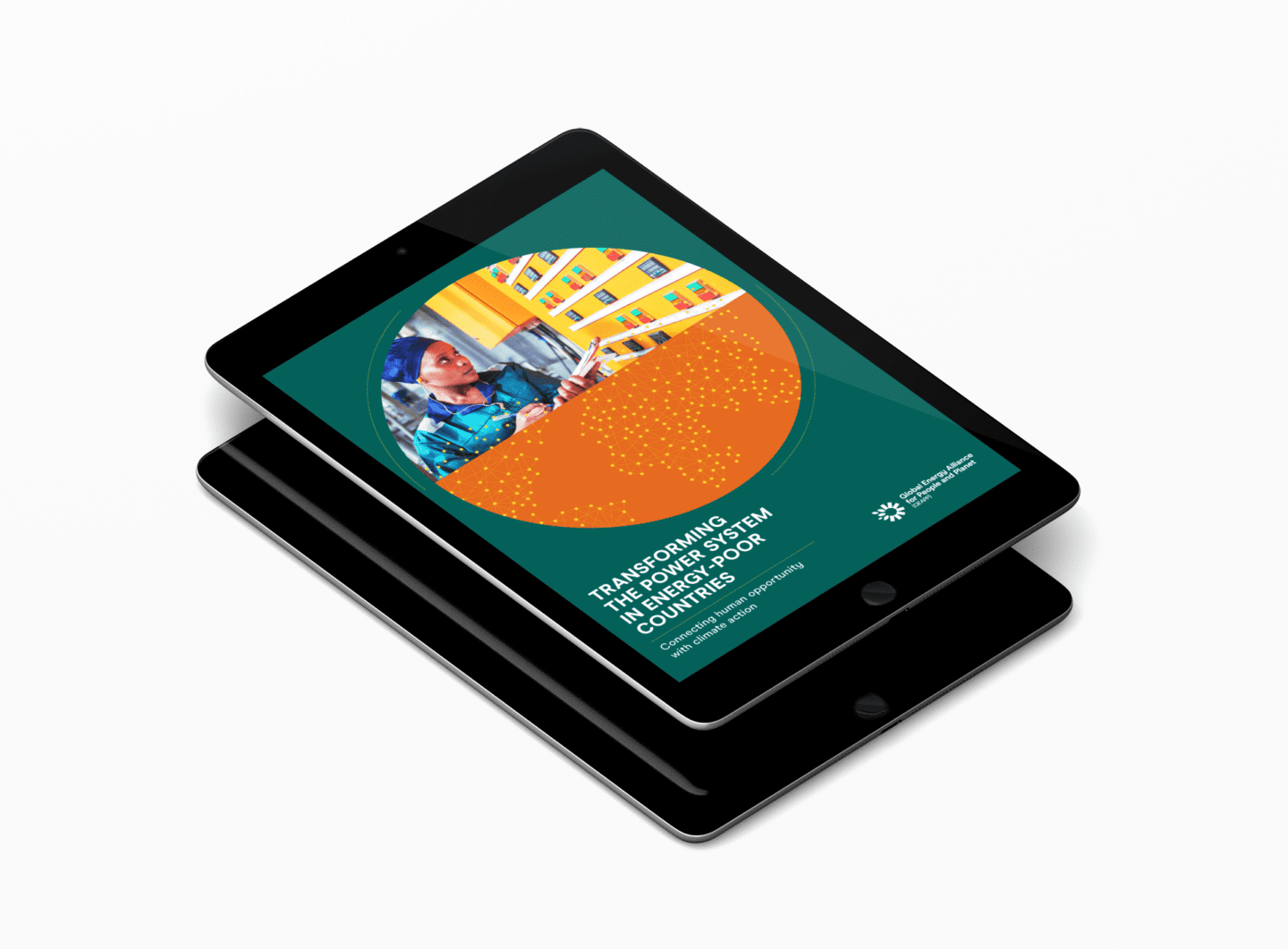 Transforming the Power System in Energy-Poor Countries
The world has long been at loggerheads over how to move forward most aggressively to combat energy poverty while also avoiding a looming climate crisis. The gathering of world leaders at COP26 presents a unique opportunity to address these twin energy challenges. By 2030, the cost of renewables will undercut fossil fuels almost everywhere. These […]
More