As delivered on Wednesday, May 24, 2023 at the UN Palais des Nations in Geneva, Switzerland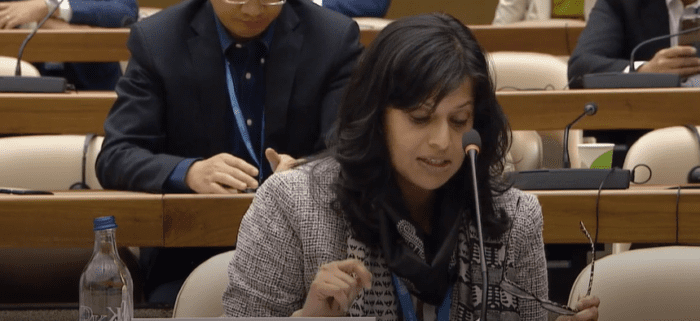 Hello and Good afternoon. My name is Manisha Bhinge and I'm the Managing Director of Health at The Rockefeller Foundation. Thank you all for being part of this critical conversation.
As we've all heard today, climate change is, in the words of Dr. Tedros, the 'single biggest threat facing humanity.' As we rise to meet that challenge, I want to reflect on some key lessons learned from the Covid-19 pandemic.
Three lessons stand out.
The haste to limit Covid-19's spread created unacceptable global inequities. In global climate negotiations, we must recommit to centering the voices of those most affected – especially low- and middle-income countries who contribute the least to climate change.
The response to the pandemic resulted in acceleration of science and evidence, and unprecedented collaboration across sectors. There is need to harness that cross-sectoral collaboration to address the impact of climate on health, starting with building from a robust foundation of science and evidence. We don't have time to reinvent the wheel.
We also learned that good information – trusted, timely and actionable – saves lives. We harnessed the digital revolution like never before. And that stress test opened the door for remarkable innovations in transparent, collaborative disease surveillance. To apply that to the challenge ahead of us, we need to modernize and expand our information platforms to reflect the diversity of factors – public health, weather, mobility, vulnerability — and create a complete picture of who, where and how climate is affecting the health of people.
Looking around, I know this room is full of people who agree that health should be streamlined into climate conversations.
But if we want to make that a reality, we as a community must be ready to have nuanced, constructive discussions with our counterparts in other sectors.
We have to explore and embrace the roles of green energy, sustainable agriculture, and development finance reform – all of which greatly impact global health in a warming world.
And most importantly, we have to make room at the table for the people who've too long been left out of the conversation.
We're going to see climate change disrupt and displace lives. We need to listen to the concerns and lived experiences of climate-displaced groups, youth, indigenous communities, women's voices, and other vulnerable populations. Every dialogue on Climate and Health needs to center on their lives and concerns.
It is through this coalition that we can and will achieve sustainable health for all.
Again, The Rockefeller Foundation appreciates your collective commitment to this issue, and we look forward to continued engagement on the road to COP28 and beyond.
Thank you.
###