As prepared for delivery on Sunday, October 15, 2023, in Berlin, Germany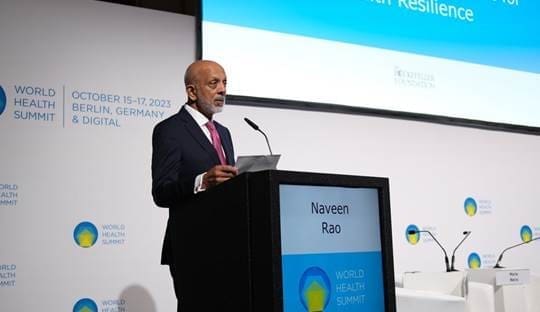 Thank you all for choosing this session among others, and a special thank you to all of our speakers who will be contributing this afternoon.
I'm pleased to be among the first to welcome you to this year's World Health Summit.
Thank you to our colleagues for building an agenda that reflects the world's most pressing health issues.
We are kicking off the Summit talking about climate change, because it is the most important issue impacting our health today.
And not just our health. Our children's and grandchildren's health.
As daunting as the current crisis may be, we must remember that the decisions we make today are already shaping the lives of generations to come.
Research has found that in the next 50 years, between 1 and 3 billion people will live in climate conditions not seen on Earth in the last 6,000 years.
Those are staggering numbers. It's hard to know how to square them with our daily priorities and translate them into action. For those of us in the health field, it may even feel like this isn't our fight.
We can't allow ourselves to fall victim to this way of thinking.
The global community must embrace the transition to renewable energy and net-zero carbon emissions – and the health sector must lead by example.
Greenhouse gases are killing us. Decarbonization is not someone else's problem, it is ours.
At the same time, we must protect people against the many ways in which climate change is already impacting our health.
Climate adaptation starts with strengthening the resilience of our health systems.
We need robust disease surveillance and early warning systems to stop climate-driven disease outbreaks in their tracks. We need to invest in our health workforce, so they can be there for us as the world gets hotter, air gets dirtier and extreme flooding becomes the new normal.
And we must ensure that countries who are most affected by climate change, but did the least to cause it, have access to the financing they need to protect health.
For me, personally, what keeps me going is thinking about my grandchildren, and the future I wish for them.
If you'll indulge me, I'd like to share a letter I've written to them, one that I hope they'll read when they've each lived a life as full as I have:
---
"To my grandchilden,
I often wonder what your lives will be like in the future. Will you still enjoy going for long walks in the park with the dog, and skipping stones on the lake? Do you eat mangoes outside on a hot summer day, or take a moment to smell the flowers blooming in the spring?
Whatever your futures hold, I hope that you are happy and healthy, and that your lives are filled with simple pleasures. I hope that in the world you inherit, simple pleasures are still possible.
From where I sit today, the future I wish for you is far from guaranteed. The world as I know it is changing. Floods in the desert. Fire on the sea. Poison air, deadly heat, vanished water.
People lives' plagued by disruption, displacement, and destruction.
It is deeply saddening to me. But I am resolved to do my part.
Building a habitable, heritable future is my generation's duty to yours, and those that follow.
You, your children, and your children's children have a right to the same health and happiness I have enjoyed.
I am confident that this future is possible. And I commit to you that I will dedicate myself every day to make this future a reality for you and for generations to come.
My love forever,
Your grandfather."
---
This is the spirit behind today's conversation. It's the purpose of our work.
Let me be clear: we all have a part to play in building a greener, more resilient future.
The global health community is a powerful force for change.
Today we'll hear from experts and advocates who are leading the charge for climate and health innovation.
I hope that you will be inspired by their words and join the movement we are building for coordination and collective action at the intersection of climate and health.
But for now, on behalf of The Rockefeller Foundation, I'd like to thank you all for being here.