The Rockefeller Foundation and Nepal Economic Forum collaborate to drive thought leadership and product innovation for climate insurance in Asia to mitigate the financial disruption that is brought by climate change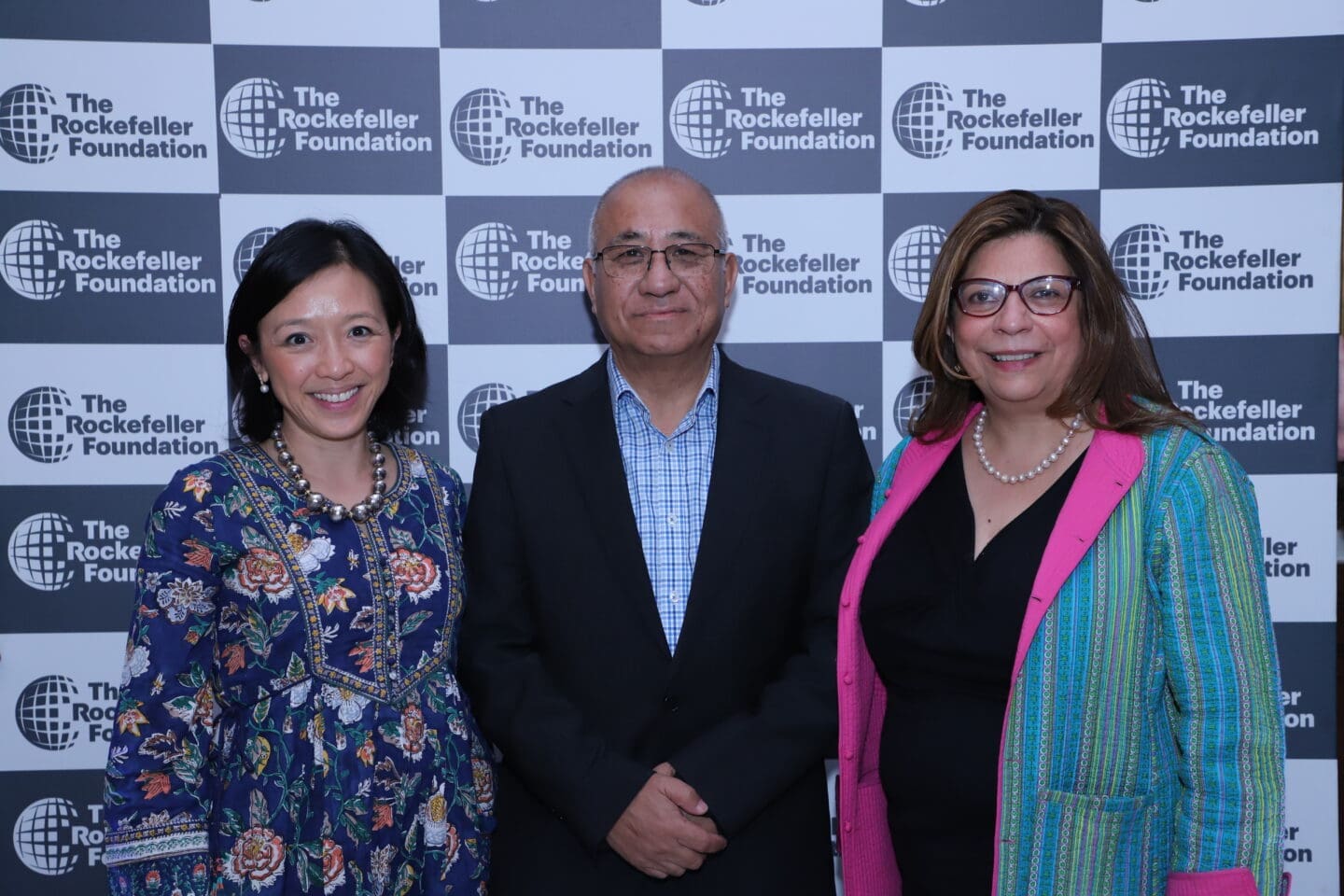 New Delhi, India / Kathmandu, Nepal | October 9, 2023 — In a ground-breaking initiative to address the growing climate challenges faced by vulnerable communities in Asia, The Rockefeller Foundation has announced a new collaboration with Nepal Economic Forum (NEF) and their industry partner Himalayan Everest Insurance, which is designed to provide essential financial tools to protect communities from the economic impacts of climate change.
The grant recognizes that insurance, particularly microinsurance, can play a pivotal role in building climate resilience & future-readiness. As part of this collaboration, Himalayan Everest Insurance will design and launch broad-based, comprehensive and affordable insurance products for the region with payouts linked to climate shocks. These insurance products will provide the whole population with the means to withstand livelihood disruption caused by climate change.
"The Himalayan region is particularly vulnerable to the impacts of climate change, with communities facing threats to their homes, livelihoods, and cultures", stated Mahendra Shreshtha, Chairman of Himalayan Everest Insurance. "Programs like this, are a crucial step towards building a more resilient future for these communities in our region- it combines financial protection with community engagement and climate-smart practices, making it a viable solution to the challenges at hand. We are happy to be working with The Rockefeller Foundation to support a safer, more stable and more prosperous future for our communities across the region in the face of climate disruption."
"With the push towards ESG, the insurance sector has been embracing sustainability; however, there great deal of work to do in adapting insurance products to climate change and ensure everyone can access them", said Deepali Khanna, Vice President, Asia Regional Office, The Rockefeller Foundation. "We are excited to further build upon our work in climate and partner with NEF to identify an innovative solution that will support vulnerable people and communities in their time of need. We are committed to advancing breakthrough solutions, ideas, and conversations that promote the well-being of humanity".
Knowledge sharing and regional collaboration are essential pillars in climate resilience efforts. With this in mind, this program will also lead regional dialogues and share innovative products that work with their network of knowledge partners in the region so that those can be included in their portfolios as well. Himalayan Everest Insurance will build a community of "learning to help" insurance companies which will overcome challenges in launching these products through knowledge sharing among regional peers.
This grant is in line with The Rockefeller Foundation's recent announcement of $1 billion USD climate strategy promoting scientific action towards climate action. The Rockefeller Foundation's climate strategy spanning over five years intends to advance opportunities while reversing the climate crisis.
---
About NEF and Himalayan Everest Insurance
NEF is a not-for-profit organization aiming to be Nepal's premier economic policy and research institution. Himalayan Everest Insurance is the largest provider of microinsurance products and services in Nepal. Because of its award winning approach, 9% of Nepal's population has tried financial inclusion products over the last 2 years with 80% of the population getting digital access to them.
About The Rockefeller Foundation
The Rockefeller Foundation is a pioneering philanthropy built on collaborative partnerships at the frontiers of science, technology, and innovation that enable individuals, families, and communities to flourish. We make big bets to promote the well-being of humanity. Today, we are focused on advancing human opportunity and reversing the climate crisis by transforming systems in food, health, energy, and finance. For more information, sign up for our newsletter at rockefellerfoundation.org and follow us on X @RockefellerFdn.
Media Contact
Gurpratap Singh
c-gsingh@rockfound.org