Overview
By working with the people who know their communities best, the Equity First Vaccination Initiative showed how we can continue to remove barriers and improve equity-centered public health.
The 20 evidence-based recommendations from The Rockefeller Foundation's Equity Advisory Council served as a roadmap to integrate vaccine and health equity into public health.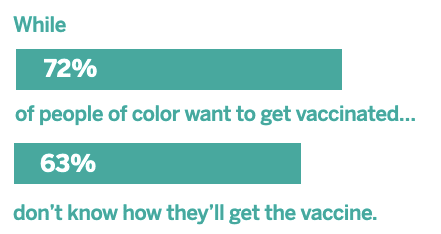 One year into the pandemic, too many people of color who wanted to get a vaccine didn't know how they could access it. In five U.S. cities with deeply entrenched health inequities (Baltimore, MD; Chicago, IL; Houston, TX; Newark, NJ; and Oakland, CA), an initial poll issued by HIT Strategies in March 2021 found that although the majority of people of color wanted to get vaccinated when eligible, nearly two-thirds did not have the information or resources necessary to access the vaccine.
Adopting Equity-First Models
The Rockefeller Foundation launched the $23 million U.S. Equity-First Vaccination Initiative (EVI), which aimed to reduce racial disparities in vaccination rates for Covid-19 in these five cities and, over the longer term, to strengthen the public health system to achieve more equitable outcomes. To accomplish these goals, the initiative invested in hyperlocal, community-led programs to improve vaccination access and accurate information for communities that identify as Black, Latinx, Indigenous, and people of color.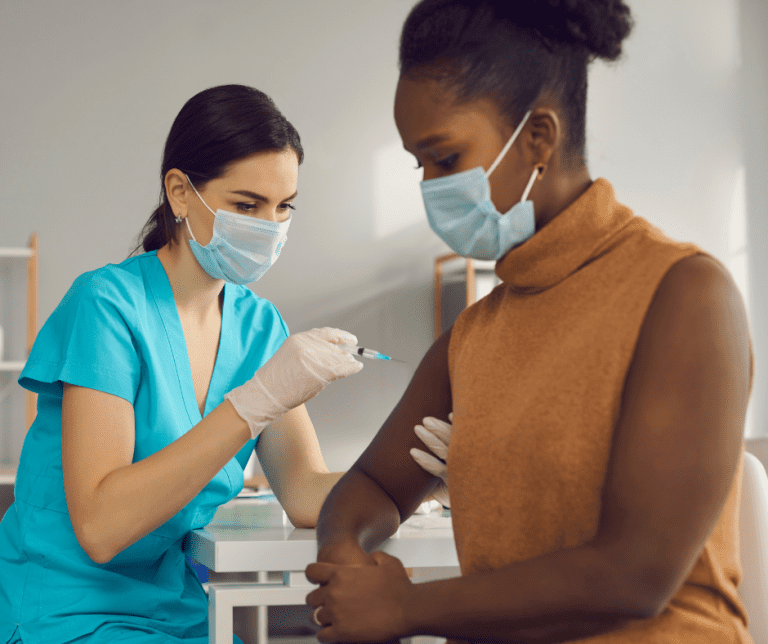 Working with Communities
EVI comprised a variety of partners with individually defined but mutually reinforcing roles. These partners included:
Community-Based Organizations (CBOs) in the demonstration sites, which were the central focus of the EVI. There were nearly 100 organizations on the ground that worked to implement hyperlocal strategies to increase equitable access to information and vaccinations, including identifying trusted messengers (and, in many cases, serving as the trusted messengers themselves.)
Anchor partners and other key partners, who played core roles in coordinating efforts among CBOs within their communities. The partners provided leadership, tracked progress, fostered communities of practice, and worked with CBOs to ensure that they had what they needed to be successful. EVI's anchor and key partners included:
The equity learning community manager, Pink Cornrows, provided an equity lens for this work, built connections across partners, served as a liaison between each anchor partner and The Rockefeller Foundation, and facilitated information sharing and knowledge sharing across demonstration sites.
Communication partners, collectively known as MegaComms, worked closely with CBOs and local influencers to build their capacity to provide evidence-based, misinformation-resilient messaging about vaccination with their community members. They provided trainings and weekly tips to the EVI community and worked with each site one-on-one to codevelop creative assets, such as videos, flyers, and social media content, so that campaigns and messaging were tailored to their local contexts. The communication partners included:
Learning partners engaged with each of the anchor partners and CBOs to gather, synthesize, and share cross-site information about the barriers to vaccination that communities faced and the promising community-led strategies that were used to overcome those barriers. Learning partners included:
Advocacy partners elevated and amplified the voices of the CBOs by advocating with state and federal policymakers and others in positions of power to make near-term changes that addressed barriers to equitable Covid-19 vaccination programs and could promote systemic changes needed to create long-term access to health and wellness for communities of color. Advocacy partners included:
Key Learnings from EVI
The Rockefeller Foundation's Equity Advisory Council—a group of 13 public health and equity experts representing diverse communities assessed the state of vaccine equity and informed EVI programming. Combining data, community knowledge, and learnings from EVI, the council gained a nuanced understanding of how complex, systemic drivers of inequity played out in vaccination efforts—and where and how community leadership was able to break the cycles of inequity.
These high-level findings were the basis for the council's recent statement "Beyond the Covid-19 Emergency: Sustaining and Expanding Vaccine Equity." This document contains data-informed, real-world teachings for how the United States can maintain effective community-based programs and safeguard vital progress for its most vulnerable and marginalized citizens. The council's recommendations, alongside other more in-depth readouts from the Equity-First Vaccination Initiative, serve as a roadmap for how to build vaccine and health equity into public health.
Additional learnings from the EVI:
Infrastructure of Trust: The Case for Investing in Vaccine Demand from the Brown School of Public Health, with support from The Rockefeller Foundation, delivers a new framework to guide vaccine demand generation strategies overall. The report outlines the need for urgent resources dedicated to the integration into pandemic preparedness and response plans to address the rampant disinformation, erosion of trust in public health, and lack of access to health services that undermined the United States' Covid-19 vaccination efforts.
Putting Equity First in Covid-19 Vaccination from the RAND Corporation, commissioned by The Rockefeller Foundation, analyzed the impact and key lessons learned from EVI. It found that it is possible to reduce racial inequities in Covid-19 vaccination rates by building a community-centered public health system that works at the hyperlocal level. The EVI CBOs showed that to ensure equitable outcomes, public health interventions have to consider the intersections of housing, education, immigration status, access to food, and safety.
An interim report issued in December found that community-driven efforts that built capacity among the community had been critical to vaccinating hard-to-reach and hard-to-convince Americans.
Throughout the initiative's duration, partners in Baltimore, Chicago, Houston, Newark, and Oakland collected and analyzed hyperlocal survey data on the Covid-19 vaccination with support from Mathematica. This monthly pulse survey provided data on how community members' knowledge, attitudes, and behaviors related to the Covid-19 vaccination, as well as potential motivators for vaccination and barriers to access, evolved over time.
The Rockefeller Foundation believes that the pathway to safer and healthier communities is through deep investment in prioritizing our sensitivity towards, attention to, and connections with those most impacted by systemic health inequities. For this reason, Pink Cornrows created the "Equity First Relational Playbook." It is a multimedia space driven by diverse experts of color amplifying the layered impacts of Covid-19, the ongoing crises that communities are enduring, and the solutions necessary to build trust between our bodies and the medical and research fields.
Meet our Anchor Organizations
Our Equitable Vaccination Initiative will ensure that communities have equitable access to vaccines.

Danielle Torain

Director of Open Society Institute-Baltimore

An all-hands-on-deck approach will ensure vaccines reach as many Chicagoans as possible.

Dr. Helene D. Gayle

President and CEO of The Chicago Community Trust

Vaccines should be easy to reach & convenient- that's the work our members & partners have underway.

Frances Valdez

Executive Director of Houston in Action

We will work with the community to help make decisions about vaccines and access it when eligible.

Catherine Wilson

President & CEO of United Way of Greater Newark

We're providing vaccine education, advocating for accessibility, and empowering community members.

Dr. Noha Aboelata

CEO and Founder of Roots Community Health Center