"Three months are very difficult for us. With intense heat, we feel dizzy and dehydrated. At times, we lose consciousness."
This is the story of Vijuben – a salt pan farmer in Gujarat along India's western coast. Rising temperatures in the deserts of Little Rann of Kutch make Vijuben feel dizzy and dehydrated, forcing her to take time off and thereby disrupting her livelihood. Her reality renders the human toll of the climate crisis visible – increased health risks, diminished access to nutrition, and loss of livelihoods. Building climate resilience amongst communities like Vijuben's is critical.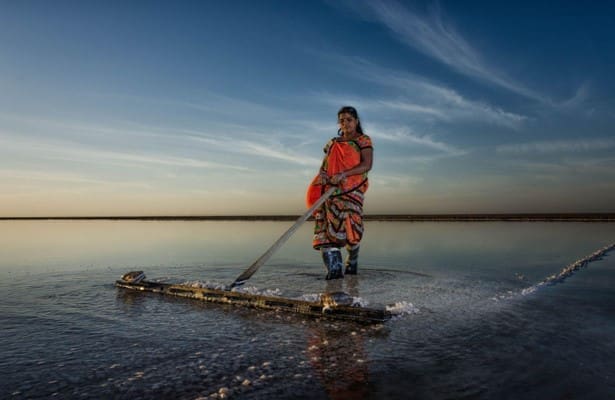 At The Rockefeller Foundation, our first and perhaps most significant step towards building this resilience is to absorb the impacts of climate change and identify new, meaningful ways to respond.
We undertook this learning journey in India by engaging with partners and experts in the field to truly understand the threat the climate crises poses to the people we serve, and the intersections of our existing work with climate.
Our Learning Journey in India
Through in-depth conversations with select partners and a secondary analysis of all investments and partnerships in India over the past five years, we charted the cross-cutting impact of climate change on individual lives. This pushed for a rearticulation of the climate crisis where conventional quantitative indicators (lives impacted & carbon emissions abated) are supplemented with qualitative measures (using stories and case studies) to spotlight the human impact of our partnerships. Our learnings from India further emphasized the need for a holistic approach that enables the most vulnerable to not simply survive, but thrive, while averting the climate catastrophe.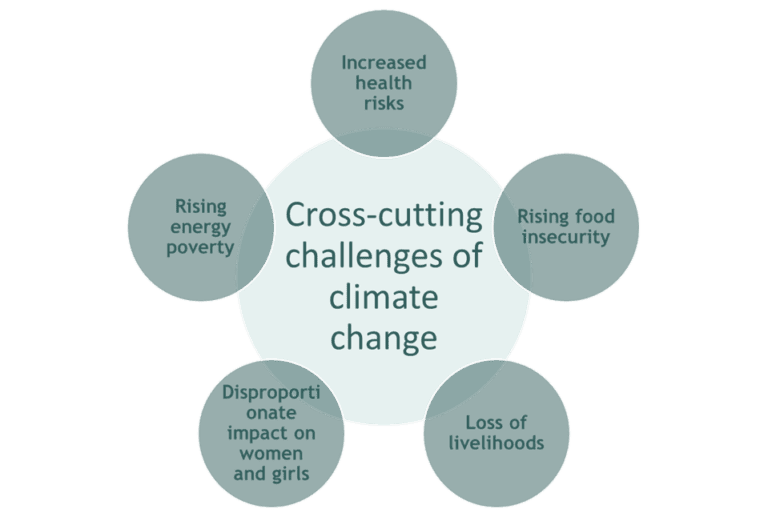 Grounded Approach of Partners
This deep dive in India highlighted the approach partners have adopted in their fight against climate change. They are:
Placing communities at front and center across program areas – health, power, food, and equity. Partners work directly with communities in some of the hardest hit regions, and equip them to adapt to the changing climate. For example, The Self-Employed Women's Association (SEWA) deploys heat resilient infrastructure to ensure women like Vijuben don't have to choose between protecting their health or financial security. Others like OMC Power are making clean energy sources accessible in underserved areas, thereby serving as a catalyst for small businesses as well as communities.
Spurring cutting-edge research and innovation grounded in local evidence and contexts: research partners like the Council on Energy, Environment and Water and the Tata-Cornell Institute are generating data-backed evidence for policy making in India and the Global South in areas such as Climate Financing, Just Transitions, and the environmental costs of India's public distribution system.
Pioneering collaborations across Asia and the Global South to raise and deploy climate finance, nurture leaders on climate change investments, and support collaborative action through partnerships and alliances. In this regard, partners like the India Climate Collaborative are building a platform for domestic leaders to spearhead a mandate for climate action. Others like the Indian Alliance for Public Health Preparedness are setting up mainstream environmental surveillance for evidence-based decision making in public health.
Our Reflections From India
As we continue to reflect on our past while also building our future fight against climate change, our learnings from India reveal:
Climate change cuts across development issues (health, livelihoods, energy etc.) with a lasting impact on people's lives. To address this, it is critical that marginalized populations are heard and seen through local leadership, capacity building, and participation in decision-making processes.
We have an increasing need for a portfolio approach which looks at the intersection of climate and other development issues holistically. One way to do this is to capture stories that showcase the impact created by partners' work. For example, stories of change from students who are able to study into the night because of access to electricity, or women who experience reduced health risks due to the deployment of heat resilient infrastructure.
We have a large partner network in India, and there is a need for ecosystem collaborations with these existing and new partners, to exchange knowledge, share best practices and learn from past failures, and articulate a common understanding of the climate crisis for the Global South.
With these actions and our unwavering commitment, The Rockefeller Foundation is placing climate at the forefront of our programmatic, operational, and investment strategies in India and across the world. We will help meet the climate challenge by centering our work on the lives of Vijuben and millions of other marginalized communities to ensure opportunities are universal and sustainable.