The Rockefeller Foundation organized its first-ever partners' meeting for all their India partners from the 2nd to the 5th of November 2020. India, given its unique development landscape and potential for transformative interventions, has been a key geography for the Foundation. In this fully virtual format, we designed the meet keeping the following objectives in mind:
Exploring cross-sectoral collaborations between different Rockefeller Foundation sectors of interest (Energy, Health, Data & Tech, Mass Entrepreneurship, Food, Resilient cities, etc.)
Generating opportunity areas in the nexus between focal areas to guide The Rockefeller Foundation strategy in India
Showcasing The Rockefeller Foundation work in these sectors so far and introduce the global strategy
Re-engaging with former Rockefeller Foundation partners
Keeping the core values of the Foundation – equity, trust, optimism, accountability, collaboration, and transparency – and the value of collaboration in mind, the India Partners' Meet was designed to provide a platform where RF could get their partners together so that they can not only learn about RF's work globally and in the region, but also understand each other's impactful work in greater detail and find synergies to amplify each other's work.
Feature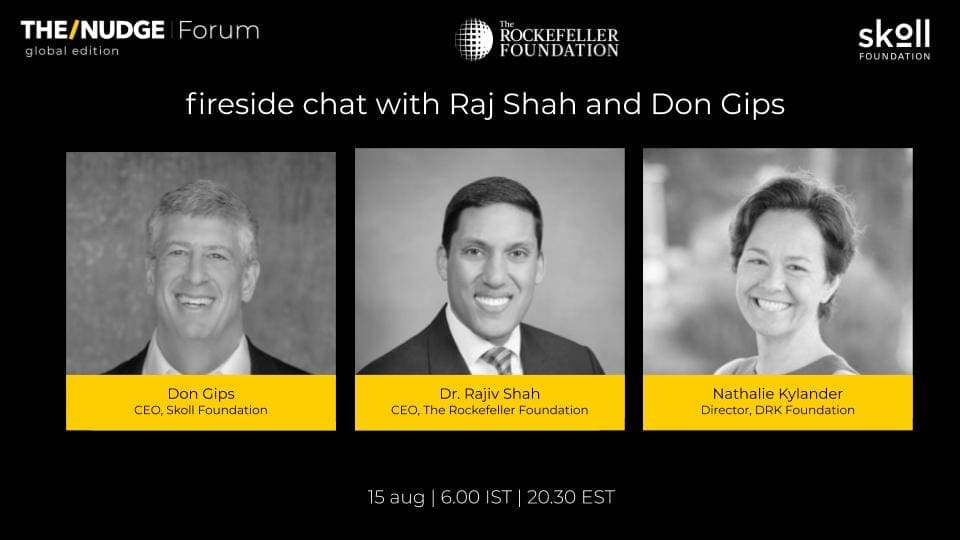 In conversation with Raj Shah (The Rockefeller Foundation) and Don Gips (Skoll Foundation)
Global Plenary at The/Nudge Forum (global edition) – Raj Shah, President, The Rockefeller Foundation and Don Gips, CEO Skoll Foundation in a session moderated by Nathalie Kylander, MD, DRK Foundation.
More