Community Organized Relief Effort (CORE) has fought Covid-19 by supplying widespread and readily available access to Covid-19 testing. Under actor Sean Penn's leadership, CORE is #MeetingthisMoment by partnering with local governments and organizations to create free testing sites in underserved urban and rural communities to ensure that anyone who wants to get tested for Covid-19, may get tested. In this video, hear how The Rockefeller Foundation has partnered with CORE to combat Covid-19 by creating new free testing sites in California and across the United States.
---
Learn More and Support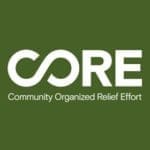 Community Organized Relief Effort (CORE) saves lives and strengthens communities impacted by or vulnerable to crisis. Their life-saving programs revolve around building healthier and safer neighborhoods to mitigate the scale of devastation caused by disaster. Whether it's the Lower Ninth Ward in New Orleans, the underserved neighborhoods of Houston, or the informal settlements of Port-au-Prince or San Juan, low income communities are more likely to suffer in a natural disaster, and are too often left to fend for themselves in recovery. They continue to work in Haiti with a team of 150+ Haitian employees working to rebuild and re-imagine communities every day. To respond to the novel coronavirus pandemic, CORE has partnered with community organizations and local governments to bring Covid-19 testing nearer to those who need it.