America's 160-million workers power the largest economy in the world, but the benefits fail to fairly reach all who contribute to it. This isn't news, but the health, social, and economic crises of the past year have created new urgency to address the financial insecurity of workers and their families. Rebuilding our economy requires reforming how our system treats those who power it. We need a new social compact with the American worker.
Join us on Feb. 3 for a livestreamed #RFBreakthrough event, co-hosted by The Rockefeller Foundation and the Ford Foundation, to discuss the launch of the Coalition for Inclusive Capital's Framework for Inclusive Capitalism: A New Compact Among Business Government, and American Workers.
Speakers will discuss common-sense recommendations to rebuild an economy that won't hold American workers back. Americans deserve a system that pays everyone a living wage, considers worker needs as essential to business success, ensures the health and safety of all, and creates more opportunities to advance, regardless of their race, gender, or origin.
The session will be broadcast live across the Foundation's social media pages (Twitter, Facebook, LinkedIn, and YouTube) on Wednesday, February 3, 2021 @ 11:00 am EST.
Speakers
The Hon. Mark Warner, U.S. Senator from Virginia
The Hon. Rob Portman, U.S. Senator from Ohio
Lynn Forester de Rothschild, Founder, Coalition for Inclusive Capitalism and Managing Partner, Inclusive Capital Partners
Dr. Rajiv J. Shah, President, The Rockefeller Foundation
Darren Walker, President, Ford Foundation
James Boland, former President of International Union of Bricklayers and Allied Craftworkers
Roger W. Ferguson, CEO, TIAA
Rana Foroohar, Associate Editor, Financial Times
Barbara Humpton, President & CEO, Siemens USA
Janet Murguía, President & CEO, UnidosUS
Ai-jen Poo, Executive Director, National Domestic Workers Alliance
Leo E. Strine, Jr., Former Chief Justice of Supreme Court of Delaware
Lydia DePillis, Reporter, ProPublica
Ursula Burns, Former Xerox Chair & CEO, former VEON Chair & CEO, and Teneo Senior Advisor
Co-Hosts
Event Partners
Feature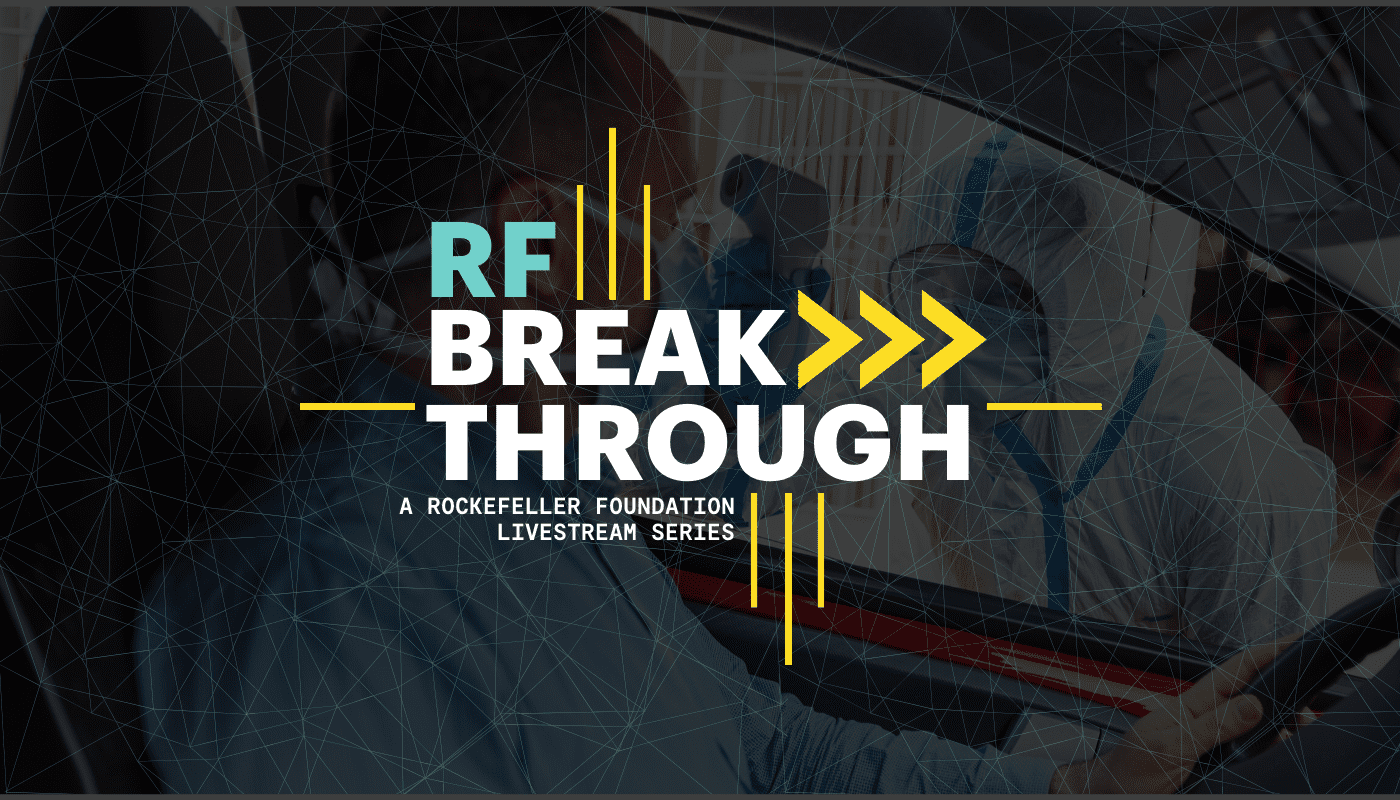 #RFBreakthrough
From the latest National Covid-19 Testing and Tracing Plan to groundbreaking learnings in artificial intelligence, nutrition, climate change, equity and last-mile electrification, our experts converge to solve pressing problems, improve lives and unleash human potential across the globe. Sessions will be broadcasted live across The Rockefeller Foundation's social media pages on Twitter, Facebook, LinkedIn and […]
More