Welcome to Rosebud Indian Reservation (Mission, South Dakota), year 2050.
The alarm goes off. A Sicangu chef opens his eyes and starts his day as usual. French press coffee, and he's out the door. He gets into his driverless car and starts to feel nervous. Today is the 30th annual Lakota Food Summit. He remembers when he attended the 1st Summit one generation ago. He thinks for a moment about the generations ahead of him and the changes they will see.
Driving to the venue, he sees the liveliness of Rosebud on a Saturday morning, as people buy fresh produce at the farmers market. He sees the hot food vendors, and his mind immediately goes to the breakfast burrito stand where the woman makes homemade tortillas and gets her eggs from another vendor. But he can't stop today – he has something important to do.
Pulling up to the venue, he feels honored that he was asked to prepare a dish and be a featured chef. He feels even more honored when he is asked to speak about his experiences and what he had gone through to be where he is today.
It's a bittersweet story of struggle and triumph – it wasn't that long ago that his people faced food shortages, and were forced to rely on processed fast foods instead of nutritious whole foods.  He recalls his father's heart attack and how that prompted him to attend the 1st summit and get serious about finding alternatives to the unhealthy diet that plagued his community and caused high levels of diseases like diabetes.
There were 15 people at the 1st summit many years ago. Today he addresses a crowd of hundreds.  As he shares his journey of food exploration, learning to farm, and advocating for new policies to build a food system that now allows his tribe to thrive, he catches the eye of his mother. Her good health and longevity in particular makes the food system transformation worthwhile.
His recipe for the day calls for bison, and he opens the walk-in cooler and pulls out a slab of bison meat. He feels proud that he knows where this buffalo was raised, where it was processed, and who is preparing it. Everything happens here in Rosebud.
The dish is done and is now being plated.  More than food, this meal celebrates the tribe's belief in raising and harvesting food in a respectful manner and putting good thoughts and energy into preparing it.  The meal he shares is medicine, nourishing not only the body but the soul.
He never thought that he would be where he is today, with a thriving career in his home of Rosebud, cooking and honoring the foods of his ancestors.
The Vision created by and for the tribal members of the Rosebud Indian Reservation outlines a drastic shift from the current state of food to one in which the community is empowered and autonomous.
The Rosebud Indian reservation in south central South Dakota is the home of the Sicangu Lakota Oyate tribe. The area, rich in culture and history, represents 15% of the Great Plains Region.
With only three grocery stores serving an area nearly the size of Brunei, Rosebud is a food desert. Most tribal members live in a state of food insecurity, without access to affordable and healthy food, and suffer from extremely high rates of diet-related diseases such as heart disease and diabetes. Despite this, more than half of farms on Rosebud receive subsidies to raise commodity crops, rather than incentives to grow nutritious foods to feed the local population.
Start-up costs for agricultural businesses are high and often prohibitive in areas like Rosebud, where access to capital is limited. This means that food and agriculture entrepreneurs are unable to test out new growing methods or localize food delivery and distribution.
Resources must be reallocated from conventional agricultural practices to a regenerative system that creates economic opportunities for tribal members. Replenishing the soils and other resources needed for future generations is imperative, as is training a new generation of farmers in these techniques.
The Vision for Rosebud Indian Reservation showcases how by the year 2050:
A 175-year strategic plan for seven future generations will be 30 years into implementation. The plan is guided by a focus on increasing economic development; building capacity for tribal entrepreneurship and homeownership; and strengthening community development for food, housing, health and education. The food system of 2050 serves the people of the current generation and prepares to meet the needs of future generations through to 2200.
Regenerative agriculture is practiced for all food production within Rosebud, and local foods are affordable and accessible.
All companies, organizations, and businesses in Rosebud utilize local and traditional ingredients​.
All communities have equitable access to nutritious foods.
Food is raised, harvested, and prepared in a respectful manner with good thoughts and energy channelled into it. Food is once again revered as medicine that heals the body, mind and spirit of the Oyate (the people).
The food system fosters and supports sustainable business ventures, making food production and entrepreneurship a viable pathway for job creation and income generation​.
Youth are empowered and encouraged to grow, harvest, and prepare foods of their choice​.
Tribal citizens are empowered through education about local foods and training in healthy eating and cooking and can make informed decisions about their diets.
The 7Gen Food System Vision aims to change the relationship that the Sicangu people have with food,  from one driven by limited access to nutritious diets and the convenience of highly processed foods, to one that facilitates ​Wicozani​, meaning good health – physically, mentally, emotionally and spiritually.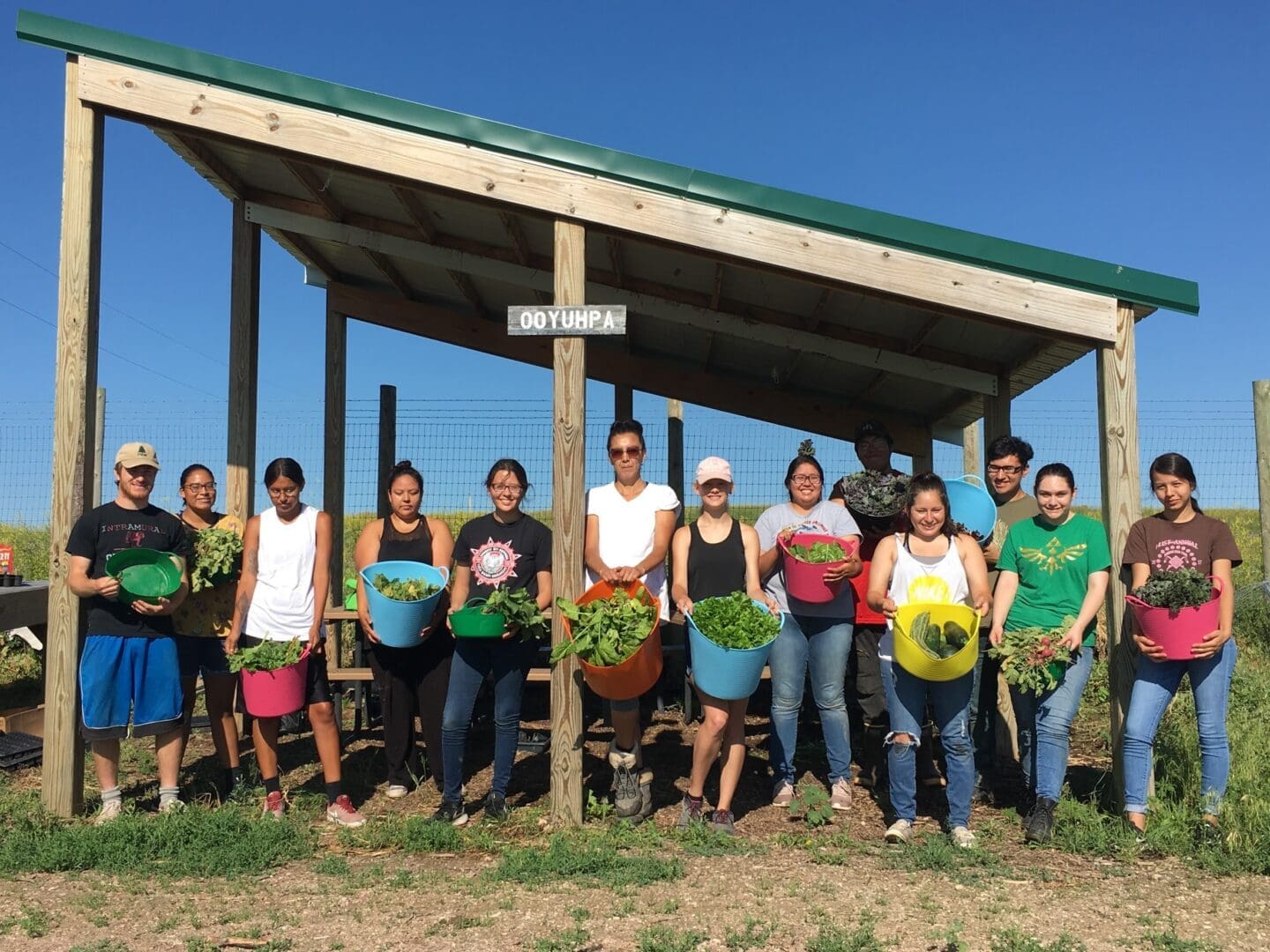 As tribal citizens themselves, the team at Sicangu CDC is intimately aware of the current challenges and the radical changes needed to build a more prosperous future.  In partnership with Rosebud Economic Development Corporation and Tatanka Funds, Sicangu CDC has created a seven-generation (175-year) strategic Vision with the goal to empower their people, strengthen their families, and rebuild their community.
Other partners include: Carmelita Sully (Sinte Gleska University Greenhouse); Robert Becker (Swift Bear Community President); Matthew West; and Dakota Rural Action.
Click here to explore the full Vision for Rosebud Indian Reservation in the year 2050.
Explore More Visions From The Prize Finalists