In the United States, when you face an emergency, you dial 911 and an ambulance will be sent to your house to help. What if people living in poverty all over the world could dial a number to have cash delivered to them in a crisis – to afford food during a drought, to get to safety if their home is washed away, or boost their income during a pandemic like Covid-19?
The Center for Effective Global Action (CEGA) and GiveDirectly are proposing a new, end-to-end model of humanitarian aid that can help us get to such a future; one that could enable governments and other actors to deliver cash quickly, effectively, and at scale to those who need it most.
Introducing MobileAid
We are piloting one such set of tools – MobileAid. MobileAid is a new paradigm for delivering aid in a way that is fast, contactless, and easily deployable, especially during a time of crisis.
The approach was pioneered by the Government of Togo, GiveDirectly, researchers from the Center for Effective Global Action (CEGA) at the University of California, Berkeley and Innovations for Poverty Action (IPA), and operates with 3 simple steps:
Identify: Use machine learning to accurately identify the extreme poor in a specific country or region
Enroll: Invite people to enroll by dialing a code, analogous to 911, on their phone and answering a few short questions to determine eligibility,
Send: Deliver cash via mobile money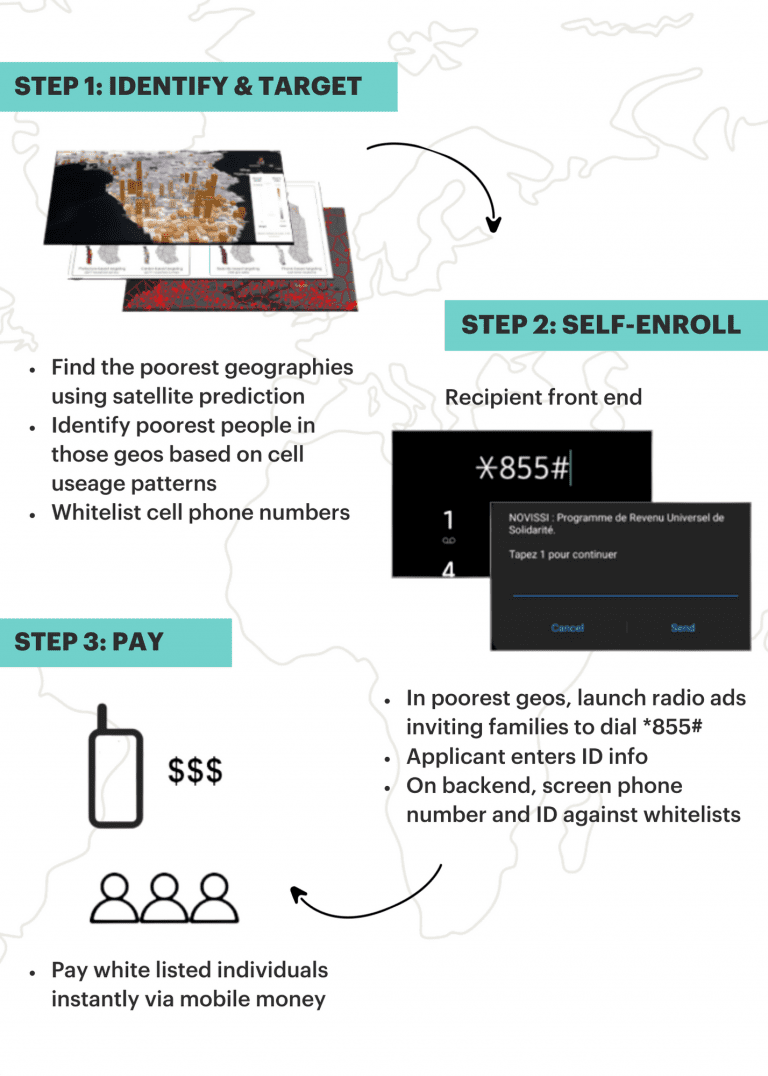 Since the beginning of Covid-19, CEGA and GiveDirectly have been working closely with the Government of Togo to improve the targeting of the country's flagship cash transfer program, Novissi. To date, we have delivered cash to over 140,000 of the most vulnerable people in Togo using the MobileAid blueprint of identify, enroll, send.
The technology that makes it possible in Togo
Deploying MobileAid in Togo involves three basic steps:
To accurately identify people in Togo eligible for cash transfers, a team of researchers from CEGA/IPA (Emily Aiken, Suzanne Bellue, Joshua Blumenstock, Dean Karlan, and Chris Udry) applied machine learning to new sources of 'big data' from satellite imagery and mobile phones.
First, researchers determined the poorest regions of Togo, in line with the Government of Togo's priority to support its 100 poorest cantons, or administrative regions. To construct a 'poverty map' of the country, Blumenstock's research team applied machine learning algorithms to satellite imagery. The machine learning algorithm is trained on "actual" estimates of household consumption (i.e., from a nationally representative survey), so that it learns which patterns in satellite imagery are indicative of wealth (such as structures with metal roofs and high quality roads), and which are indicative of poverty. Resulting estimates of wealth for granular regions in Togo (2.4km tiles) enabled the government to flag and prioritize the poorest 100 cantons.
You can view a preliminary "beta" version of these interactive poverty maps, which were recently released for 90+ low and middle-income countries, here.
Next, researchers identified the poorest individuals within those 100 cantons. For this, the team used deidentified mobile phone data obtained from mobile phone operators in Togo (learn more about how the team protects data privacy here). This data includes information about each subscriber's calls and texts, mobile data usage, and mobile money transactions. A machine learning algorithm was trained on the anonymized mobile phone data and a "ground truth" estimate of consumption from a recent survey of 10,000 Togolese to predict the consumption for each of the 5.7 million subscribers in the country. These consumption estimates enabled the research team to identify the poorest Togolese and form the list of individuals eligible for cash transfers.
Once eligible individuals are identified, the next challenge is reaching them without making physical contact. To solve this problem, GiveDirectly and the Government of Togo deployed a self-enrollment tool that Togolese could access from anywhere with cell service. Applicants simply dial *855# on their phone and type in their ID information. On the backend, the self-enrollment tool matches peoples' IDs and phone numbers against the eligibility list determined by the machine learning algorithm.
Spreading awareness of the program and the tool was key to the program's success. SMS messages and public posters helped spread the word, and most recently, GiveDirectly launched a radio ad, leveraging a key communications channel in the country. This effort encouraged people to sign up for cash transfers, leading to a spike in enrollment and breaking sign-up records.
After verifying that a person is eligible, the enrollment platform integrates with mobile money providers, enabling beneficiaries to be paid instantly and remotely.
As of May 2021, the GiveDirectly, CEGA/IPA, and Government of Togo partnership has paid 140,000 people over $10 million. Over 480,000 people were registered, demonstrating the success of the public campaign to get-out-the-word aimed at increasing enrolment (while not everyone who dialed the code were eligible to enroll, the results reflect those who were actually eligible and received money).
How unique partnerships enable success
MobileAid was made possible through collaboration and partnership. The Government of Togo leveraged its impressive existing enrollment and disbursement technology and its pre-established social protection infrastructure; GiveDirectly brought its technology and field management expertise and philanthropic funding; and the academic research team, led by Joshua Blumenstock at CEGA, deployed novel research and machine learning expertise. This combination set the stage for profound social impact.
What's next: Scaling MobileAid
Our vision for success is simple but ambitious: we want to advance the future of humanitarian and development aid by building a model that is accurate, fast, cost-effective, and recipient-centric.
And we are seeing success in scaling MobileAid, as we work with governments to explore how MobileAid can help them roll out rapid humanitarian relief or complement their existing social protection programs.
In the face of the Covid-19 pandemic, we are now more than ever in need of creative and collaborative approaches that combine technology and aid expertise to help the most vulnerable individuals and communities. MobileAid is one innovative way forward.
The work is supported by the TED Audacious Project, the data.org Inclusive Growth and Recovery Challenge, Google.org, and the World Bank IDA. Funding and thought partnership from these parties has enabled the deployment, research, and upcoming international scaling of this approach.
---
References:
[1] Gentilini et al. 2021, page 16
Feature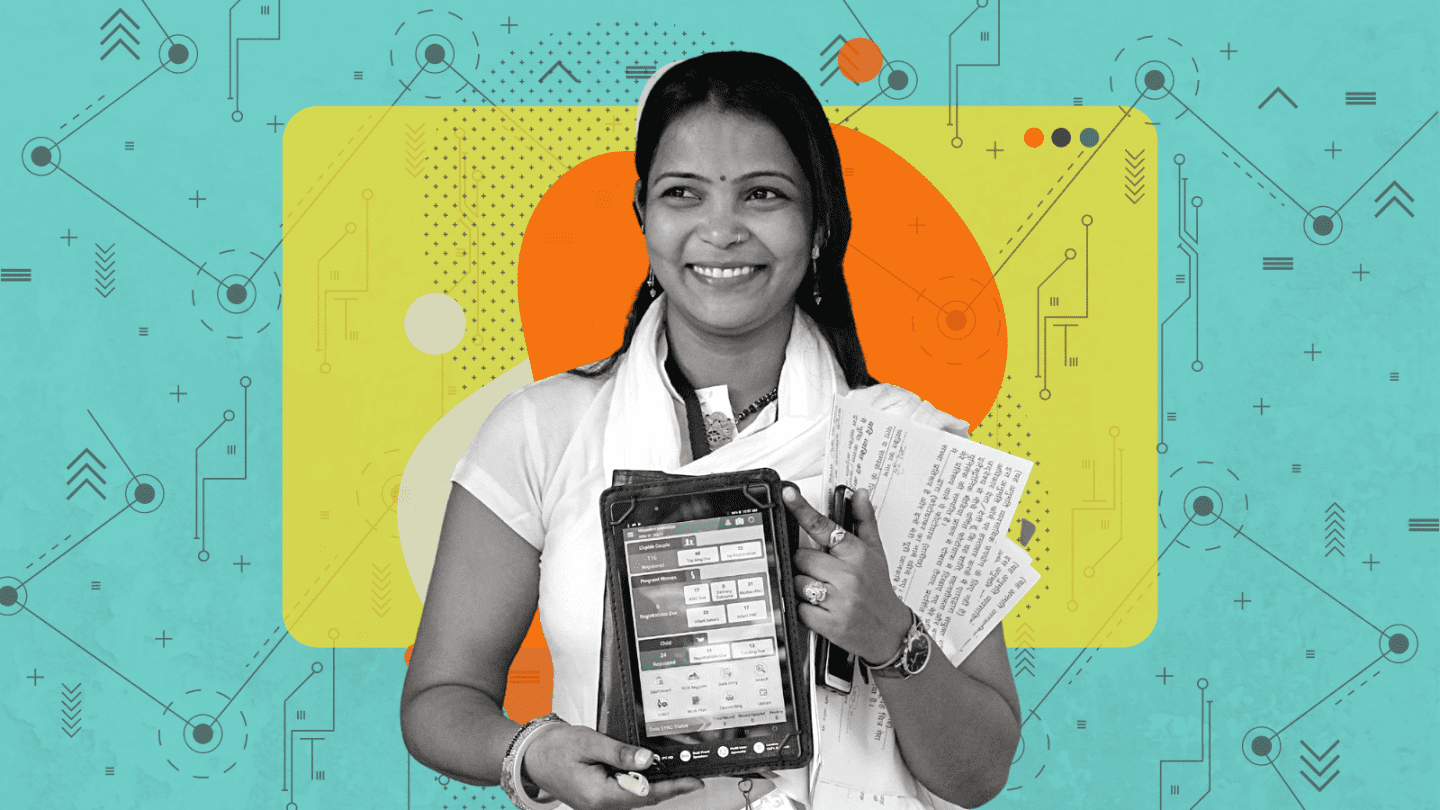 Can Technology Be Optimized for Equity and Opportunity?
Companies use detailed behavioral information every day to direct products and services to individuals. What if this approach were applied to maximize social good instead of private revenue? This quarter's Matter of Impact explores how the properly tailored technology can improve and save lives across a wide spectrum. Our staff, grantees and partners discuss how […]
More