Across the United States, public officials and community leaders are working to achieve racial equity in vaccinations by expanding access, lowering barriers, and building confidence. More than half of U.S. adults have received at least one dose of vaccine, and supply is now outpacing demand. Despite the availability of the vaccine, distribution is not equitable. While the CDC only knows demographic data for 55% of those who have received at least one dose, among that group, only 25% of Hispanics and 24% of Black Americans have received a dose of the Covid-19 vaccine compared to 45% and 38% of Asian and White Americans. To address the barriers contributing to this problem, including lack of trust in the vaccine and those entities distributing it, a more targeted and hyper-local approach is needed in the months ahead.
We're really trying to find the sweet spot between the goals of scale and equity in relation to everything that's going on around us.

Dr. Noha Aboelata

Founder and CEO, Roots Community Health Center
Blueprint for Equitable Vaccination Centers
Public health officials and community leaders recognize the need to launch targeted efforts and draw on trusted local partnerships to reach select zip codes and demographic groups. To be successful, a vaccination center must reach, inform, and empower local residents to make an informed decision and prioritize their long-term health.
Build on existing relationships with residents and community organizations. Local organizations, such as places of worship or homeless shelters, have already built trust with many target communities. Rather than starting from scratch, work with these partners to inform and register community members for vaccine appointments. Continue to support these partners and community organizations in a post-emergency world.
Use clear, culturally responsive messaging. Populations communicate in different languages, dialects, and styles, so a one-size-fits-all message will fail to reach everyone. All informational flyers, social media posts, and signage should reflect feedback from the community and faith-based organizations, and outreach should be multilingual and based on the prevalent languages of community members.
Empower individuals to make informed decisions. Many individuals who have yet to get the vaccine still have questions. Speak to residents' legitimate concerns, acknowledging the uncertainty, and offer honest information about what is known and unknown, rather than minimizing feelings of anxiety.
Lower barriers by incorporating vaccination centers into community events. Instead of stand-alone clinics, embed vaccination sites into events where many stakeholders (exhibitors, vendors, civic groups, religious groups) are represented, which helps to normalize the process and make it less intimidating. Make vaccination centers a regular part of health fairs or city festivals to expand access in low-pressure environments.
Track data to measure the success of your equity strategy. Without evaluating vaccination metrics, such as uptake data by race and ethnicity, age, zip codes, or health indices, public health and community leaders do not know if they are reaching their target populations. Use the metrics to inform decisions on location, means of communication, and message content.
Use vaccination as a starting point for long-term community health. The lack of longstanding relationships with healthcare providers is one reason that reaching target populations has been difficult. Make use of vaccinations to connect residents with primary care physicians to lay the foundation for sustainable health care.
Equitable Vaccination In Action
Roots Community Health Center, New Community Corporation, and CORE (Community Organized Relief Effort) are organizations with equity-focused approaches to community vaccination. This Blueprint brings together their insights to form a comprehensive, equity-centered approach for community vaccination.
Grassroots Outreach in East Oakland
Founded in 2008 by Dr. Noha Aboelata, Roots Community Health Center provides health clinics, residence-based care, reentry support, and many other services to communities impacted by systemic inequities and poverty in East Oakland. Roots launched testing efforts and continues its vaccination drive by conducting "in-reach" to sign up existing Roots patients for appointments. It also invites partner organizations to conduct "out-reach" by registering seniors, individuals experiencing mental illnesses, unsheltered individuals, and other target populations. Rather than starting from scratch, Roots relies on preexisting social and relational infrastructure to reach target populations.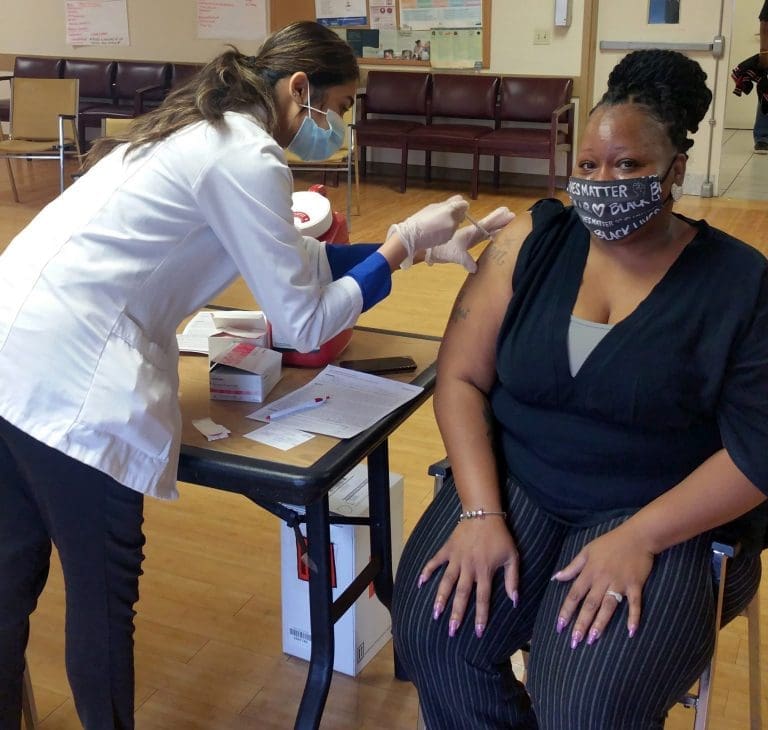 To inform local residents of the latest Covid-19 medical news, Dr. Aboelata hosts weekly briefings on YouTube and Facebook. Many of Roots' patients have reasonable questions about potential complications with chronic illnesses or immune system disorders that need honest and transparent answers. Rather than downplaying their concerns, Roots wants patients to understand what is known and unknown about the vaccine, empowering them with up-to-date knowledge to inform their decision making. Dr. Aboelata stated that the disposition of public health officials informing local residents should be, "These are the things you can incorporate as you do your own analysis."
Even as Roots encourages community members to get the vaccine, it wants to lower the pressure and consequent anxiety of getting the vaccine. To reduce stress and capitalize on the pent-up energy of the last year, Dr. Aboelata recommends building in vaccination sites to community events and health fairs to make it less intimidating and more accessible. Furthermore, medical staff can use the time to connect individuals to the formal healthcare system and ensure people are receiving primary care.
Reaching Target Populations in Los Angeles
The City of Los Angeles has taken a data-driven approach to ensure it meets vaccine equity goals. City officials use the California Healthy Places Index (CHPI), which measures local factors that predict life expectancy and compare community conditions, to focus outreach on high-risk census tracts. Rather than restrict appointments to certain census tracts in the sign-up portal, the city launched a text message alert system that shares appointment information with residents living in the lower half of the CHPI before announcing the appointments to the general public. Within two weeks of starting the program, the portion of vaccines going to residents in the lower half of the CHPI rose significantly.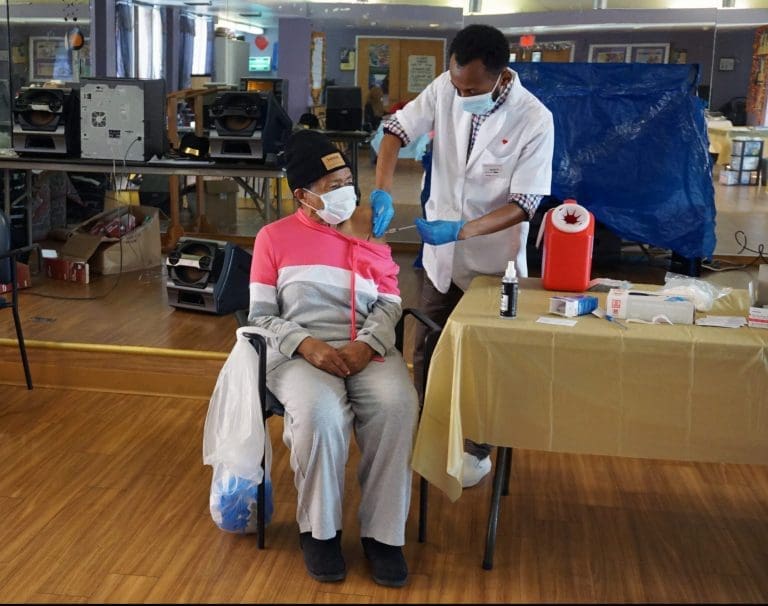 At the grassroots level, CORE (Community Organized Relief Efforts) hosts walk-up and drive-up clinics that serve 1,000s of people each day. It has started shifting its focus toward mobile vaccination units and small teams going door-to-door with special efforts for home-bound populations and people experiencing homelessness. Ann Lee, co-founder and CEO of CORE, says, "We're using the smaller teams, higher-touch approach."
To reach the "last mile" of residents, the CORE team is doubling down on culturally relevant outreach and adjusting the approach to hit target demographics. CORE's Community-based Covid -19 Vaccination Manual states, "Written, virtual and in-person outreach [should be] multilingual, and based on the language preference of community members." For the vaccination sites, "Medical and operations staff and volunteers should be members of the community where vaccine sites are located, representing the cultural and linguistic diversity of the community being vaccinated." Ann Lee comments that monitoring the vaccination data of target groups, ranging from communities of color to evangelical Christians, allows teams to "pivot quickly and course correct" over time
Building On Decades of Relationships in Newark
New Community Corporation (NCC) is a community development organization in Newark, NJ, offering an array of services, such as housing, food assistance, help with utility bills, education, and mental health treatment. NCC serves thousands of tenants living in over 1,800 senior and low-income housing units. It is a model of successful outreach and education efforts, with over 60% of NCC residents vaccinated as they work holistically to address the physical, mental, and emotional needs of each person. Although New Community does not vaccinate residents itself, it connects residents to vaccine appointments with resident health coordinators and community health workers. It started with educating residents on the effectiveness and safety of the vaccine. Arti Kakkar, the Chief of Health and Human Services, said that New Community crafted pamphlets "in a language that [people] can understand and relate to" and avoided scientific jargon.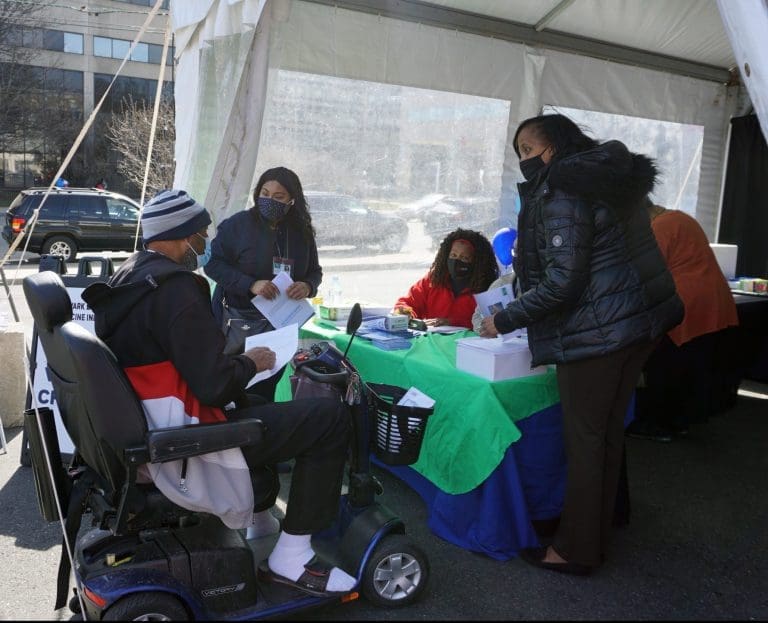 Over time, Arti and her team iterated on their outreach to tailor the information and assistance to residents' unique circumstances. Many of New Community's residents, who are primarily senior citizens and people of color, have underlying mental illnesses and 90% have preexisting conditions. Crisis counselors were already active in New Community's properties, helping to treat residents' mental health needs. Arti and her team relied on their longstanding relationships to assuage fears. "If [crisis counselors] are already in the community, the stigma of mental health goes away," says Arti. Building on the robust system of healthcare services available to New Community's residents, vaccination simply became another component of the program, showing the long-term benefits of a holistic healthcare strategy.
Solutions are Local
With a country as large and diverse as the United States, there is no one-size-fits-all solution to ensure equitable vaccination. Still, these are a few examples that highlight creative methods to achieve equitable outcomes. In each city, the steps of the Blueprint will look different and will need local leaders to find out what works in that context. If you are a leader interested in hearing from leading practitioners in the Pandemic Solutions Group, consider connecting with us.
This blueprint was developed with support from the Centre for Public Impact, Secretariat to the Pandemic Solutions Group.