From Brisbane, Beijing, and Berlin, to Chennai, Cape Town and Chicago, these city-based visions made passionate cases for how urban contexts will help shape future food systems. While some city visions mentioned unique challenges such sea level rise and severe droughts, most concerns were common for almost all cities: extreme weather and a changing climate; air pollution, insufficient public transport, and long commutes; soaring living expenses, rapid urban growth, and encroachment of the few remaining biodiverse areas by urban development; diets high in ultra-processed packaged foods and junk food; and  a resulting tsunami of cases of obesity, diabetes, and cancer. All of these issues, in various ways, intersect with the food system and confront cities with complex and interconnecting challenges.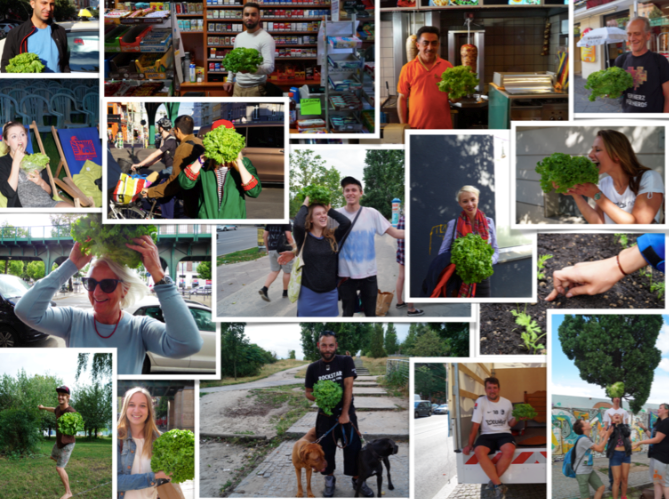 Many city visions – whether for Liverpool, Manila, and Quito,  or Mumbai, Birmingham, and Stockholm – envisioned similar solutions to these challenges: new technologies to minimize food waste and establish a more open and collaborative, data-driven system; a shift toward more plant-centric diets, or planetary health diets; and increased reliance on local food hubs and urban farms, to serve not only as production gardens for fresh produce and food, but also as distribution centers, kitchen labs, community learning centers and social meeting spots. These visions outline how future cities can prioritize health, sustainability and equity in the food system.
Here are a few of these city-based visions:
Urban Food Hubs in Washington, DC
This vision for Washington, DC pictures a future where food truly connects everything – from neighborhoods and the economy to technology and nature. Food Connects 2050 centers around Urban Food Hubs in various neighborhoods that minimize waste, maximize energy efficiency, contribute to urban resilience, and improve the quality of life for urban residents. Each hub produces food through bio-intensive methods, hydroponics and aquaponics; it prepares that food via kitchens that also offer nutrition education; it distributes the food through farmers markets, CSAs, and restaurants; and it closes the entire loop by composting, water harvesting, and other measures to minimize food waste.
LEARN MORE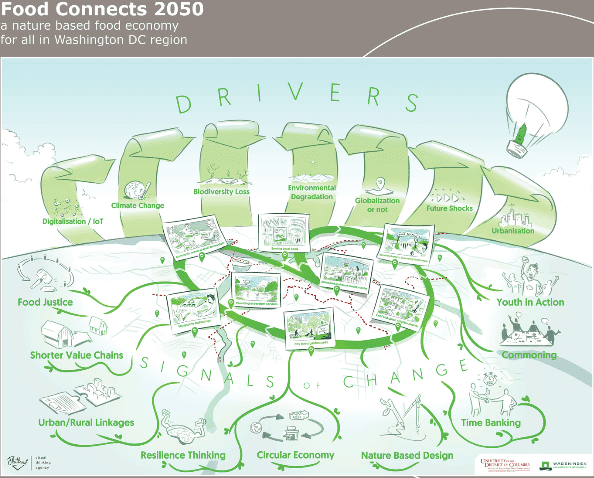 "Nairobi Will be the Envy for Many to Live"
As imagined in the the Nairobi Food System Vision 2050 for improved nutrition and better health in Kenya, the city will be supplied with food from peri-urban farmers who use precision agriculture and biotechnology; urban producers via indoor farming; and aquaculture farmers. Digital technologies will enable intelligent food distribution, and consumers will be empowered to make informed food choices through personalized nutrition and AI solutions. Automation and drones will be ubiquitous, and food service institutions like schools, hospitals and restaurants will 3D-print foods such as cultured meat. The city will be resilient and environmentally friendly, and the citizens will be healthy: "the place will be the envy for many to live."
Lagos: 32 Million Residents and Counting
The Lagos Foodscape 2050 vision describes the city thirty years from now, set to be one of the largest urban areas in the world, with 32 million inhabitants. The vision highlights innovation and data to drive radical change in the food system: blockchain will allow for transparency and traceability; Big Data will anticipate problems and opportunities; and sensing technologies will enable better crop predictions, protect food quality, and bring about personalized nutrition.
Learn More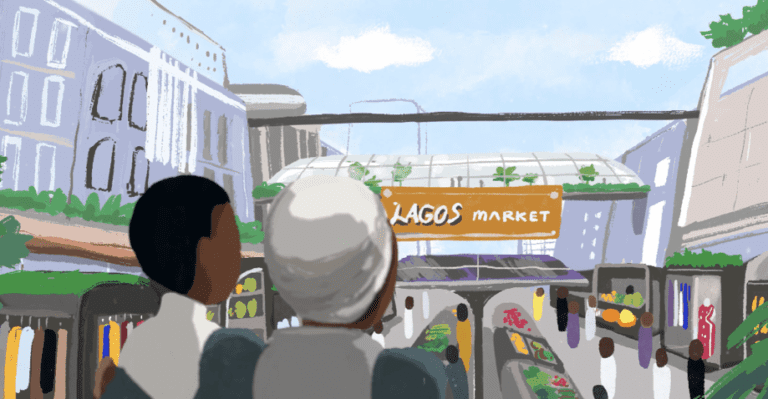 This vision for Lagos imagines a food-curious public seeking to understand their food system and be active protagonists in its direction; an accountable food industry prioritizing the environment; a government that embeds food matters into policy deliberations; and a joyful revival of indigenous food traditions.
Learn more about these three city-based visions and explore the rest of the 70+ Semi-Finalists visions. Each vision imagines a more hopeful and inspiring future with food systems that are nourishing, resilient, equitable, and sustainable.
---
The 10 Finalists of the Food System Vision Prize will be announced in early August 2020. Look for news on The Rockefeller Foundation's website and follow #FoodVision2050 for updates.
Feature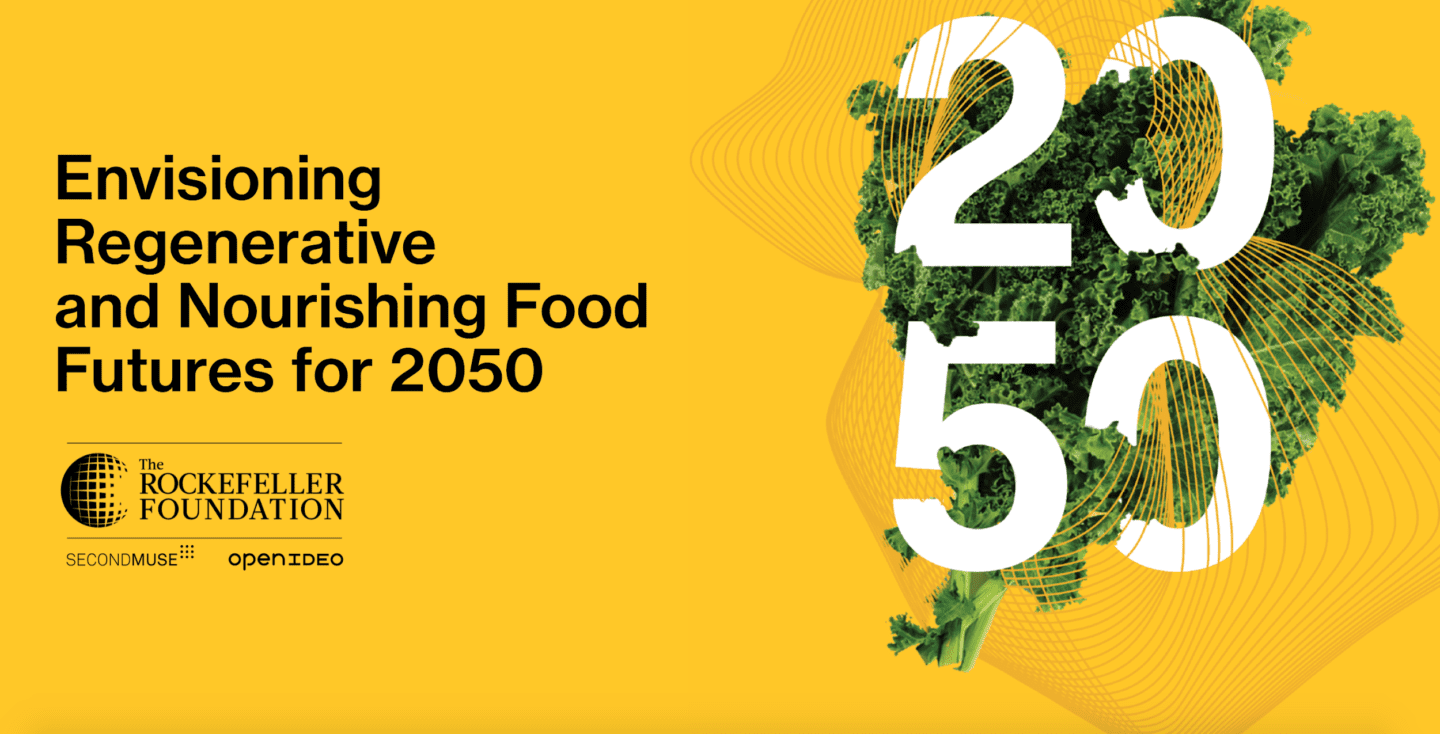 Designing a Nourishing Food Future for 2050
Imagine a world where food systems are more nourishing, regenerative and equitable, where year-round nourishment for all is a reality, and where individual food cultures are honored in their own rights. "The future of food systems is, without doubt, a complex issue.  When beginning the journey to change the outlook from dire to thriving, we […]
More